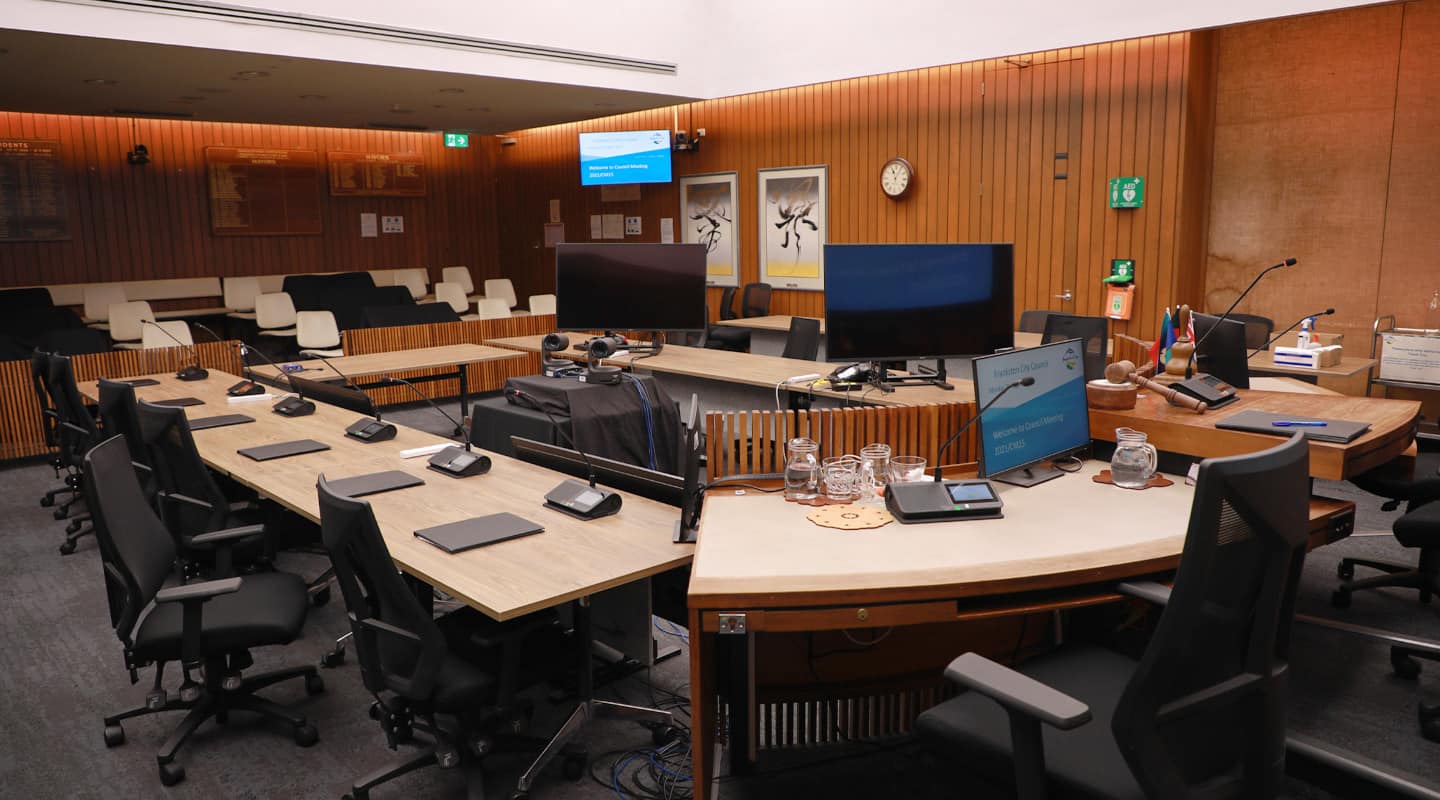 Like everywhere else in the world, Frankston City Council is adapting its operations to suit the COVID environment. From the start of 2020, they were shut to public access, while council business continued apace. Personal distancing requirements were a new factor in these processes and required moving council meetings from their usual chambers to the now empty 800-seat auditorium at the related Frankston Arts Centre. Spreading everyone out was great for physical separation but less so for speech enhancement and recording.
Arts Centre techs did what AV techs do, cobbling together a system with gear at hand to get things going. A bunch of SM58s, cables everywhere into drop boxes, feeding an SD11, in turn going back out to up to 14 monitors. According to venue tech, Jeremy O'Rourke, "We used everything we had. It was quite a big production." It also took a lot of time and labour – "our setup and packup time was ridiculous. Two guys for 4-5 hours for each session."  
New Team Leader of Technical Operations, Damian Clarkson expands: "It was bit of nightmare, like mixing a musical without a script. We didn't know who was talking, and we have a lot of people without great mic technique," making recording and playback difficult.
When council meetings later moved to the function centre, the technician time and labour demands were still onerous. The room needed resetting after every session and not just AV equipment, "it's the furniture, drapes, power and everything. It was just insane." 
BRING IN THE NEW
The AV team compiled a submission to council and their managers to investigate a new mic system. They did their research and some shopping around but, for Damian, the Shure MCXW system "was the one that stood out. It was the only one that really suited what we needed." 
Working with Glenn at Jands and Tobias at ENGIE AV, they purchased 18 x MXCW640 Wireless Conference Units paired with MXC Dualflex Gooseneck Microphones. A SB930 Rechargeable Battery was added for each unit and the package included 2 x MXCWNCS Networked Charging Stations.
The MCXW system works well enough independently but also outputs into a Biamp TesiraFORTÉ DAN CI for further processing and routing to archives and live playback. According to Damian, "the output goes to the video guy who takes the stream. We do that twice, so I've got a standalone recorder that gets an output from the Tesira for our dedicated audio archive, but we also send that through to the video operator who embeds that with their video archive."
Jeremy goes further on the setup's capabilities: "We have two Blackmagic web presenters that we use to integrate zoom and similar things. It's video broadcast but we also get the audio feed from that into the Tesira." Most of the mic processing is done by the MXCW unit itself. Damian: "I think it's brilliant. It works very well. The AGC works great, and the sound of the mics has been excellent – really clear and intelligible." 
GEAR LIST
1x Biamp TesiraFORTÉ DAN CI
2x Shure MXCWNCS Networked Charging Station
18x Shure SB930 Rechargeable Battery
18x Shure MXCW640 Wireless Conference Unit
18x Shure MXC Dualflex Gooseneck Microphones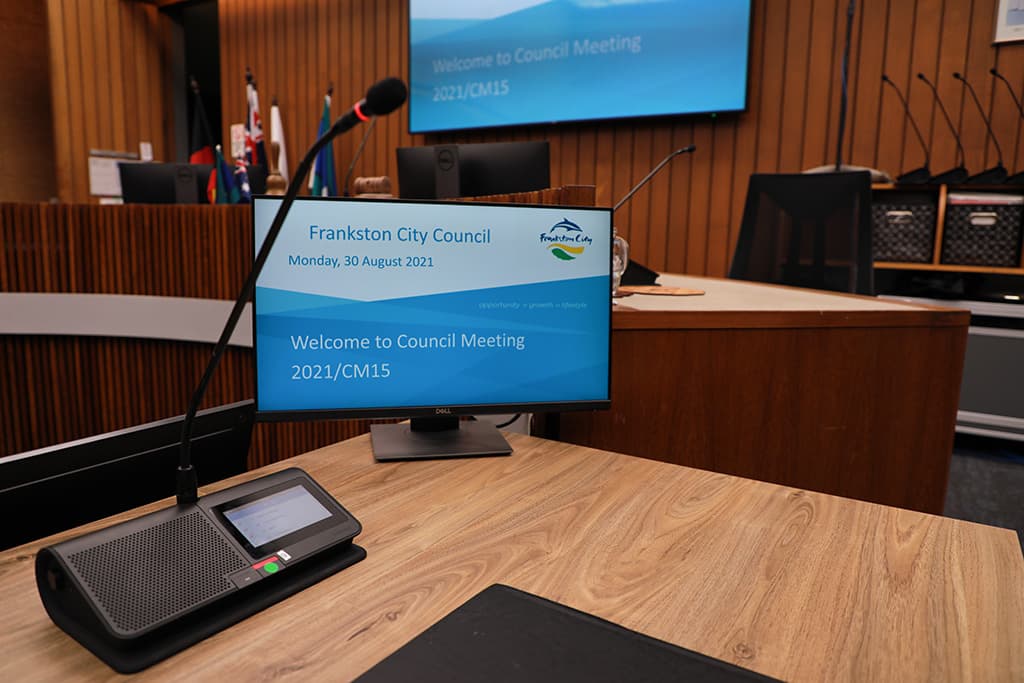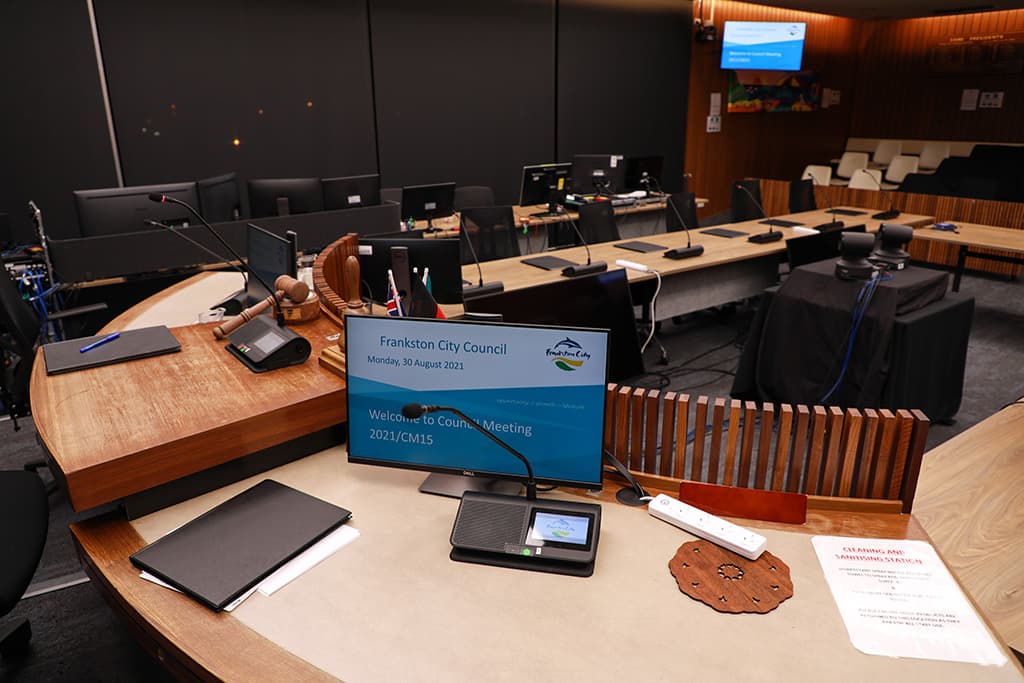 CENTRE OF OPERATIONS
With Jeremy being the main operator in session, he finds the web interface for operator control easy to use making sure everyone is heard and recorded. "One of the features that I like is the ability to be able to turn off those mics remotely if members forget to turn them off themselves or if the chair asks to "mute someone's mic"." He further controls return levels and routing through the Tesira software customised by Damian to show two screens. Jeremy gets "a matrix with some pink noise and test tones to check all the sources and destinations and a fader page with all of the inputs and outputs of the Tesira." – perfect for show control. Battery life has been solid so far, covering five-hour meetings with ease and plenty left in the tank.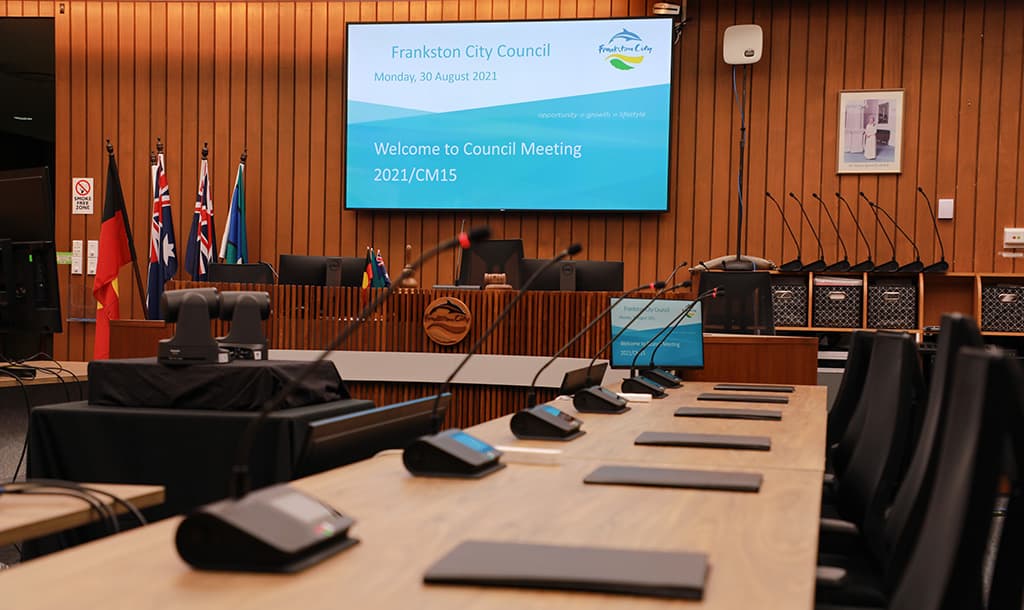 TAKE OUT THE OLD
Initially, the rollout was staged, using the MXCW/Tesira combo in parallel to the 58 and mixer setup. This was mainly for redundancy in an environment where Jeremy understands "the nature of the client means things have to go right and they just 'can't not'!" but it wasn't long before the new system took over entirely and the venerable audio bits went back to their home at the Arts Centre.
The tech team now save countless hours by having a dedicated meeting system on the shelf configured and ready to deploy quickly. Damian loves that "we set up the tables and go 'bang, bang, bang', (and we are ready)."
A few key drivers behind the decision to use this technology mix were ease of use, ease of integration and reliability. It was also essential that, whether individual councillors liked it or not, all meetings had clear speech reinforcement and archiving. Frankston City Council and its staff got all of that and more.
More for you