Bright Church is a Christian community of around 600 with its home in the Melbourne suburb of Wantirna. Prior to Covid, the church's main 200-capacity auditorium would host three services each Sunday, each consisting of live worship and preaching, with a separate program for children run elsewhere in the building.
The need for an upgraded front of house system has always been evident. Not only were complaints of loudness or lack of clarity a regular occurrence, but the highly idiosyncratic house PA kept operators wrestling the console each week to maintain consistent mixes. 
"It was like trying to mix on a knife's edge," reflects Michael Robinson, Production Director at Bright Church. "It had a very small sweet spot and if you exceeded it, the high mids – the belt range of our lead vocalist – would basically run away from you and you lost control. The PA was also fairly narrow in its throw. Only the middle third of the room got the best sound."
JB Hi-Fi AV Solutions Engineer Matt Townend, who himself attends Bright Church, understood the struggle personally. "If your levels got a little too high, it'd become harsh and nasty. Likewise if you mixed too low, you'd lose a lot of the clarity and body in the PA. And being a church where you have many different operators with different skill levels, you didn't get a consistent result."
FINDING THE FIX
Once budget for a new system was approved, Michael wasted no time discussing options with Matt. A tonal improvement on the PA's voicing was non-negotiable, as was a system that would solve the coverage issues. Operators needed the ability to make confident decisions on the console from the mixing position, and everyone in the seats needed to hear the same clarity and level, without harshness or muddiness. 
With a couple of options in mind, Matt arrived at the Turbosound Berlin Series line array system as the ideal solution for Bright Church. 
"My first experience with the Berlin Series was when Australis Music demo'd it on their Integrate Expo stand. As soon as I heard it I was incredibly impressed with how smooth and how well balanced the PA was."
The main front of house PA consists of two hangs of Turbosound Berlin TBV123-AN line array boxes, four per side. Each TBV123-AN has a 12-inch LF driver supplemented by a 1-inch compression driver with a constant curvature waveguide for smooth and even coverage. Built-in Klark Teknik Class-D amps make for easy installation thanks to fewer cable runs. 
"The Turbosound Berlin was a really good, neat package for us," says Michael. "Being powered units, we could send the signal direct via Dante and didn't have to mount amps and run speaker cables."
Four Turbosound NuQ82-AN eight-inch active infills line the lip of the stage to ensure perfect coverage to the front rows. 
An Allen & Heath SQ-6 console was part of the upgrade process, as well as a QSC Q-Sys Core 110f as the primary system processor. 
In the kids' room went a punchy system of two Turbosound iQ10 10-inch active loudspeakers with an iQ15 subwoofer.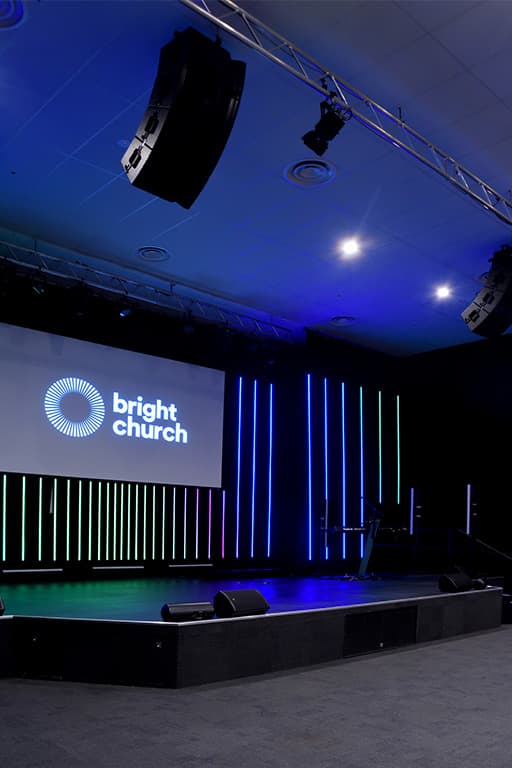 HAPPY MIXING
Thanks to the new Turbosound rig, harshness and hotspots have been eliminated from the Bright Church auditorium, replaced with even coverage and smooth frequency response. Every seat receives the same high quality sound. Michael couldn't be happier to report, "the complaints disappeared overnight and haven't come back."
A secondary win is Bright Church audio operators now find services a joy to mix. No longer is it necessary to pace the room to ensure accurate translation, or excessively process sources to pull a half decent sound. 
Reflecting on the before and after difference, Michael says, "One thing I and the other operators have found is you don't have to work very hard with your sources to get them sounding good. Now you're less worried about controlling or reining in the sources because the dynamics translate much better in the new PA; which is great for a live worship environment."
"The operators are quite impressed and happily mix at the console and trust that it sounds pretty much the same throughout the room," continues Michael. "That's a huge improvement over the previous situation."
Matt has heard similar feedback. "A couple of the guys I spoke to after the installation said it's so much easier to get a good mix out of it. That was very encouraging to hear. Personally I was really impressed with how easy it was to install and tune. It wasn't a hard PA to get sounding sweet very quickly."
More for you