The Covid experience of lockdowns has left an unexpected challenge for the corporate sector worldwide. How do you lure employees back into the office after they've experienced the freedoms of working from home? And now that Zoom has dragged videoconferencing from the boardroom to everyone's laptop, how do you create frictionless meeting spaces that can cater for everything the UC revolution throws at them?
These issues were front and centre when Meredith Collins (MC), New Zealand's largest litigation firm, invited integrator ProVision to lead the audiovisual design of their new headquarters in Auckland. Their creative response to these challenges saw ProVision win a 2023 AVIA for Best application of AV in a Commercial or Government Installation.
"From the start, this project was different. It was less about impressing clients, and all about making this the best place for the best young lawyers and all our team to choose to work. And the brief was to celebrate contemporary Aotearoa New Zealand." – Kylie Mooney, previous MC Chief Executive and then Project Leader.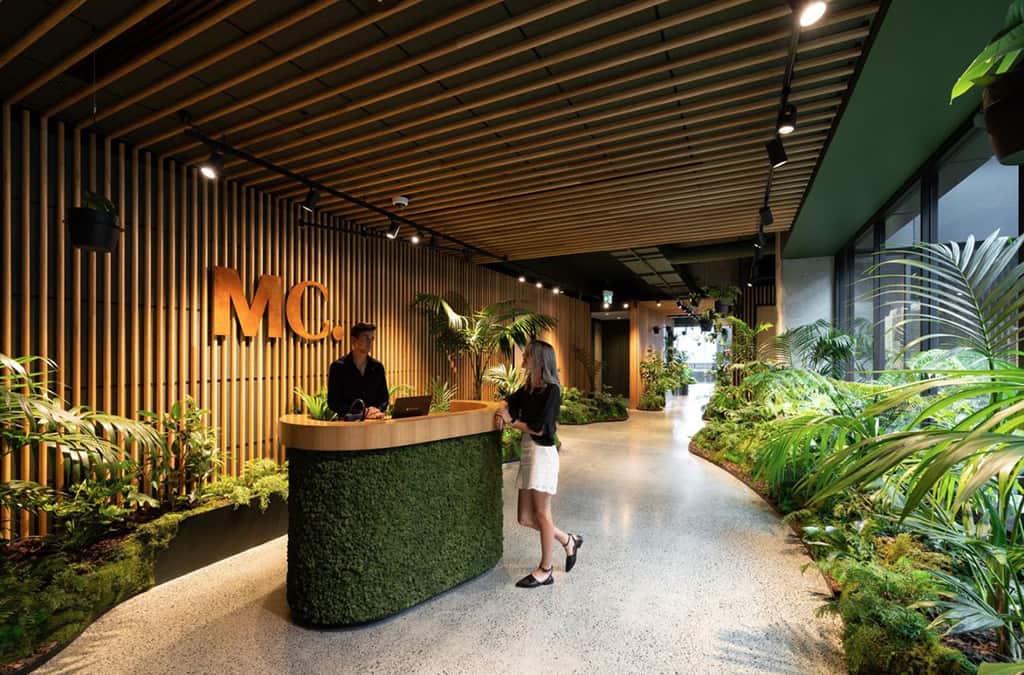 BUSHLAND SETTING
MC's desire for a distinctive workplace that would entice employees back to the office led to some rather unusual AV challenges. Early on, lead architects Jasmax responded to MC's brief by proposing a recreation of New Zealand's natural environment inside the building. Terrariums filled with native plantings would be used to create a true native bush feel, in particular evoking the sights and smells of the nearby Waitakere Ranges to the west of Auckland. To be effective, though, it needed a believable soundscape that wouldn't sound artificial over time.
"Creating the sound of a forest inside a commercial office building was a unique challenge," admitted Paul Monaghan, ProVision Director. "We needed to ensure the sound was realistic, unobtrusive and could be repeated without detection. Numerous recordings were tested but none quite cut it, so we turned to the Biamp TesiraForte DSP to randomise a combination of forest sounds including numerous bird chirping and singing, soft winds and rustling leaves.
"The randomised delivery provided by the Biamp TesiraForte brought the entire vision of replicating the Waitakere Ranges to life, without which it would not be as immersive and calming as it is today."
COURTROOM COACHING
As New Zealand's premier litigation firm, MC invests heavily in training. A major innovation in the new building has been the inclusion of a full training courtroom, which has been designed to replicate the functioning of a courtroom at the Auckland High Court.
"Previously we would have had to request the Ministry of Justice book a courtroom for us to undertake training in, which would typically be months in the future," noted Mark Watling, MC's Chief Information Officer.
Though only used for training, thanks to the ProVision's careful AV installation design, the courtroom replicates the experience of a real-life courtroom in every way.
The room has two 75-inch video displays where actors VC into a training legal trial to perform the role of witness or defendant. Ceiling and gooseneck microphones are used throughout, along with Biamp loudspeakers to ensure the delivery of high quality voice lift. Along with fixed gooseneck microphones at the bench, witness box and bar tables, ProVision chose to employ Biamp's Parlé TCMC ceiling microphones with beamtracking technology to guarantee that litigators could be clearly heard even if they moved around the room. Two Angekis PTZ cameras are wall mounted to provide for both near-end VC vision and session recording.
"Thanks to the fitout, a new staff member can undertake training within days of joining MC," confirmed Mark. "Because we can also now record these training sessions for later playback, there has been a measurable difference in terms of the quality of training staff receive."
""
This project is living proof that technology and nature are not in competition
MAKING MEETINGS COUNT
The real challenge for ProVision, though, was providing employees with the much desired 'frictionless' meetings environment across the planned internal and client meeting spaces.
These were crucial, since no one at MC was to have an office. Instead, everyone would work at their own desk in one of the six open plan 'neighbourhoods' across the two floors. Each staff member, from the newest intern to the Crown Solicitor, would have the same adjustable sit-to-stand desk and ergonomic chair, as well as the same IT equipment including laptop, oversized curved screen and Jabra noise-cancelling headset.
Each 'neighbourhood' would have its own collaboration rooms, designed for internal meetings, client meetings and Audio-Visual Link (AVL) court appearances. As well as AVL for court appearances, virtual meetings could be held via either Zoom or Teams. There would also be meeting rooms and conversation areas throughout the terrariums.
CIO Mark Watling was definite about what needed to be achieved: "Prior to the fitout, staff had been nervous to start meetings or presentations, and transitioning between desk and meeting room spaces was problematic," he recalled. "To solve these issues we had three main objectives: the appearance needed to be clean; rooms should feel identical in terms of equipment; and the user experience needed to be seamless."
ProVision's design aimed to achieve that uniformity of look and feel throughout all of the 30 UC-enabled meeting, seminar and training spaces across the MC Centre. Whether it be a small, medium or large meeting room, each space can be pre-booked using Microsoft Outlook or booked directly using identical 10-inch Concierge room booking panels located outside of the rooms.
Crestron technology forms the backbone of the UC capability with many spaces fitted with the UC30BZ Flex Small Room Conference System with Video Soundbar. Most rooms are configured for touchpanel initiation of Zoom meetings with two rooms dedicated to Teams. Ubiquitous Crestron TS-1070 touchpanels control all aspects of the conference session including control of blinds via the Crestron C2N-SDC shade and drape controller.
As in the Courtroom, Biamp Parle beamtracking ceiling microphones are used in all larger spaces, with all UC-related equipment chosen being certified for use with both Microsoft Teams and Zoom.
NO OBJECTIONS
ProVision's Paul Monaghan is understandably proud of their achievements integrating technology into the unique biophilic environment. "This project is living proof that technology and nature are not in competition but, when purposefully designed and flawlessly integrated, can deliver a space that is both relaxing and functional," he says.
"The completion of this project has delivered a meeting rooms in-use rate of over 90%. Litigation teams have confidence that the technology will work with a single touch and IT has reported a near zero request for assistance. Employees have reported being in meeting rooms for a full day and not feeling exhausted due to the relaxed nature of the biophilic surrounding as well the personal connectivity experienced through immersive audiovisual technology."
Meredith Collins' CIO Mark Watling endorses ProVision's achievement. "Because all meeting room and collaboration spaces now have the same characteristics, our staff have confidence to use the equipment and no longer need IT assistance with basic activities," he notes.
"The ability to seamlessly transition between desk, collaboration room, and meeting rooms has redefined how our staff work and has enabled them to work with increased flexibility and opportunities to collaborate."
According to Paul, "Meredith Collins' HQ is an audiovisual deep dive into a possible future that is greener, clearer and more connected with what truly makes us human."
EQUIPMENT HIGHLIGHTS
Monitors
Meeting Rooms: Samsung QB Series, 65- and 50-inch
Courtroom: Samsung QB75R
Seminar Rooms: Samsung QM85R 
UC Systems
Meeting Rooms: Crestron Flex Small Room Conference System with Video Soundbar (UC B30Z)
Crestron XIO Cloud
Audio Systems
DSP: Biamp TesiraForte AVB CI
JBL Control 23-1 (background sounds)
Conferencing
Amps: Biamp Tesira AMP-450p Conferencing Amplifier
Microphones: Parlé TCM-X AVB low-profile ceiling microphone
Ceiling Speakers: Biamp C-IC6 (meeting spaces)
PTZ Cameras: Seminar, Courtroom Angekis Saber 12x USB/SDI
Room Booking: Concierge 10-inch Booking Display (ACMG10)
LED Screen: MRLED FS Series 5mm pixel pitch with Novastar Processor
TEAM DETAILS
Design & Project Management: Paul Monaghan
Project Management & Installation: Andy Spooner
Crestron & Biamp Programmer: Vivek Singh
Installation Technicians: Rob Sanders
Jeff Sanders
Eden Ivatt
Richard Bullock
More for you