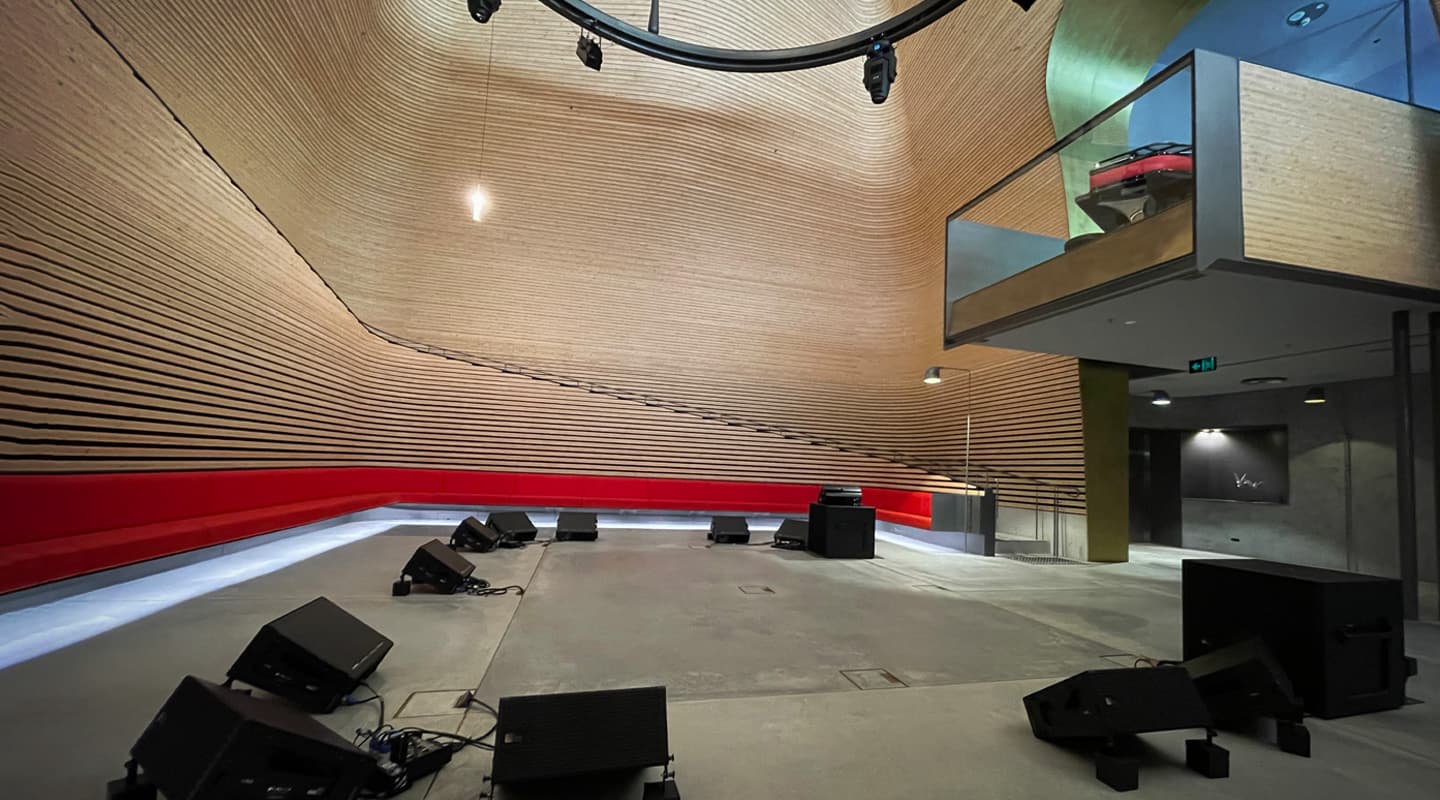 Text:/ Christopher Holder
Phoenix Central Park is unusual in almost every respect. The performance space provides the most obvious departure from the norm. Originally designed for (what the hippies may have called) 'happenings' rather than, strictly, musical performances, it's a towering and awe inspiring, timber-clad architectural 'silo'.
Tickets to a Phoenix concert are free. That's different. The artists are paid but not from ticket receipts. 
Performances are generally in-the-round. The audience is only ever one-patron deep — sitting on the red banquet or looking over the corkscrew gallery that sweeps up the wall of the space. 
Little wonder that artists are inspired by performing in the Phoenix space and audiences are captivated by the experience.
RISING PHILANTHROPY
The reason why Phoenix Central Park is so different is the patron behind it. Phoenix is Judith Neilson's passion project. Judith is well known as a philanthropist and visual arts aficionado. She bankrolled the project and underwrites the business model. Beau Neilson, her daughter runs the venue as Executive Director: "Phoenix Central Park is run as a philanthropic endeavour. The breath-taking architecture of the venue, designed by John Wardle Architects and Durbach Block Jaggers, is key to the life and work of Phoenix Central Park. The performance space is not a 'black box', it's almost a performer in its own right, inspiring artists to take their performance places they hadn't previously considered."
BROADENED REMIT
As amazing as the performance space is, as a story it wouldn't make it too far beyond the architectural press — after all, the musical repertoire was originally constrained to acoustic classical performances and the circular truss was sparsely stocked with a couple of sky panels. But the script changed when Covid hit. Beau Neilson and her team felt a strong desire to assist musical artists whose livelihoods had evaporated overnight thanks to venue closures. Initially, Phoenix Central Park invited musicians to pitch for the chance to have a performance professionally recorded and videoed for online and streaming purposes. As the covid misery continued, Beau then resolved to switch things up and retool the performance space for amplified musical performances and broaden the repertoire… like, really, really broaden it:
"We've had everything in here from a three-day noise music festival, to Korean rap and subtropical goth," explains the venue's booking manager Angus Hunt with a playful glint in his eye. "We've booked out every show."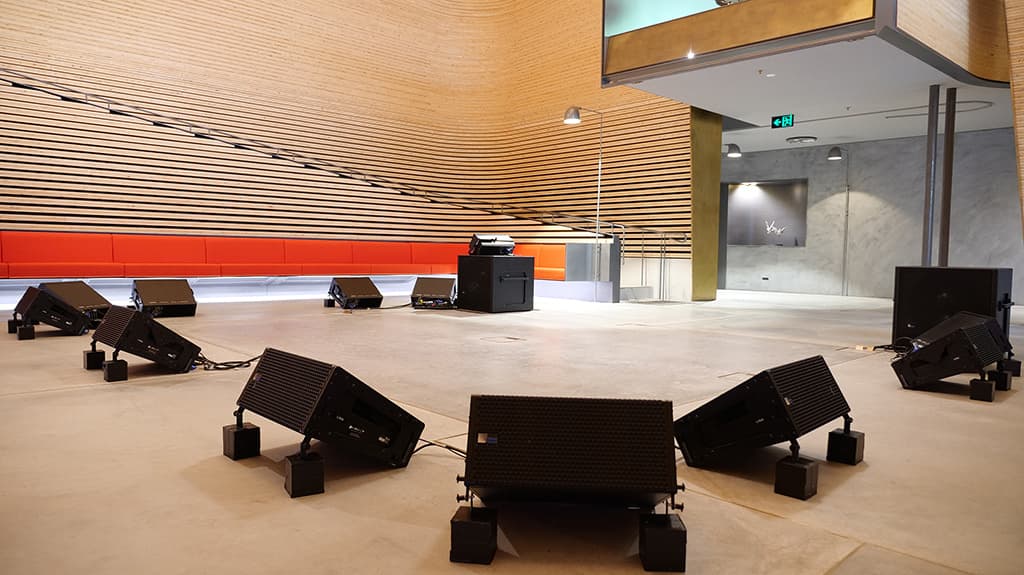 DESIGNING A PA
To cater to the fresh and diverse roster of musicians, the venue hired PA from Sydney's Coda Audio. It gave Coda boss Michael Wilkie the chance to test drive different loudspeakers and configurations in the space. Michael has been in the business for 40-odd years, much of it in the performing arts sector, but he'd not seen anything quite like Phoenix. "It's a unique space and not one that you'd immediately associate with amplified sound. But we were up for the challenge," he said.
The Phoenix team's next genius move was to engage Felix Abrahams. Felix is an audio 'man about town' with a creditable CV. He and the team gelled instantly and Felix set about designing a permanent audio system. Felix picks up the story:
"My brief was, essentially: 'we want to provide very high quality audio for every person; every artist; and we want to do that for any conceivable show we might host'. The main configuration is in-the-round. We needed an audio design that works in that configuration, provides great coverage for every patron and is a real joy for performers."
The venue decided on a Meyer Sound loudspeaker system, relying on 12 x Lina on the floor in the extended semi-circular setup. On the circular truss resides 8 x Ultra-X20 point source loudspeakers to cover patrons standing in the gallery section. Two 900LFC subs are on the floor to round out the sound of the Lina. Then there are 4 x MM10 miniature subs for when Felix needs to clear the floor of all PA: "occasionally, that will happen and the Ultra-X20 in the truss provide sound for the space, with the MM10s adding some more low-end warmth on the floor. The MM10s were chosen because they fit in and out of the way under the bench seating."
Two Meyer Sound Galaxy processors are the brains of the operation.
"The self-powered Meyer Sound loudspeakers met the brief perfectly," notes Michael Wilkie. "You get such terrific control from these loudspeakers: everything's reproducible, there's lots of phase coherence from and between the speaker systems, and the control provided by the Galaxy processors is extraordinary —the things you can do within that is mind boggling." 
"It's also worth noting that the cabling infrastructure available for technical production was already set underneath the concrete slab," explains Felix Abrahams. "We have floorboxes with analogue audio, Cat6 and mains power. With that baked in, a passive loudspeaker solution would mean we'd have to run extra speaker cable across the floor, and that wasn't an option — it wouldn't work with the aesthetic. So the self-powered Meyer Sound speakers are very attractive for their sonic qualities as much as their practical qualities, particularly in a venue where the cabling infrastructure options are already defined."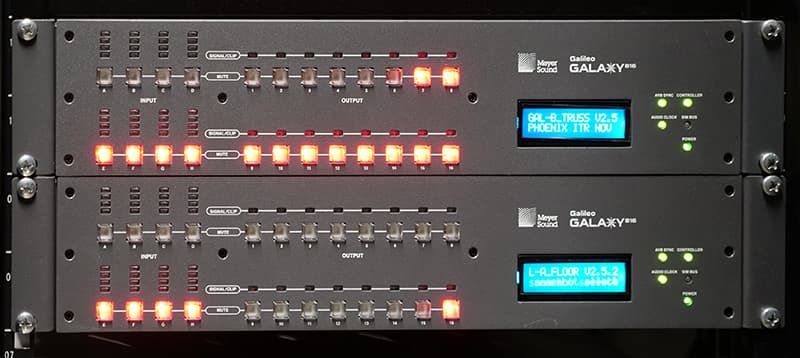 IMMERSIVE IS GO
Part of the appeal of a Meyer Sound system based on one or more Galaxy processors is that immersive audio, with its Spacemap Go app, is immediately available. And given the often experimental nature of the performances in the space, Spacemap Go looks like a natural fit. Felix explains:
"With Spacemap Go I'm able to respond to anything and having Spacemap Go integrated into the galaxy processors was one of the big appeals. I wasn't even sure exactly how that was going to look, but I thought it was really important to have. And the self-powered advantage of Meyer Sound means that flexibility of configuration for an unusual space for something like multichannel audio is a no brainer."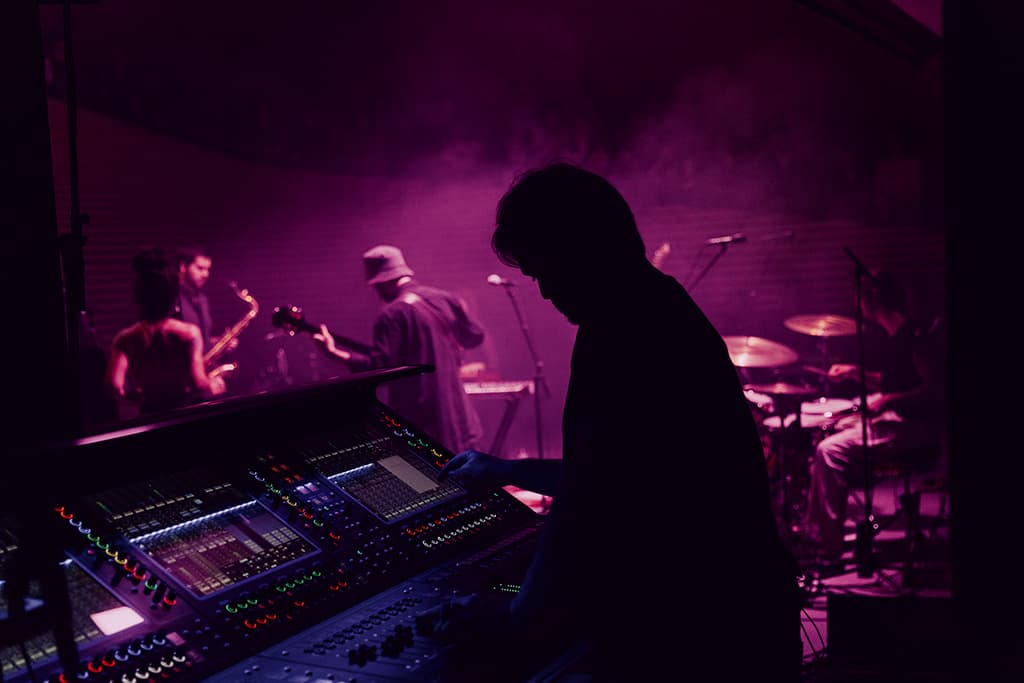 An Interview with Executive Director, Beau Neilson
AV: What's your inspiration for the Phoenix performance space?
Beau Neilson: The project was initiated by Judith Neilson, my mother. She's always been a huge supporter of the arts and doing things a little bit differently to how things are done in the mainstream. For us, we've always wanted to give artists space to be brave. There are a lot of beautiful venues around — not as many as there used to be, sadly — but most are driven by commercial imperatives which prevent them from taking risks with their performers and having that extra level of diversity in their programming. Conversely, we want to expose people to different streams of arts; give artists space to be brave; and introduce artists to a new audience. For their part, the audience see something that perhaps they hadn't experienced before. 
AV: And it's not just for the niche or the experimental. Mainstream artists perform at Phoenix and are inspired by the space.
Beau Neilson: Small and big acts alike become accustomed to a certain format of performance in standard public venues, and I think it can get a bit boring for them. There's something about the Phoenix space that encourages them to look at their practice a little differently — the way the sound feels in the space invites them to perhaps approach things in a more subtle way and a more pared back way that wouldn't be suitable in a standard 800-seater audience or a stadium, for example. 
AV: What is the business model? 
Beau Neilson: We're in the blessed situation that we are fully funded and all tickets are free — we pay our artists, which is not always a given, and then we offer free tickets. Tickets are allocated via a ballot system. Anyone can sign up and we release those tickets a week out. Demand is much higher than what we can accommodate for any one show. And that's regardless of how well known the artists are. There is a level of trust in what we've programmed and people want to be there — that's really important and beautiful for us.
AV: Phoenix wasn't built to host amplified experimental noise music or Korean punk but finds itself doing so! Can you talk about the change in scope and how you adapted?
Beau Neilson: When we started, the space was just a simple, exquisite shell. It didn't have any technology in-built, except for some lighting attached to our beautiful circular truss. As we started discussions with artists we realised there were many more different forms of musical performance perfect for the space but we needed to have the technical capability to do that justice. From that point on we started looking at a few different solutions. We hired in some PAs and experimented with different configurations. We got to the point where we wanted to purchase a sound system that allowed us to host performances — anything from something subtle, such as a single instrument or vocalist, to something that was far more elaborate, extreme or experimental, with multiple musicians or sound sources, combining acoustic and electronic elements.
AV: Performance venues are designed a certain way for a reason. It would seem to me that there are any number of ways that an amplified gig could go wrong in the Phoenix space.
Beau Neilson: Which is why I'm very grateful for our team's commitment to being responsive and agile. Felix has done the most extraordinary job making the room sing and making it fit for anything. We're very responsive to feedback we get from artists and visitors alike, and we make adjustments when we need to. 
AV: How would you describe the experience of attending a Phoenix gig?
Beau Neilson: The word 'intimate' is one that gets used quite a lot. You have these world-class performers only a metre or so away, right in front of you. And thanks to the Meyer Sound PA, there's a refinement and a clarity to the sound — the PA is so precise that it amplifies the sound without distortion. We're fortunate; we've got such excellent equipment, and Felix is running it so meticulously — it just adds an extra element. 
AV: What's your measure of success for the venue? 
Beau Neilson: It's a combination of qualitative and quantitative data on how many people we are getting through; what their experiences are like; what they are enjoying; and if they want to come back. We've issued about 23,000 tickets this year, which is pretty significant for a tiny venue. The ballot entry is around 55,000. So people like what we're doing, as do the artists. We're pleased with that. 
AV: Your reputation and stature as a live venue must be growing here and internationally?
Beau Neilson: It's true, the artists that approach us aren't just from small venues and they're not just experimental. For example, we had Sampa The Great play recently — performing for us one night in a tiny space, and the next night in support of Billie Eilish in a stadium. Tonight, we've got John Hopkins performing and he's following that up with two shows in The Domain.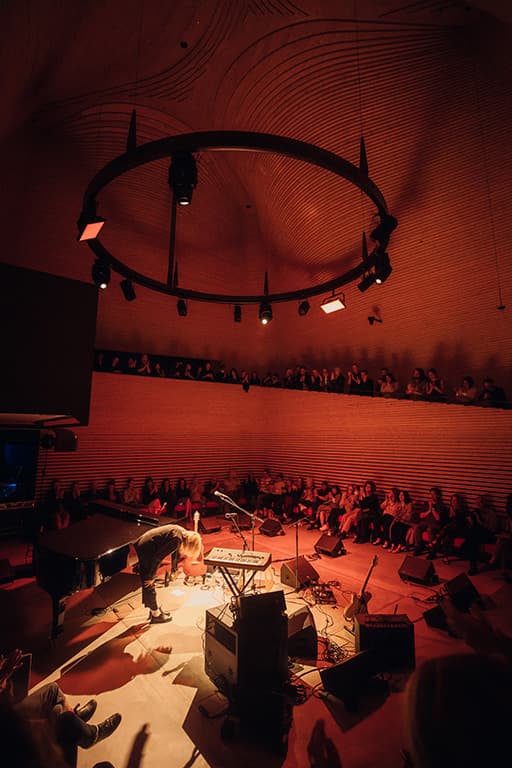 MIXING IN THE SPACE
Felix Abrahams is the resident audio professional and mixes many of the acts as well as bedding everyone in to ensure a great audio result. His reflections on working in the space are interesting:
"It's a live room but it's not as live as perhaps you might think it would be by looking at all the timber and the concrete. I think the fact that there's almost no parallel surfaces in the entire space helps to diffuse a lot of that acoustic energy. There is still a reverb presence but it's tonally quite flat. Of course, there are still a couple of frequencies that I need to keep an eye on (50 and 80Hz, for example) and I think the the plywood cladding feels like it's got a 3kHz character, which often comes through during soundchecks. Other than that, I've been continually impressed with the space. Unlike many other smaller rooms it doesn't appear to have a saturation point where you feel like the room is pushing back. I have mixed some very loud shows in here — 110dBA and louder — and I haven't felt like it's become unpleasant.
"Having a mix that translates evenly across every person as much as possible — that's really important, especially because the audience is only ever one-person deep. And that's why I mix at the end of the bench seating — the front of house position is essentially its own audience position. It's proven pretty accurate — the mix translates to every other person in the venue.
"I mix in stereo as much as possible. I think it's important to distribute a slightly de-correlated sound around the space — it helps to reduce acoustic interactions between speaker elements, and in a small room like this, I need every advantage I can get. So I try to stereo-ise things as much as possible to reduce those interactions that might introduce frequency cancellations."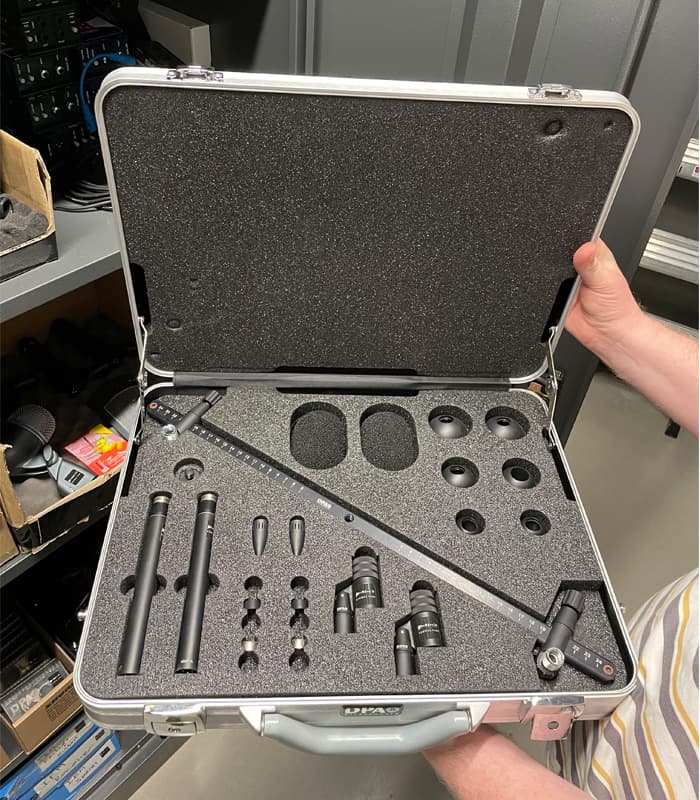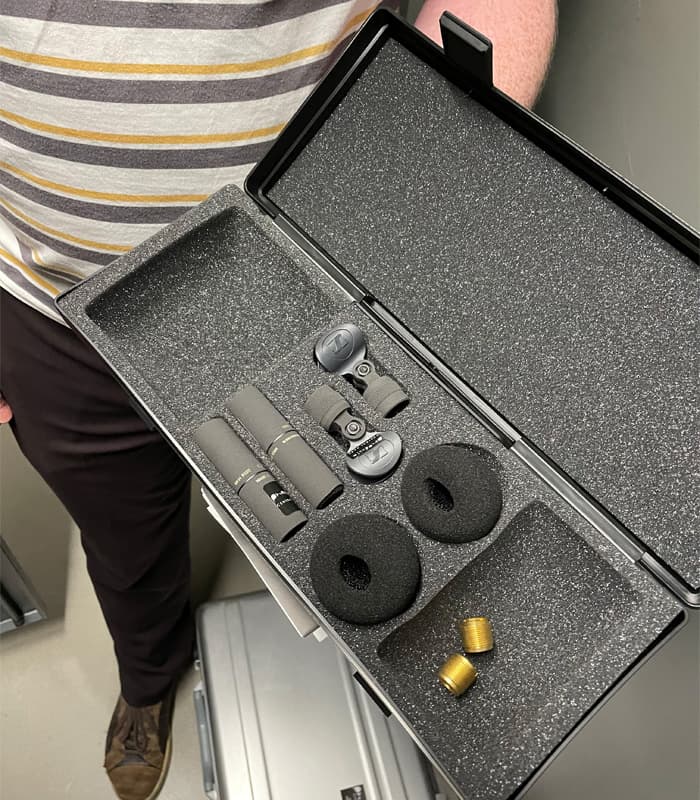 Apart from the formidable Digico Quantum 338 mixing console, Felix relies on Sennheiser Evolution G4 IEM systems, Shure ULX wireless microphones and a microphone cabinet that includes some familiar stables (Shure 57s and 58s, both SM and Beta, Radial DIs, as well as Sennheiser Evolution drum/guitar mics) as well as some tasty inclusions, such as the Sennheiser MKH8000 series instrument mics, DPA 4099s, DPA 4006s, AKG C414s and C451s.
Felix Abrahams: "Having a large console like the Digico Quantum 338 is a luxury but it does allow me to designate the first 36 channels as input channels for front of house channels and the next 36 channels as monitor channels, sharing the same inputs but routed differently, with completely different EQ, compression, and effects. Being able to tailor what an artist needs in their ears is key to how they feel in an intimate space like this. Thankfully, the artists coming through love the setup and tell me they feel comfortable in what they're hearing and their ability to perform with absolute confidence."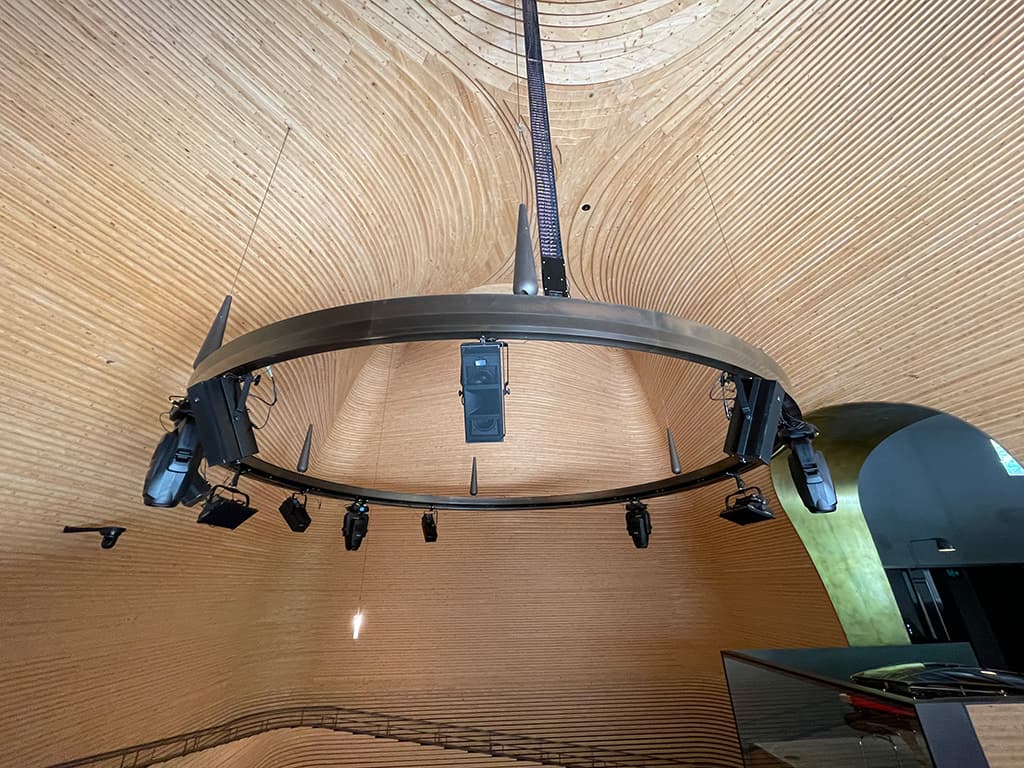 SINGING THE PRAISES
The worlds of acoustic and amplified performance have traditionally been poles apart.  One world values natural acoustics, architecture, and beauty in all its forms. The other conforms to a prosaic black box, where the role of the room is ideally reduced to a dumb venue for people to be safely and comfortably accommodated.
Phoenix Central Park is different. The role of the space is pivotal. It demands a response from the artist performing. It challenges them and the audience. The electroacoustic technology inserts itself into that three-way relationship between artist, audience member and architectural space. And let's be honest, there's a million ways that a PA could go spectacularly wrong in a space such as this — creating barriers and distractions. Instead, the technology package, headlined by a remarkable Meyer Sound loudspeaker system, is proving to be unobtrusive; transparent, even. 
Beau Neilson: "We canvass feedback from patrons after a show and consistently the response we get is praise for the 'acoustics' of the room. Which is ironic really, given it's the PA they're hearing. In reality, they're singing the praises of the design and implementation of the audio system, the impeccable quality of the Meyer Sound loudspeakers, and the audio engineering expertise of Felix. That said, we're certainly not complaining about the feedback and we won't be correcting anyone anytime soon!"
More for you