Text:/ Christopher Holder
The Sydney Showground paging system was old and in need of a serious upgrade. It was installed back in the late '90s when the showgrounds were moved to Homebush in the lead up to the Sydney Olympics.
The PA People put in the original analogue system and won the gig to upgrade it. Weirdly, almost bizarrely — as if there was some glitch in The Matrix — The PA People's boss, Chris Dodds, some 25 years later, was able to enlist the two blokes who installed the original for him, Ross Ford and Jeff Mackenzie, to take care of the upgrade.
Ross Ford came in as The P.A. People's Project Manager, while Jeff Mackenzie is now an independent AV system designer and programmer after a long stint at Jands. He nutshells the project for us:
AV TIME TEAM
Jeff Mackenzie: "Working on the Sydney Showgrounds paging project with Ross Ford was a bit like an AV archaeological dig. We found pieces of paper behind a rack that documented late changes in the original design with my signature on it from back in 1998!
"The old site-wide paging system was a big, analogue system running on phone lines between buildings. The multi-zone paging console was just as big and unwieldy.
"Meanwhile, the new paging system is fully digital, and sits on an existing fibre backbone that connects the 25 or so venues in the precinct. It's based on Q-SYS as the router and DSP, and has to be one of the largest Dante networks going around. We've used around 30 Netgear AV 4200 series switches and more than 30 LEA amplifiers."
THE SCOPE
The paging task is complex. There are 26 individual venues to encompass. Some of the 'venues' are no more than a cow shed that only get used at the Royal Easter Show. On the other end of the scale The Dome is a large multi-use space that hosts a whole variety of events through the year and has complex public address and paging needs. The new solution gives every venue the capability it needs, while also plugging it into a larger site-wide security and EVAC system.
Jeff Mackenzie: "There are more than 20 Q-SYS Cores in place, because every space has its own standalone system," continues Jeff Mackenzie. "The main dome is the biggest one, it's got a 510i, while some of the smaller venues will only need a Q-SYS Core Nano, an amp and a couple of local inputs.
"Obviously we needed to replace the old paging stations. The new ones are part of the Q-SYS system and based on a touchscreen we designed.
"We rode on the existing RAS (Royal Agricultural Society) fibre network, which, at times, involved some creative routing — there's not necessarily a direct fibre link between every venue.
"For reliability's sake, all our media transport was on its own dark fibre — if we were to share network resources then it would open up maintenance and reliability issues.
"The Netgear AV switches really came into their own on this job. I'll be honest, prior to this year, I was bit of a network switch snob.  If I was doing a job like this and someone suggested Netgear, I'd probably ask for a more corporately recognised brand name. But the Netgear guys have done an awesome job. The Netgear Pro AV range is a whole new series – they are enterprise grade switches designed specifically for professional AV applications.  No relation to the consumer grade products you'll find at retail outlets like Officeworks etc.
"One of the best things they've done is to create profiles that live in the software and they're called, say, 'Dante', 'NDI', or 'AES'. They're preset configurations such that when you create a VLAN you can choose Dante (in our case) from a dropdown menu when you're asked what's riding on that network. You tag the ports and it works.
"AV people need to know more and more about IT, but we don't live and breathe it. And the Netgear AV switches bridge the gap. Just as importantly, Netgear has set up a support structure for these switches. So you can literally email proavsupport@netgear and you're talking to support people who understand this stuff and get back to you."
""
choose Dante from a dropdown menu when you're asked what's riding on that network. You tag the ports and it works
The old site-wide paging system was a big, analogue system running on phone lines between buildings. The multi-zone paging console was just as big and unwieldy.
PROFESSIONAL NETWORKING
Jeff Mackenzie: "We run Dante for the site-wide network and then within the venues, it's QLAN and AES67. And the main reason I wanted to use Dante as the site-wide backbone is because it's point to point, and it's easy to control. If you went with a multicast-based protocol, then you run the risk of flooding the network and, on a network this size, that could cost you days of fault-finding, trying to determine which switch is forwarding traffic when it shouldn't be.
"The other advantage of Dante is that you've got such a wide selection of devices to hang off it. The LEA amplifiers were natively accepting Dante, the Audio-Technica paging mics had a Dante output, while we also spec'ed a whole bunch of Dante AVIO adaptors, which provide the ad hoc on/off ramps you need. When Harry the Hirer comes in as the Easter Show AV operator, they'll inevitably have the AVIO adapters as well, and it's easy to accommodate their requirements to put a little mixing console here or there. If we were running some other kinda network audio system, that wouldn't be nearly so easy."
REMOTE MONITORING
The old paging system, of course, had no remote monitoring capabilities, so faults could go unnoticed for extended periods, resulting in urgent service calls to resolve particular issues. As such control and monitoring was a major requirement of the upgraded system. Everything from the microphone to the loudspeakers is now monitored in real time.
Jeff Mackenzie: "We even schedule a speaker line impedance check via the LEA amps in the early hours of each morning to confirm the integrity of the speaker feeds and loads. We also use the Q-SYS Reflect Enterprise manager to monitor system status and generate alerts, if required. This proved invaluable in the lead up to and during the Easter show as we could proactively deploy service technicians as required to resolve issues — usually someone unplugging something they shouldn't have touched — before the show opened, often before the operators had noticed the issue existed."
AMP RAMP UP
The upgrade didn't include new loudspeakers as part of the scope. But the aforementioned LEA amplifiers were a significant step up. The P.A. People Project Manager, Ross Ford, was impressed: "LEA amplifiers offered us several key features that made them easy to integrate. The ability to bridge channels, ingest Dante inputs, and utilise analogue inputs for the fire trip lines, plus they're a lot smaller and more compact than many competitive offerings."
A mixture of nine LEA Connect Series 354D amplifiers and nine LEA Connect Series 704D amplifiers were deployed in the smaller venues. For the Dome and Exhibition Complex, The P.A. People installed 13 LEA Connect Series 1504D. The CS1504D is LEA Professional's flagship high-power IoT-enabled amplifier — a 2U four-channel amplifier offering 1500W per channel. You can read more about the LEA Amplifier aspects of the project here.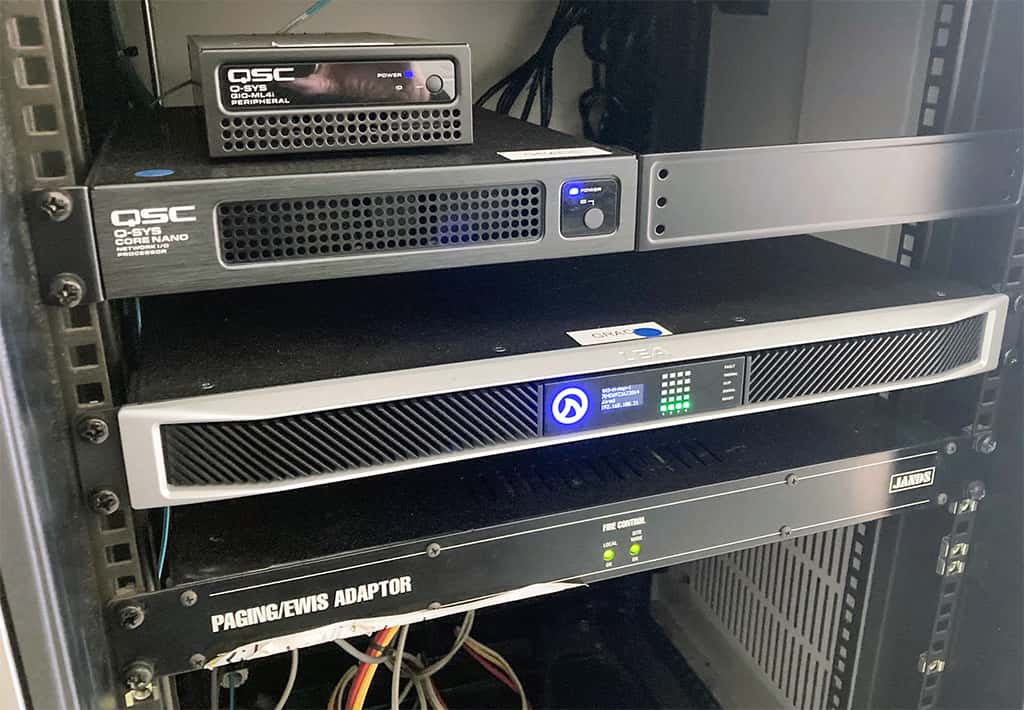 BEST IN SHOW
Jonathan Seward, Head of RAS Property and Sydney Royal Easter Show Operations shared: "The RAS managed site, Sydney Showground is spread over 30 hectares with a diverse offering of event spaces up to 7000sqm column free. The flexibility and performance of our PA system is crucial to the safe and effective performance of our venue and we are thrilled with the positive system performance outcome, a fit-for-purpose solution and our working relationship with The P.A. People has been exceptional."
More for you