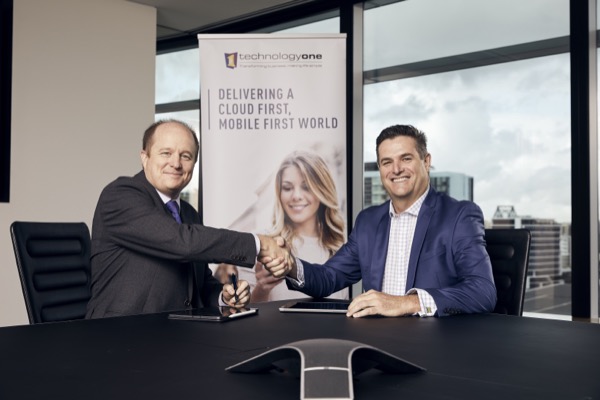 /
/
AVT TO SCALE UP TECHNOLOGYONE'S INNOVATIVE SOFTWARE AS A SERVICE EXPERIENCE FOR CUSTOMERS AND TEAM
AVT TO SCALE UP TECHNOLOGYONE'S INNOVATIVE SOFTWARE AS A SERVICE EXPERIENCE FOR CUSTOMERS AND TEAM
Today, avt announced it has signed their first global agreement with Australia's largest enterprise Software as a Service company, TechnologyOne Limited (ASX:TNE) to scale up their audio visual (AV) capabilities for their corporate offices and customer events.
Avt Chief Executive Officer, Mr Graham Evans said the deal combines the latest av technology in a real-life test environment at Australia's leading enterprise technology company.
"Avt brings cutting edge technology to market and partnering with TechnologyOne enables us to trial new technology, test hardware and optimise that, at Australia's largest enterprise SaaS provider with the largest R&D centre," Mr Evans said.
TechnologyOne Chief Operating Officer, Mr Stuart MacDonald said avt was helping to transform more than 100 meeting rooms and interactive spaces across 14 offices globally into intelligent workspaces to optimise key all-of-company events such as Hack Days, as well as capturing analytics insights for facilities and events planning.
"As a rapidly scaling global enterprise SaaS company, we partner with vendors like avt that are passionate about combining industry insights and latest technologies to deliver innovative experiences and solutions that work at scale," Mr MacDonald said.
"By combining their insights from different industries and capabilities of latest AV technologies, avt is helping us to transform our meeting spaces into intelligent workspaces that enable real-time, seamless collaboration between teams and optimise the performance and uptime of our facilities," he said.  
"This partnership has also helped us improve the AV technologies in our conference and training rooms, and create interactive staff spaces across the 14 offices, including our world-leading R&D centre located here in our Brisbane headquarters. 
"Partnerships such as these help develop the capabilities of both parties and ensure that innovation is always at the heart of everything we do – a promise which keeps us at the forefront in attracting and retaining the best talent," Mr MacDonald said.
avt Head of Strategic Partnerships and Innovation, Mr Graham Barrett said the partnership was  secured on the strength of a 10-year relationship between the two technology companies.
"We have been growing an innovative relationship with TechnologyOne for more than a decade and this partnership represents the new platform for our continued evolution together," Mr Barrett said.
avt: avt.tech
More for you