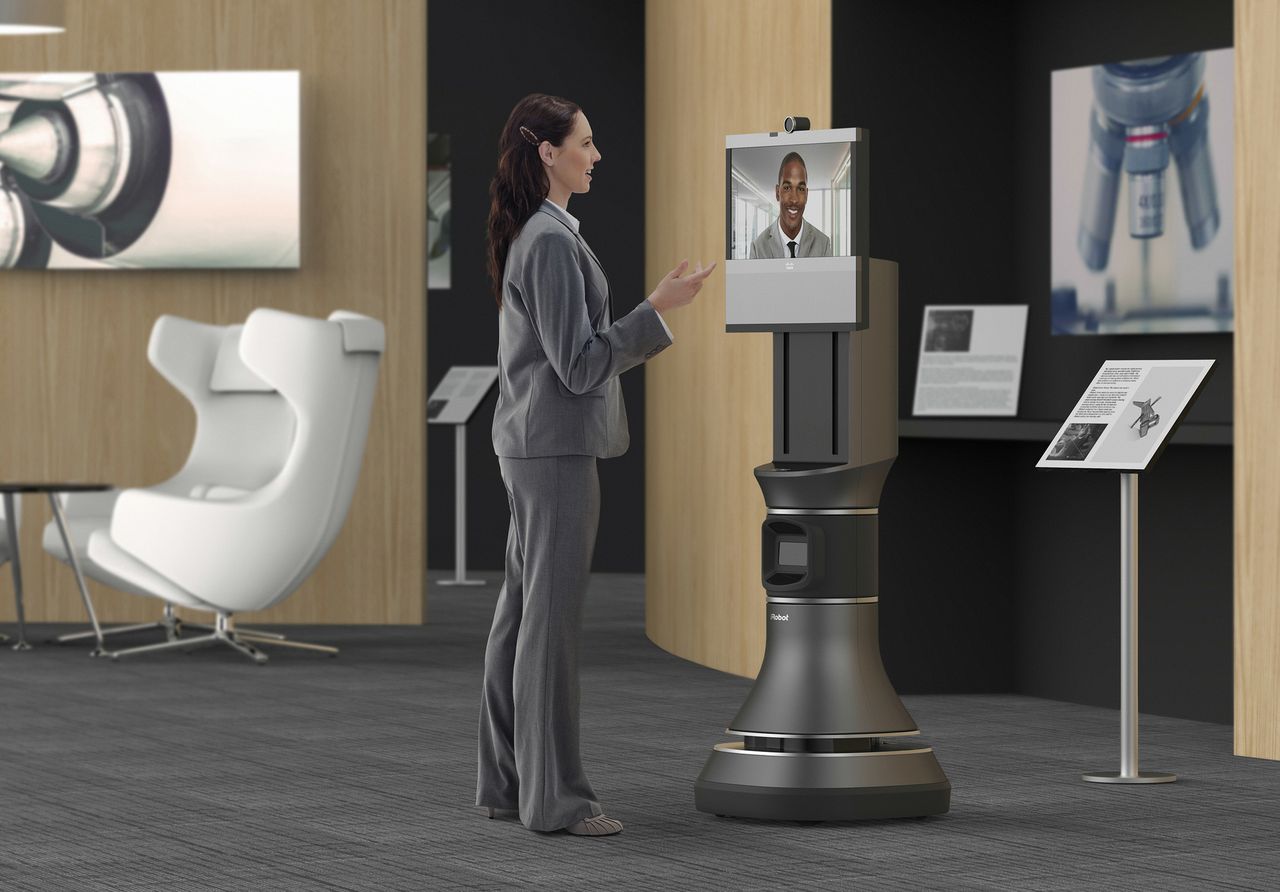 InfoComm 2013

From the resolution revolution to telepresence Daleks, this is the show roundup.
Text:/ Andy Ciddor
InfoComm 2013 was the usual full-body culture shock for me. Walking across the tarmac in Hobart to board my first flight of the day through a crisp 4° morning was quite a contrast to the next time I felt fresh air some 30 hours later, at 3am in steamy 33° Orlando, Florida. More than the weather, though, is the contrast of the sheer scale of the InfoComm Show.
The previous week, with my Light+Design editor's hat on, I had been at the SPARC show at Sydney's Overseas Passenger Terminal in Circular Quay. Affiliated with the Vivid festival, this was a busy tradeshow focussed on commercial lighting with a very heavy influence of LEDs. It attracted 74 exhibitors and some 3000 visitors. This entire show occupied about the same floor space as the combined area of the Christie and Crestron stands at InfoComm, and of course there were another 930 or so stands in the Orange County Convention Center to visit. Although the Orlando show usually attracts fewer visitors than the Las Vegas version, this year's event saw a record 35,000 attendees, an indication of returning US business confidence (although there were only half the number of Australians who visited Las Vegas last year). On top of that, there were probably a further 3000 people in red InfoComm shirts.
4K & 6GIGS
Following on from the trend seen at the National Association of Broadcasters (NAB) show a couple of months earlier, everything video is now in the process of being upgraded to 4k resolution (which of course can mean anything from around 2160 horizontal lines and 3500 vertical lines upwards). Video signal transport and processing is rapidly moving to uncompressed 4k, hence the need for signal bandwidths of 6Gbps (that's 6 gigabits per second Gb, not the 6GB – 6 gigabytes per second that's seen in so many hastily-typed media releases). It looks like 4k capture and production for cinematic, signage and production purposes is well and truly upon us and should be reasonably priced and reasonably available once all the products announced in the last few months start to roll off the production lines later in the year (or maybe early next year).
On the consumer display front, boring old 3D is a thing of the past (or more correctly, a thing of a future that failed to materialise) so this year's big idea for selling more product to aspirational consumers is that any screen over about 55-inches (1.4m) really needs to be at least 4k resolution to look acceptable. While some of us have been installing 4k (and beyond) high resolution systems in the appropriate industrial, commercial, museum, educational and research environments for years, it's quite a leap of faith to buy a TV for a format for which there is no standard distribution medium for either pre-recorded material or live streams. The 4k landscape looks even stranger when you consider that here we sit, several years after the availability of digital HD (1k) broadcasting, and there is approximately zero 1080p material being transmitted. And that's for a medium where distribution and transmission standards are in existence. Does anyone want to suggest a date when a full 4k end-to-end footy match will be broadcast to your lounge room?
AVB PROGRESS
Everybody's favourite new networking standard, Audio Video Bridging (AVB), is a group of network protocols for the distribution of time-synchronised and low-latency audio and video streams over Ethernet networks. AVB currently provides for three core protocols, which offer timing and synchronisation, bandwidth allocation and traffic shaping to ensure that low priority data does not interfere with AVB content. Each year at InfoComm the AVNu Alliance (the keepers of the AVB flame) demonstrates the progress being made by its members to produce interoperable products that communicate via AVB.
InfoComm 2013 was the first time we have seen any evidence of the V in AVB. Barco and Arrive Networks both showed working models of devices that stream fully synchronised low-latency audio and vision across a busy AVB network. Another interesting development was the use of the XMOS microcontroller to implement a number of advanced AVB features in a single device. Of particular interest was the configuration of the microcontroller as a dual-port device that enables a daisy chain of devices instead of the switch-based star topology that is the hallmark of modern Ethernet networks.
And on the subject of daisy chains, it's becoming increasingly common to hear AV technical people lamenting the topology of TCP/IP-based AV systems running on UTP (CatX) and fibre. Certainly having everything from machine control to CCTV, audio, email, web browsing and beverage ordering on the same network means you have a much smaller inventory of cables to stock and few worries about adding new data streams to the installation, but modern Ethernet (anything faster than 2Mbps) is locked into a star topology, based around the central network switch. While the star is an acceptable trade-off for many applications it's a damned nuisance for many of our 'traditional' AV applications such as distributed video monitors, background music and announcement systems and particularly for the far-flung outposts of digital signage installations.
HDBASE-T
While by no means an open standard (in fact the technology is closely guarded by its developer Valens Semiconductor) HDBaseT has become a much sought-after technology. There are now more than 60 companies signed on to the HDBaseT Alliance to develop products around the technology that squeezes HD video (up to 4k of course), audio, 100Mbps Ethernet, a bunch of low-bandwidth control signals plus 100W of power down a single run of Cat5e/6 UTP cable.
At InfoComm 2013, in addition to the growing number of point-to-point HDBaseT data transmission products and its ever-increasing adoption in matrix switchers and similar signal distribution applications, we saw the first round of single-cable HDBaseT devices such as projectors, monitors and an AV receiver from Pioneer, the newest member of the alliance. Gefen has taken the point-to-point process several steps further by releasing a pass-through HDBaseT receiver for digital signage applications that replicates the signal down an eight-step daisy chain with an 800m maximum run. This technology is really gathering a lot of momentum and there is more real product shipping all the time.
TOUCHY SUBJECT
Touch applications have really hit the mainstream now, with interactive devices and applications springing up wherever you look. The wide range of nascent large-screen touch technologies we saw at InfoComm shows a few years ago has gone through a bit of a shake out, with the main players being the increasingly more accurate and sophisticated (often retrofitted) IR LED bezel systems using a couple of different technologies, and the through-screen camera system from Finnish company MultiTouch. Because the through-screen system is entirely behind the panel and capable of easily being tiled to produce arbitrarily-large interactive multi-touch panels (such as those in the QUT cube featured in AV Issue 30), the MultiTouch panels in 42-inch, 55-inch and, since InfoComm, 84-inch panels have come to the forefront of the interactive exhibit market in museums and retail.
Even more than the hardware, multi-touch display development tools are an ever-expanding sector, with a lot of players attempting to fill the growing demand for interactive systems. Like digital signage development before it, this sector looks set for a wide range of offerings with very different approaches to interactivity and a shakeout process that will leave just a few area-specific approaches with the majority of the spoils. It's still way too early to even guess who those players will be, much less pick a winner.
COLLABORATIVE IMPERATIVE
More than ever before this InfoComm show was abuzz with the imperative of collaboration. Everything from an interactive whiteboard to a note-taking app for mobile phones has been dragged in under this umbrella. Videoconferencing in particular has become a critical part of the unified collaboration that all AV must participate in if we are to survive.
If the world really does need even more expensive video collaboration suites that only seem to be used to watch the running of the Melbourne Cup, that's fine by me. I had mistakenly come to the conclusion that cheap, simple, always-ready, desktop conferencing systems that cost much less to own and operate, provided a ready means of collaborating with all the people who aren't in my building. It seems I'm not entirely wrong, as most UC strategies that you buy for seven-figure sums usually include a desktop/mobile device client in the mix.
Most noticeable at InfoComm 2013 were the wide variety of meeting room collaboration ideas being offered by everyone, from projection companies to control and integration companies. While each of the products I saw allowed the participants in a meeting to share ideas between their laptop or tablet screens, there were a surprisingly diverse range of approaches to connecting devices, becoming the focus of attention, annotating content and publishing the results of the meeting. Now, while the world could comfortably work without the tyranny of a single overblown Word processor, it probably doesn't need the present diversity of meeting collaboration applications with so many different underlying architectures and thought processes.
One of the more surprising technologies to make an appearance at the show was the remote telepresence videoconferencing robot. I know the idea has been around in various real and imagined forms for many years, but what shocked me was that there were four companies offering versions of a motorised box that can run around your office equipped with a video conferencing station mounted on a stick at head height.
I like the idea of a video conferencing trolley you can wheel into an office or meeting room and use for a meeting with a remote party at the drop of a hat. What I'm not convinced of is why you would need the trolley to be robotic and able to go up to someone's desk or catch them unawares in the corridor for a teleconference. And these devices are seriously capable robots from the likes of iRobot (the Roomba people) in conjunction with Cisco and Suitable Technologies – a spin-off from the Willow Garage robot works. The price of the BEAM from Suitable Tech is quoted as US$16k, which is a lot of airfares and taxi vouchers you would have to save to make the purchase even vaguely economical. But it's not the economics or even the technology I find unfathomable; it's the mindset that could see this as even vaguely practicable. All of the people who you would need to contact from your converted NORAD office located deep under Cheyenne Mountain would have to be located on the same level in rooms without doors. I learned this from watching what happens when Daleks try to climb stairs to 'ex-term-inate' Doctor Who. I've recently been having nightmares about being invaded in my office by a telepresence robot shouting 'COL-LAB-OR-ATE – COL-LAB-OR-ATE'.
More for you