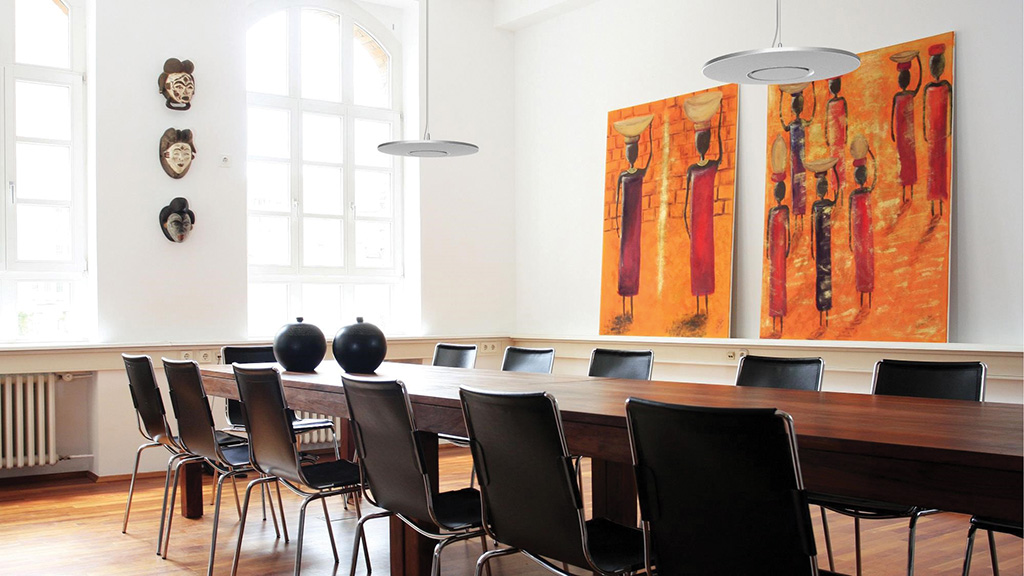 One of our highlights of the InfoComm show was Stem Audio. None of what it's selling, individually, is necessarily ground breaking but its holistic (and comprehensive) approach to collaboration is an eye opener.
Stem is an offshoot (sorry) of well established US conferencing products manufacturer, Phoenix Audio Technologies, and looks to provide "the complete full stack solution for audio conferencing," according to CEO, Jacob Marash. It comes at conferencing equipment from a new angle, bringing consumer standards to the B2B world by concentrating on the approach to the problem rather than the problem itself.
Needs Analysis: To better understand market needs, Stem undertook thorough research with the end users who actually use the devices – the designers and architects who design the spaces, the IT professionals who manage products across organisations, and the integrators who purchase, install and maintain audio conferencing products. They asked them what their problems are and what their pain points are.
The research showed six problems common to almost every respondent:
Room design: time consuming and requiring a lot of guesswork
Difficulty of install: time on site is profit lost
Testing the room: objective measurement complexity
Custom solution: no one size fits all
Managing the technology: need to monitor and control remotely in real time
Training users: the more difficult it is to use, the less it is used
These issues are not new to the industry. Designing a framework that addresses these problems is.
Ecosystem solution: The Stem approach to this challenge is to provide a whole ecosystem made from the building blocks of hardware but glued together with intelligent software. As Jacob Murash put it: "it's the perfect marriage between hardware & software".
Stem has the luxury of drawing on decades of Phoenix's audio knowledge but has its own R&D to produce a range of elegant and simple products that not only work well but do so within the Stem ecosystem. It's designed deep learning and neural networks to drive DSP and software improvements and used this knowledge to redesign beamforming mic arrays.
Many answers to the pain points lie in the software:
RoomDesign creates a virtual room to design and specify products before purchase
Installation uses one Ethernet port with PoE. Connect to the network and you are done
RoomCheck generates an objective room audio clarity heat map of the installation
RoomAdapt analyses your room's acoustics and adjusts settings to ensure your products are optimised for best audio clarity
Remote Management allows monitoring of the ecosystem from anywhere over the network
Intuitive Design: Stem's user interface integrates seamlessly with all major video conferencing platforms. Easy for end clients to use what they already know
However, Stem is primarily a hardware company. Its suite of five networkable products can be mixed and matched into any size meeting room. Wall mic/speaker combination, ceilingmount microphones, tabletop speakerphone, simple user interface and the Stem Hub – deployed when multiple Stem units are in the room.
A living, breathing organism, the product range will continue to grow as Stem does. Along the way, they want to be open to as many third parties as possible, staying compatible with all video conferencing platforms and already Amazon Alexa enabled. The Stem InfoComm booth motto was "we play nice", summing up the company approach.
Branching out: Stem might be new kids on the block but come from good pedigree. Jacob Murash: "We have decades of experience yet we're still able to be nimble and cutting edge."
Stem's goal is to provide products that are: scalable, reliable, controllable, intuitive, flexible and simple. The Stem difference is putting all those features in the entire ecosystem.
Stem Audio systems available Q1 2020
More for you