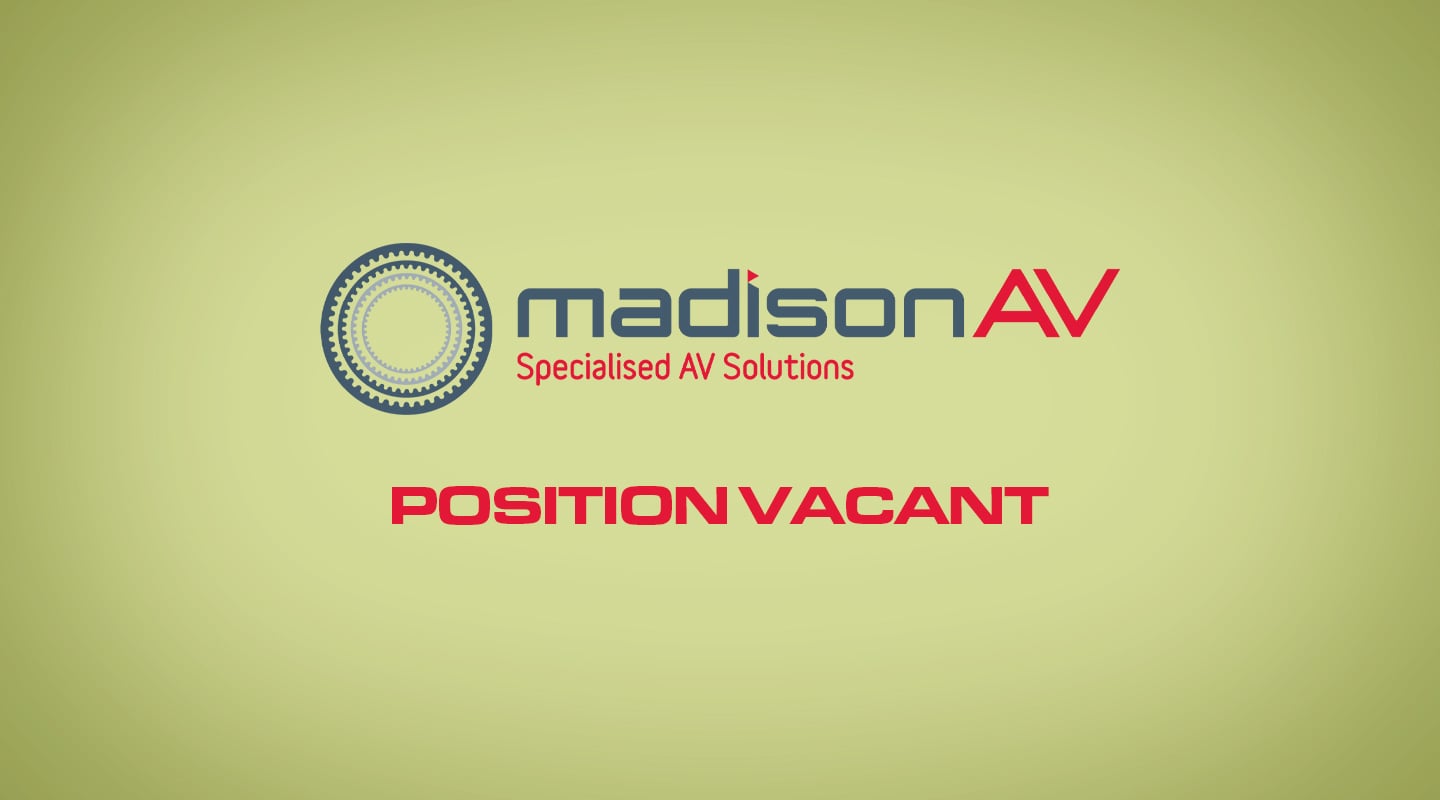 MadisonAV is a specialist AV business within the Madison Group that distributes professional and commercial grade audio visual products and solutions. Our world leading and complementary brands make us a value-added distributor of complete end to end AV solutions. As we continue an exciting growth phase with the addition of the HARMAN Professional product lines, including the brands AMX, JBL, Crown, BSS, AKG and DBX, we look to strengthen our high-performing team with an experienced Specialist to lead Sales and Business Development of our Performance Audio Solutions.
ABOUT THE ROLE
Reporting to the National Sales Manager, this role is to provide leadership, drive demand, create pipeline and close sales opportunities across the HARMAN brands "Performance Audio Solutions" product line vertical. Working collaboratively with the greater MadisonAV team, the role will plan, develop and implement the overall go to market and channel strategies to ensure category is sustainable and profitable.
ESSENTIAL RESPONSIBILITIES WITHIN THIS ROLE INCLUDE:
Developing and maintaining clear plans and strategies for the product category
Identifying potential Customers and Channel Partners across relevant market verticals, establishing communication and calling patterns to have the products and solutions selected and purchased, or specified for use
Preparing and conducting product demonstrations
Proposing solutions and preparing quotations, and related follow up activities
Researching and communicating market and competitor insights
Identifying new market opportunities for the product category
Delivering comprehensive product training to the national sales team
Maintaining CRM integrity for contacts and opportunities
Liaising professionally and productively with internal departments, such as Marketing, Sales, Operations, Finance and Supply Chain
Work closely with the National Sales Manager to ensure sales opportunities are progressing and are realised in accordance with your strategic plans
In addition, always searching for optimisation and process improvement methods across the wider business to support overall go to market strategy and ensuring customer satisfaction.
ABOUT YOU
We are seeking an experienced Pro Audio Industry Professional with performance audio product knowledge from a Technical Sales, Business Development or Category Management background. An understanding of the Australian touring and performing arts market and relevant relationships would be highly advantageous.
TO BE SUCCESSFUL IN THIS POSITION, WE ARE SEEKING THE FOLLOWING ATTRIBUTES:
Capability and desire to identify and develop new business opportunities through strategic Sales/Solutions based selling methodologies
Ability to effectively communicate at both a commercial and technical level
Ability to leverage existing relationships within the performance Audio market, converting those relationships into business growth opportunities
Continuous process improvement mindset
Excellent attention to detail
Team player interested in contributing to growth and development of Madison Group
In addition to your skills and background we are seeking someone to live and breathe our Madison Group Values; Connect, Embrace Change, Take Ownership, Make it Happen and Act with Integrity.
WHY US?
At Madison our friendly culture is the heart and mind of who we are and champions how we interact with each other and our customers and suppliers. In our 2020 Employee Experience Survey when asked to describe our culture using three words the top words our teams used were friendly, fun, family, inclusive, professional, relaxed, welcoming, and positive.
Training, both technical and professional, is very important to us at Madison and is provided to our staff on a regular basis. Being at the coalface of technological advancements, we understand that enhancing the expertise of our employees ensures that our business remains up to date and our staff are able to take on the complex technical challenges of the future.
HOW TO APPLY
If this sounds like you, please apply here now! All applications must include a cover letter outlining how you would add value to this role and resume to be considered.
More for you