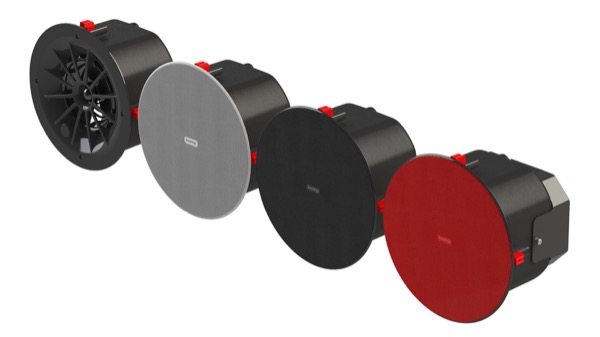 /
/
BIAMP INTRODUCE DESONO CONFERENCING SPEAKERS
BIAMP INTRODUCE DESONO CONFERENCING SPEAKERS — AV.technology
At ISE 2019 (Stand 3-B120), Biamp introduces its new desono line of conferencing speakers with an optional AMP-450BP backpack amplifier. The desono C-IC6 conferencing speakers incorporate helpful design features like termination-free connections using standard category cables, an removable magnetic grill, and acoustic performance tailored for speech reproduction, making them ideally suited for conference rooms.
Accompanying the desono speakers is the optional PoE+ AMP-450BP amplifier that mounts on the back of the speaker — eliminating the need for multiple cable runs back to the rack. Each backpack amp powers up to seven additional desono speakers via category cable, creating a termination-free installation, enabling a structured cabling crew to complete the entire above-ceiling audio rough-in for a conference room.
The desono family of speakers also feature dual RJ-45 ports for daisy chaining and standard 4-pin euroblock connectors providing additional flexibility for projects that utilize traditional speaker wiring. The AMP-450BP amplifier is designed with multiple mounting options and can be backpacked onto the speaker, mounted to a wall, or suspended from a Biamp tile bridge.
Biamp are announces two pendant style models – the P6 and P6-SM – designed for retail, restaurant, casino and any other background/foreground music or paging application. These speakers are mechanically steerable and feature an internal 70V/100V transformer with a 16 Ohm bypass, giving designers an internal power option for pairing to Biamp's new AMP-450BP amplifier.
Biamp: www.biamp.com
Australian Distributor: www.jands.com.au
More for you