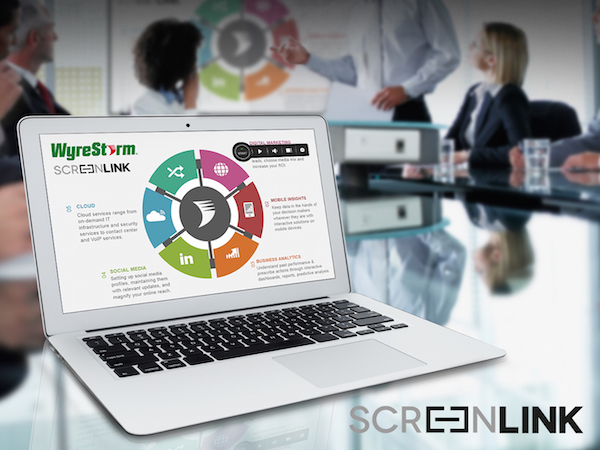 /
/
INFOCOMM PREVIEW: WYRESTORM
INFOCOMM PREVIEW: WYRESTORM

WyreStorm ScreenLink is a new collaboration software for wired or wireless network display sharing from Windows and Mac devices to its 5×1 HDBaseT and AV-over-IP presentation switchers. ScreenLink is designed to be a time-saving solution for when getting a multi-user content sharing system set up will otherwise take too long, enabling all users to quickly start sharing their screens in a simple three-step process.
ScreenLink supports the simultaneous connection of up to 26 Mac or Windows laptops/computers to each SW-0501-HDBT or NHD-SW-0501 presentation switcher. Up to four computers can be displayed at the same time through a variety of configuration options; including single, dual, PiP and quad-view.
In other WyreStorm news, WyreStorm NetworkHD Touch is a free app for iPad that enables live video preview and control of an entire NetworkHD 100 and 200-Series AV-over-IP system for both single screen and video wall applications.
Touch puts AV control at your fingertips, featuring drag-and-drop selection of content onto each display for easy switching of any number of sources to any number of displays or video walls. Real-time I/O video preview are shown on the iPad screen.
It's also easy to set up. Touch is configured automatically via downloads from the central NetworkHD system controller to ensure users have access to their source content in a matter of minutes.
When using Touch with video walls, you can access settings and change preset display configurations within the NetworkHD 200 Series systems and then drag and drop new content onto the iPad virtual display placeholder in real-time.
More Info:
WyreStorm: www.wyrestorm.com
Australian Distributor: www.hills.com.au
More for you