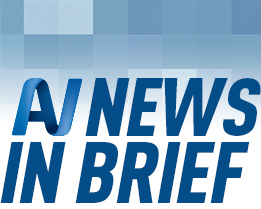 NEWS IN BRIEF
Update 12th February 2014
Leaf, a manufacturer of HD audio/video distribution and switching solutions, has announced the opening of its latest regional office, Leaf Europe, located in the United Kingdom. The new facility will play an essential role in growing Leaf's presence throughout Europe, extending the Leaf dealer channel, as well as shaping strategic relationships with area businesses.
In a significant development for users of Audinate's Dante media networking technology, Symetrix has announced that the latest version of its SymNet Composer software will enable complete configuration of select Dante-enabled Symetrix, Attero Tech and Stewart Audio products. Settings affecting I/O levels, routing and more will be defined with SymNet Composer 2.0, which gives customers the ability to consolidate operations on a single platform where three or more were previously required.
At the ISE 2014 show in Amsterdam, Revolabs and Biamp Systems joined forces to present a technical demonstration of Audio Video Bridging (AVB) interoperability between Revolabs Executive Elite wireless microphone system and Biamp System's Tesira digital signal processor (DSP)-based media system. The demonstration was a preview of upcoming development work to integrate the two products. Both Revolabs and Biamp are members of the AVnu Alliance, a consortium that advocates adoption of the IEEE 802.1 AVB standards designed to make Ethernet suitable for audio and video transport.
www.revolabs.com and www.biamp.com
To make it easier for employees to connect and collaborate over voice and video, organisations frequently use the combination of Microsoft Lync and Polycom solutions to launch video and voice collaboration sessions from within familiar business applications and workflows. Polycom, Inc has announced an expansion of its portfolio of more than 40 offerings for Microsoft Lync to include the new Polycom CX8000 room system for Microsoft Lync, a video conferencing system that brings Microsoft Lync to the conference room with HD video, simple room controls and an optional, centre-of-table experience using 360-degree cameras for Microsoft Lync.
Sapphire has launched a new metal-cased model in its Edge Series of mini-PCs targeted for use in professional AV solutions and as a Digital Signage player. The Sapphire Edge DS8 is based on the 4-core Trinity A8 accelerated processing unit (APU) from AMD, delivering high-quality graphics, housed in a wall-mountable metal enclosure measuring 168mm x 235mm by 46mm thick. It is designed for 24/7 operation in the more demanding applications of ProAV installations, POS applications and especially as a Digital Signage player.
The new Matrox AvioTM F125 KVM extenders transmit dual-HD or single-4K/4K Ultra HD copy-protected video & stereo analogue audio, plus keyboard, mouse, and USB 2.0 device signals up to 2.5 times farther than before over a single fibre-optic cable. Ideal for high-performance, graphics-intensive applications, Avio's high-bandwidth, zero-compression, zero-latency extension enables employees to work in real time up to 10 km (6.2 miles) from their centralized workstations.
More for you