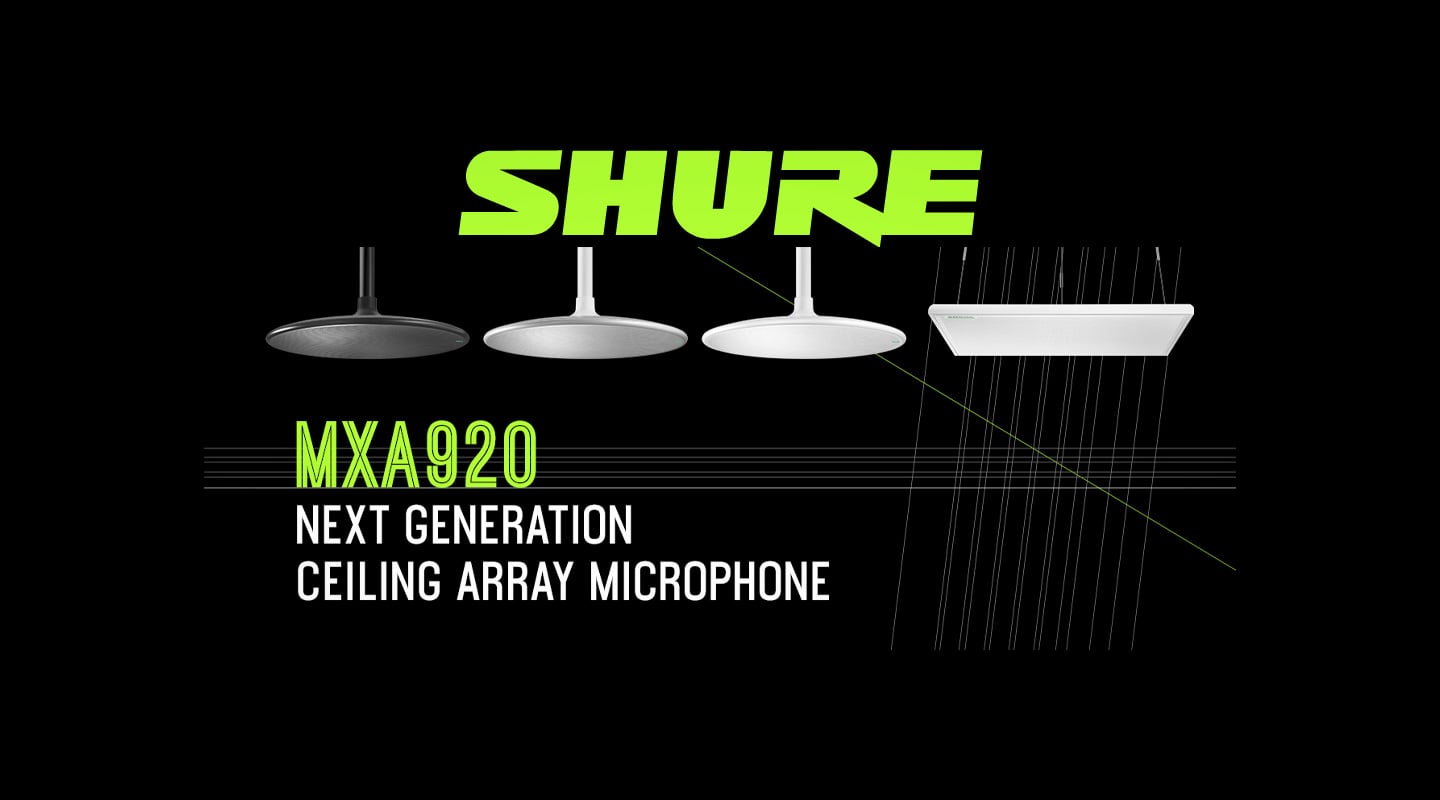 /
/
Next Generation MicroFlex At ISE
Next Generation MicroFlex At ISE
Shure's new MXA920 Advance Ceiling Array Microphone launched
Shure have announce the next generation Microflex Advance Ceiling Array Microphone — the MXA920. This new flagship product in the Shure networked microphone category directly replaces the MXA910, which will be discontinued upon the public launch of MXA920. This new addition to the Microflex Ecosystem portfolio brings a simplified deployment experience and enhanced audio performance, all packed in a familiar square — as well as new round form factor that opens up more architectural possibilities.
The MXA920 introduces Automatic Coverage technology that no longer requires the aiming of lobes, minimising setup time and effort. In addition to 9x9m out-of-box room coverage, users can deploy up to 8 fully-adjustable coverage zones to capture only the talkers you want, in multiple areas of the room, while avoiding areas you don't.
The MXA920W-S microphone employs redesigned, next generation array architecture that provides enhanced directionality and more natural speech, plus onboard IntelliMix DSP for noise- and echo-free performance. It delivers improved scalability and flexibility to address challenging user demands in applications ranging from AV conferencing to camera tracking and voice lift in premium meeting spaces  
The new MXA920-R Ceiling Array Microphone is available in both square and round form factors with multiple mounting options. The square form factor is available in white only, while the round form factor is available in three colour options which are all paintable. At launch, the MXA920 is certified for Microsoft Teams Rooms when used with the IntelliMix P300 Audio Conferencing Processor and Microflex MXN5W-C Networked Loudspeaker. Further certification testing is in progress and will be announced later.
The MXA920 will start to ship in limited quantities later in 2022, subject to the ongoing global supply chain situation.
MXA920 Ceiling Array Microphone Range
MXA920W-S – Square, White, 24in
MXA920W-S-60CM – Square, White, 60 cm
US$4732
MXA920W-R – Round, White
MXA920B-R – Round, Black
MXA920AL-R – Round, Aluminium
US$4732
Accessories*
A900-PM-3/8IN – 3/8" Threaded Rod Adapter
US$138
A900-S-GM – Gripple Mount Kit, Square, No Cover
US$78
A900W-R-GM – Gripple Mount Kit, Round, White CoverA900B-R-GM – Gripple Mount Kit, Round, Black Cover
US$158
A900-S-PM – 1.5" Pole Mount Kit, Square, No Cover (Pole not included)
US$138
A900W-R-PM – 1.5″ Pole Mount Kit, Round, White Cover (Pole not included)
A900B-R-PM 1.5″ Pole Mount Kit, Round, Black Cover (Pole not included)
US$198
* The existing A910-HCM Hard Ceiling Mount, A910-JB Junction Box Adapter, and RPM90x Frame and Grille Accessories for MXA910 are compatible with the new MXA920-S square form factor and will continue to be available.
Technical Enablement Training for the MXA920 will become available in the Shure Audio Institute LMS upon public launch. We will further arrange webinars and workshops to provide you with personalised product training. Please watch out for separate training invitations. Existing MXA-related courses will be updated with references to the MXA920. These updates will be published later in 2022 and courses related to MXA910 will remain available in the SAI LMS to support current users.
Product pages on the Shure website and Tech Portal went live on May 2, 2022 and include brochure and sell sheet, spec sheet, CAD and BIM drawings, architectural specs, user guides, how-to videos, and FAQs, among other general product information. The Microflex Ecosystem landing page as well as MXA product family page will also be updated to feature this new product. The MXA920 will be first displayed publicly at ISE 2022, and InfoComm 2022 tradeshows. Additional local launch events and roadshows will be announced soon. 
Due to ongoing supply disruptions and to better support the production ramp-up for their new flagship product, the MXA910 and related product bundles will be discontinued upon launch of the MXA920 on May 2, 2022. Shure will not accept any last orders for MXA910 however orders for the new MXA920 are now being taken. MXA910 orders that cannot be fulfilled due to supply constraints will be changed to MXA920 at no extra charge. Target delivery dates will be adjusted and you will be informed accordingly.
Shure have prepared an official letter to justify a specification change for MXA910s currently specified in project tenders or bids. Contact your Shure Regional Sales Manager for support. They will continue to provide service support, as well as firmware and related software updates for existing MXA910 customers according to their general end of life guidelines.
In a statement from Shure they say, "Global supply chain issues continue to be a challenge and require many adjustments that can affect the usual lifecycle of our products and unfortunately also necessitate hard and fast end of life measures. We apologise for the inconvenience this causes for you and your customers and thank you for your understanding."

Fira Barcelona, Gran Vía
10-13 May 2022
ISE 2022
Integrated Systems Europe is the world's leading AV and systems integration exhibition. ISE 2022 will showcase the world's leading technology innovators and solutions providers. Plus, 5 days of inspiring conferences, events and experiences.
More for you