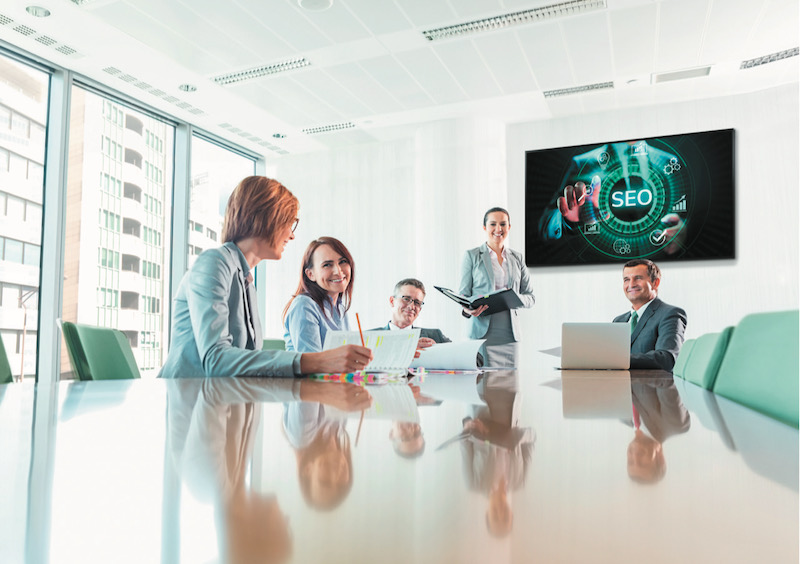 /
/
Philips B-Line Brings Cutting-Edge Connectivity to Meetings and the Food and Beverage Industry
Philips B-Line Brings Cutting-Edge Connectivity to Meetings and the Food and Beverage Industry
Philips Professional Display Solutions announces the launch its brand new B-Line range. This highly versatile series of Google and Crestron-certified UHD Pro TVs has been designed to enhance meeting room collaboration and bring new levels of simplicity to sharing and scheduling content in the food and beverage industry.
Available in 50", 58", 70" and 75" models, all stylishly finished with a sleek black bezel, the new B- Line series from Philips Professional Display Solutions opens up new opportunities for businesses looking to improve and streamline their digital communications, with an extensive range of dedicated features and functionalities.
Harnessing the power of Android P, Crestron-connected and with Chromecast built-in, the B-Line allows content to be wirelessly shared to one or more displays from any BYOD device – from a laptop to a tablet or smartphone. Better still, no new apps or additional hardware are required, ensuring hassle free sharing for users and a cleaner, wire-free installation, removing the risk of potential theft for businesses too.
Jeroen Verhaeghe, Product Manager responsible for Philips Professional TVs, comments: "For many years, Chromecast has been seen as a consumer product but, at Philips Professional Display Solutions, we see huge potential and opportunity for its use in business, particularly in meeting room environments where collaboration is vital, and in the food and beverage industry where displays are becoming increasingly prominent for entertainment and communicating with customers."
CORPORATE
Participants in business meetings can use Chromecast to wirelessly connect to the network upon which the B-Line display is running, allowing them to securely, seamlessly and instantly cast content, such as a presentation, from their device directly onto the display. With more than 55 million users, Google Chromecast is one of the world's most popular streaming devices and the most universal solution for wireless presentation available on the market.
What's more, as well as being Crestron-connected, Extron and Neets IP control compatible, and with Crestron /Extron SXP drivers available, the B-Line also features HDMI hotplug detection – automatically finding and responding to a user's actions so that they can connect their device via one of the HDMI inputs.
Verhaeghe adds: "Collaboration and participation are the key ingredients to any successful meeting. Technology plays a crucial role in achieving this and with the B-Line's incredible connectivity, together with Google Chromecast, the opportunities to share ideas, to make yourself heard and to play an important and active role in the meeting has never been easier."
FOOD AND BEVERAGE
The B-Line series is also equipped and positioned to help food and beverage organisations offer an enhanced solution for displaying content and communicating important messages to customers within their establishments.
Running on the latest Android P software, B-Line displays provide instant access to a wide range of apps and services via Google Play.
Using Philips Professional Display Solutions' award-winning end-to-end solution, CMND, IT managers are given full remote management and control of all TVs, including what's being displayed, troubleshooting and updates – all via a single, easy-to-use interface.
Scheduled or ad-hoc messaging can all be created and displayed quickly, including ads for upcoming sporting and other events, changes to menus or 2 for 1 promotions, maximising opportunities in the moment that matters.
Verhaeghe says: "The food and beverage industry is a fast-paced and ever-changing environment and it's important to be able to react quickly to ensure customers remain happy, entertained and informed. The ability to schedule promotions, in-house ads, or even ad-hoc impromptu promotions? This is all possible –quickly and simply – with B-Line."
"The advantages of running B-Line displays on Android are vast" says Verhaeghe. "Being Google- certified means we have access to the latest software developments and advancements. It also means we're able to offer our extended lifetime guarantee. Future Android updates will be available to existing B-Line displays, so there's no reason to postpone selecting your Professional TV – customers with older models will always receive the latest features and benefits."
More for you