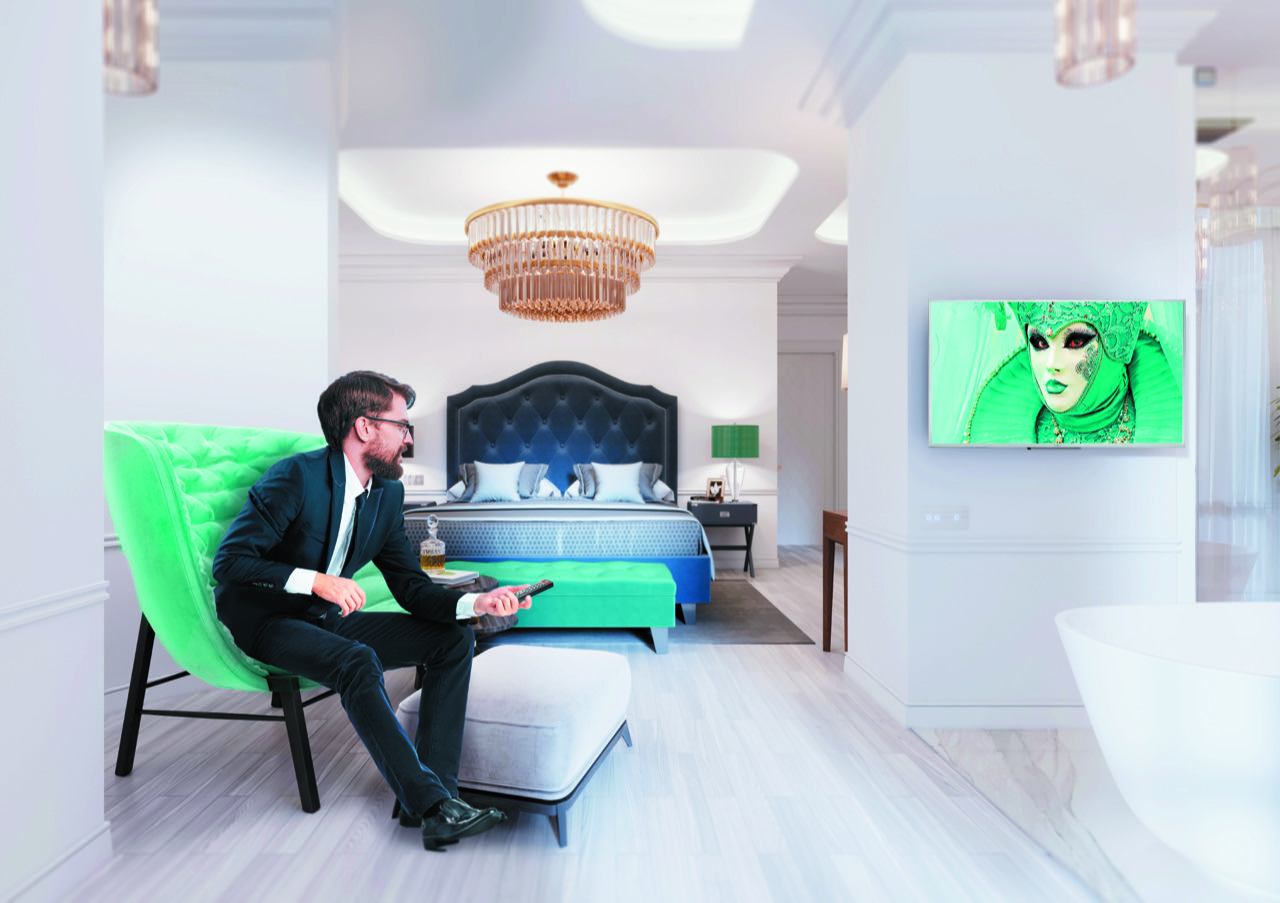 /
/
Philips Extends MediaSuite Range Professional Hospitality Display Range
Philips Extends MediaSuite Range Professional Hospitality Display Range
Philips Professional Display Solutions is excited to announce the next generation of Google-certified MediaSuite hospitality TVs at ISE 2020 – featuring all new design, enhanced functionality and more world-first features and benefits.
Further building on its strategy to provide market leading products and solutions to the hospitality sector, the new MediaSuite models being launched this year include three brand new high-end models across five size variants – ranging from 32-inch to 65-inch – each designed to ensure the highest and most personalised end user experience available in the market.
Available in 43-, 50-, 55- and 65-inch, the new HFL6114U series provides stunning 4K UHD (3840×2160) picture quality and comes with an all-new, super slim, silver metal bezel design and a stylish matching stand.
The all black 5114U – available in 43-inch and 50-inch – matches the 6114U's 4K UHD capabilities and is optimised for wall-mounted installations, while the 5114 – available in 32-inch and 43-inch – provides a high quality FHD option.
BUILDING ON SUCCESS
This announcement marks the one-year anniversary since Philips Professional Display Solutions unveiled its existing MediaSuite range during ISE 2019. The 2019 launch set a new standard for control, personalisation and entertainment choice in the hospitality space, delivering the world's first Professional TVs to feature Chromecast built-in and extensive control and management options.
Introducing the exciting new MediaSuite range, Jeroen Verhaeghe, Product Manager responsible for Philips Professional TVs, said: "The launch and availability of the first two MediaSuite series in 2019 brought true transformational change to the hospitality market, setting a new standard around the end user experience and back end control management. We're proud to say MediaSuite is now being deployed across the globe by many of the world's leading hotels.
"As a market leader, we aim to continually drive the market forward. So now, with the MediaSuite 2020 range, we're switching the market up another gear, bringing even more features and benefits to hoteliers and guests and once again cementing our position as the brand of choice for innovation in Professional TVs."
MAKING IT PERSONAL
As with previous models, all new MediaSuite TVs will come equipped with Chromecast built-in, allowing guests to stream and view content – be it photos, movies, music or even presentations – instantly in up to 4K from their compatible laptop or mobile device (IOS, Android or Windows) with just the touch of a button.
With Chromecast built-in, no new apps or additional hardware are required, ensuring hassle free sharing for users and a cleaner, wire-free installation, removing the risk of potential theft for businesses.
Users will also have access to thousands of popular apps through the Google Play Store, including popular services such as Netflix, YouTube, Deezer and Spotify, plus local news, weather and traffic information.
MediaSuite 2020 – voice control, enhanced security and Netflix embedded
As part of a major software upgrade for 2020, the new range of MediaSuite hospitality TVs will come pre-installed with Android's latest software update, Android P, offering a variety of new features and functionality for an enhanced and more personalised user experience.
Updates will include Google Assistant's voice control functionality, enhanced security, and a more personalised and intelligent content selection.
MediaSuite hospitality TVs will also include Netflix – the world's most popular streaming platform with more than 167 million paid memberships – embedded into the TV, allowing users to enjoy seamless access to all their favourite movies and shows.
What's more, all existing MediaSuite models, including the HFL6014 and HFL5014, can be updated to Android P as part of Philips Professional Display Solutions' 'extended lifetime' guarantee, allowing older models to be upgraded with all the latest features and benefits.
"Everything we do at Philips Professional Display Solutions is with the customer in mind. Entertainment is a big part of the experience when staying in a hotel and we believe that the viewing experience should be even better than the one they're used to at home.
"With our TVs running on Android, our extended lifetime guarantee ensures guests can always enjoy a home away from home experience, choosing to watch or listen to their own content on or through the big screen, rather than their smaller personal device. Likewise, for hoteliers, having the ability to upgrade their fleet of TVs to ensure expectations are met, rather than being forced to invest heavily in new models – potentially creating an uneven experience across different rooms – is invaluable."
The MediaSuite series can also be equipped with an optional DOCSIS modem, which can be invisibly mounted at the back of the TV, to deliver a full Gigabit IP network. The modem enables installation, within 24 hours, with no rewiring costs and without significant operational impact or disruption to guests, into hotels in which IP infrastructure is missing.
BACK END MANAGEMENT
MediaSuite TVs can be managed and updated entirely remotely, either individually or collectively, with vast levels of customisation, be it imagery, colouring or even personalised messaging.
In addition, MediaSuite also offers new opportunities for greater interaction with end users, such as hotel guests, using an on-screen customer satisfaction survey, which can offer instant feedback on a
customer's current service perceptions. Such feedback will help managers to resolve any issues in person, while the customer is still on site, rather than after potentially negative online comment.
"MediaSuite provides the ultimate solution for hoteliers and their customers. We're incredible proud of what we've achieved with our MediaSuite range and look forward to sharing details on release dates shortly."
More for you