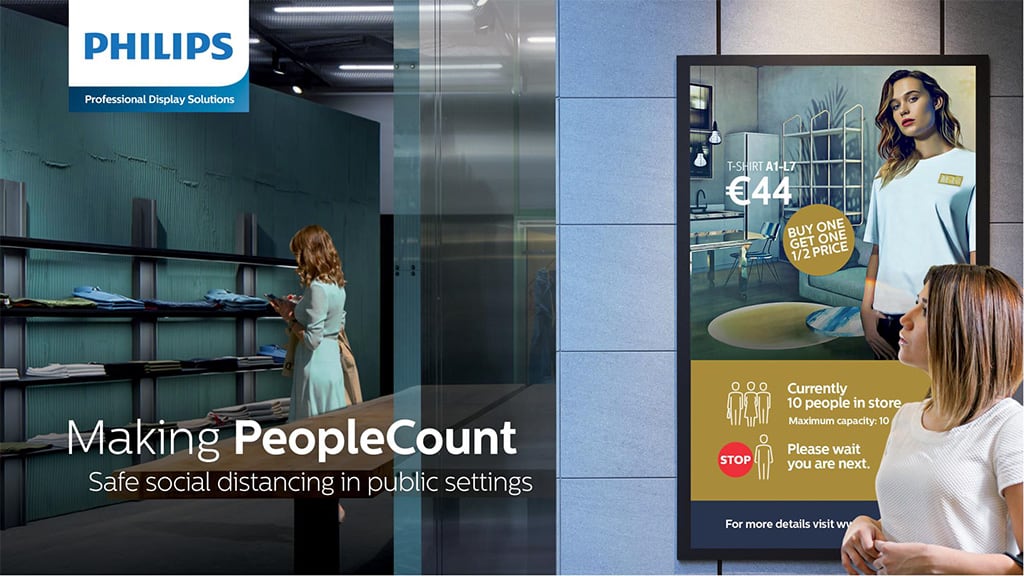 /
/
Philips People Count: Clarity, Safety & Reassurance
Philips People Count: Clarity, Safety & Reassurance
Philips Professional Display Solutions is helping the market adapt to the 'new normal' with intelligent solutions for safer social distancing in public areas.
Philips has joined with industry partners to launch two solutions to help speed the world's business recovery, with more innovations to come.
SINGLE-ENTRANCE SOLUTION
The first is People Count. Using a single entrance sensor and signage, Philips People Count tracks the number of customers entering and leaving a public setting. People Count delivers real-time information to a single display outside the venue, providing customers waiting to enter with easy to understand cues via a simple traffic light system.
The Android app loads onto the Philips display and communicates in real time with an IP security camera — no internet access required. The simple 'stop/go' graphics on the Philips display can run alongside the venue's messaging of choice.
MULTI-ENTRANCE SOLUTION
The second solution addresses spaces with multiple entrances/exits. The People Count multi-entrance software, sensor and signage delivers powerful insights for effective capacity management and queue communications.
Again the Android app is hosted by the Philips display and runs alongside the NowSignage software that manages the real-time data, as well as providing a graphic representation of the venue's capacity. The system provides an alert that will allow security staff to manage traffic flow and keep patrons informed.
CLEAR BENEFITS
The two People Count solutions from Philips Professional Display Solutions help venue and store managers to contain the total number of customers in store that each staff member is subjected to, limiting the risk. The customer-facing displays provide patrons with clarity, making the job of security staff easier, and very often doing away with need for traffic management staff entirely. People Count will be as welcomed by patrons as much as it is by venue and retail operators. It provides clarity, safety and reassurance in a period that can be dogged by anxiety and stress. 

More for you