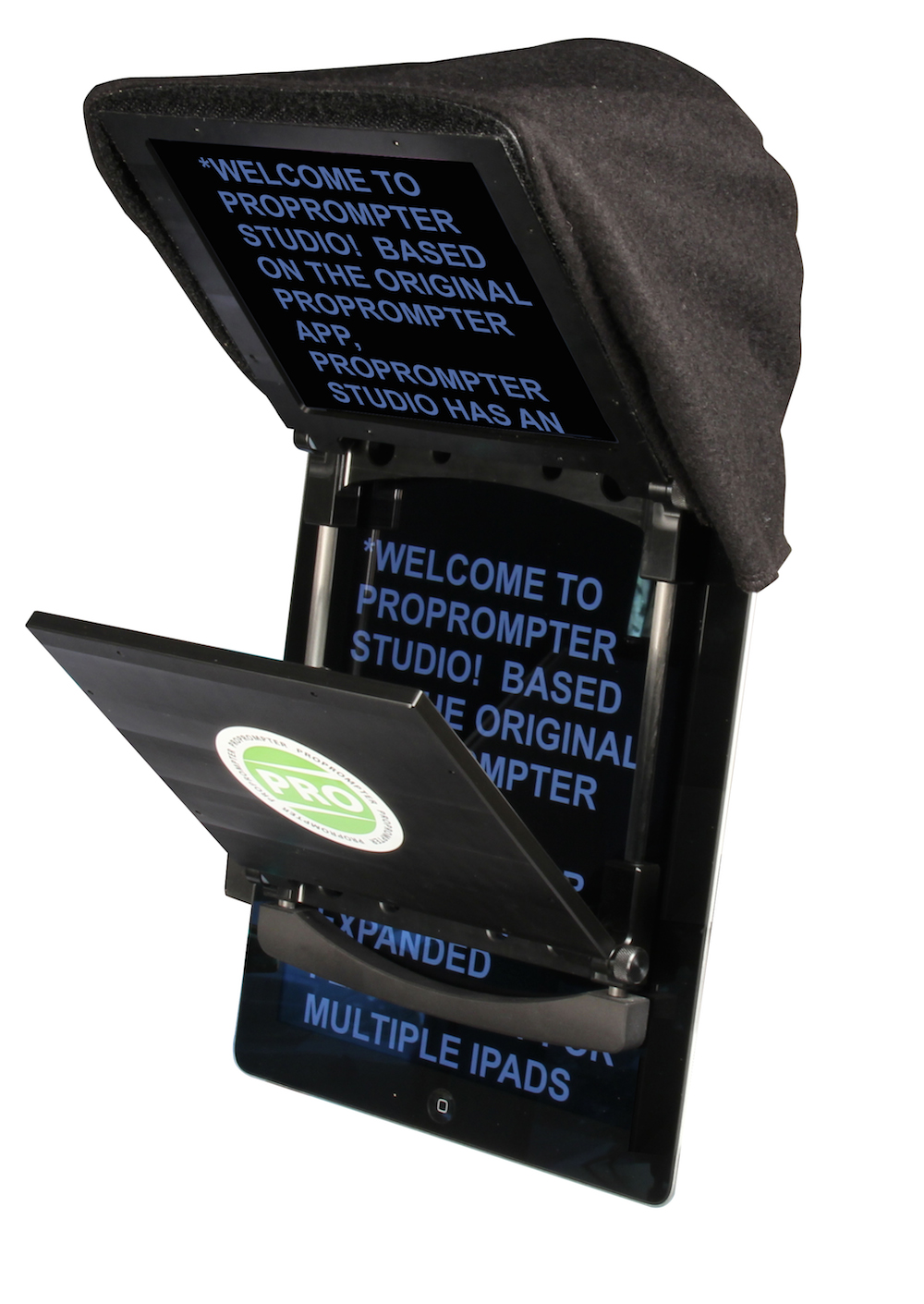 /
/
PRO WEBCAM TELEPROMPTER FOR IPAD
PRO WEBCAM TELEPROMPTER FOR IPAD
Bodelin Technologies' new ProPrompter Desktop is a redesign of its popular See Eye 2 Eye device, which was originally made to provide direct eye contact for video chats – a mirror reflects video from a computer screen up to beam splitter glass positioned in front of the webcam lens, so users look directly at the reflected image of the person on video while looking at the camera lens.
Turned out most customers were using the See Eye 2 Eye as a mini teleprompter for video podcasts and corporate announcements, says sales and marketing director Peter White, and wanted a wider mirror to use with their HD quality Logitech C920 and DSLRs, along with the ability to use it with mobile tablets, portability and high quality materials and construction.
"Solved, and then some," White says. The ProPrompter Desktop launched at NAB works with all built-in webcams, centre lens external webcams such as the Logitech C920, DSLRs, laptops, desktops, iPads and most other full size tablets. It provides direct eye contact for video web-chats and prompting, with 4×5 wide studio quality 70/30 beam splitter glass, true 16:9 field of view for the camera, and easy viewing of the script from several feet away. It's made from aircraft grade aluminium and carbon fibre, in a foldable design for easy transport in a laptop or camera bag.
An optional ProPrompter Studio app (AU $18.99 from the iTunes app store) offers the ability to record from an iPad's front facing camera while prompting script with adjustable margins to position the script within the beam splitter glass, and FreePrompter accommodates customers seeking a free, basic teleprompter solution for laptops and desktops.
Source: media release
LINKS
Bodelin Technologies: www.bodelin.com
FreePrompter link here
ProPrompter Studio link here
More for you