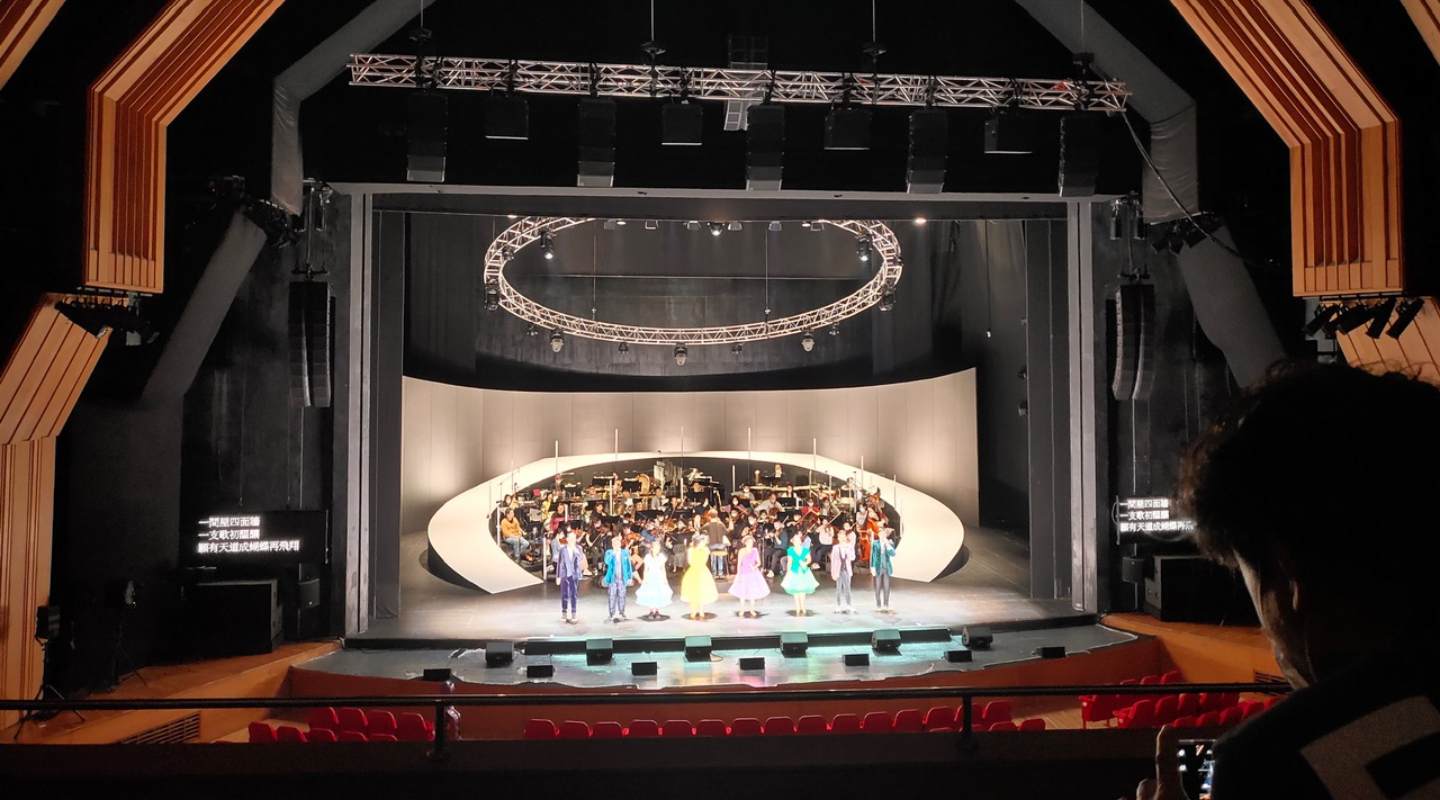 d&b audiotechnik was chosen to provide 360-sound to several live performances of The Originals – Hong Kong Musicals in Concert. The show, which ran on October 9th-11th, showcased memorable excerpts from Hong Kong's most iconic musicals over the last 50 years.
d&b technology helped to amplify the show's classic melodies and the several iconic scenes curated and directed by award-winning composer Leon Ko. The performances, held in the Grand Theatre at the Hong Kong Cultural Centre, also featured the Hong Kong Sinfonietta and eight star-studded cast members who together, with d&b Soundscape, brought these classic excerpts to life on stage.
The Originals – Hong Kong Musicals in Concert utilised d&b Soundscape technology to balance the orchestra sound and the voices of the actors together in perfect harmony. The sound designer of the show, Can Ha Yan Pui, decided to use the d&b Y-Series line arrays and V-Series subwoofer as the main frontal system and the T-Series as the frontfill and 360 fill, to provide complete, 360 coverage of the venue.
Using d&b ArrayCalc simulation software the audio team was able to determine where to place the speakers for optimal sound based on the space and the audience configuration. Soundscape comprises two software packages En Space for sound object positioning and En Scene for room emulation. Using En Scene's sound objects, the reproduced sound from each musician and performer was placed exactly where they were positioned on stage. TiMax tracker D4 units were used to track the performers on stage and ensure their realtime positions were reflected in the En-Scene sound object positioning. En-Space room emulation was used to add additional atmosphere. Once the sound system was configured in ArrayCalc, the R1 Remote control made it easy to manage the system and complete the sound design and system management quickly.
Using these technologies, the sound designer was able to ensure that every audience member, even those sitting under the balcony or in the back, would hear the performances loud and clear.
"Once we determined the accurate location and the quantity of speakers that we needed to install, we knew that this system was going to deliver a high-quality sound," said Can Ha Yan Pui, Sound Designer for The Originals – Hong Kong Musicals in Concert. "Not only did this system give the audience a powerful and immersive acoustic experience, but it also seamlessly integrated with the venue's unique original architecture."
d&b Soundscape is a toolkit enabling the creation of unparalleled listening experiences by combining d&b loudspeaker systems with state-of-the-art processing power, object-based mixing and sophisticated room emulation. This exceptional audio system processor and software modules allowed the Hong Kong Cultural Centre to simulate the same sound effects of a big performance hall into its smaller size theatre and to deliver a more powerful sound to the audience than ever before.
More for you