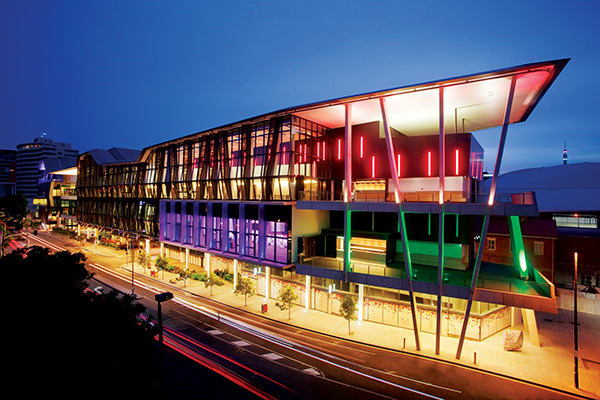 BCEC SPROUTS WING — AV.technology
Brisbane's Convention and Entertainment Centre expansion creates top class facilities for events of any scale.
Text:/ Derek Powell
Convention Centres are a uniquely challenging environment in which to practice the audiovisual arts and sciences. If nothing else the sheer diversity of events that daily roll through the doors tends to eclipse challenges faced by other kinds of venues. The in-house audiovisual team at Brisbane Convention and Exhibition Centre (BCEC) prides itself on being ready for anything and in recent months has indeed hosted everything from the G20 Leader's Summit to Chinese Opera.
"Flexibility is the key," explained Brian Nash, AV and production services manager, as we toured the recent expansion to the centre known as 'BCEC on Grey Street'. He is right of course, but as we'll see, flexibility was needed not just in the operational sense, but at many points during the design and completion of the AU$130M extension.
SQUEEZING A LOT IN
The new wing is perched on a narrow strip of land, just 30 metres wide, adjoining the original Merivale Street BCEC development, but fronting Brisbane's Southbank. The Grey Street addition holds two new auditoria and twenty additional meeting spaces, ranging from a boardroom to a ballroom, across five levels. The new space is not just flexible but also a very connected environment, with the capacity to split or combine rooms at the touch of an on-screen button and the ability to relay video and audio from anywhere across the complex. So it is no surprise at all that planning for infrastructure that needed to literally 'be ready for anything' was an intricate business.
"Our aim was flexibility" reiterated Phil Viney of DesignStage – the consultants responsible for the design of the audiovisual, stage machinery and draping components of the new facilities. He was recalling his approach to the overall design framework, but as it turned out, considerable flexibility was also required in the budget in order to meet the project objectives. Viney had the unenviable task of commencing the design work four years from the completion date, at a time when our industry was undergoing profound technological changes in key areas. Just over the horizon was the digital video revolution and audio distribution was reinventing itself with the unstoppable rise of DSP and new kinds of networked signal transport systems.
DesignStage had extensive consultations with Brian Nash and his team to set the objectives for the technology design for Grey Street, urging the team to first decide what was needed for the tasks they would face. "Think about value, rather than cost" Phil Viney advised. The resulting return brief ultimately proved very close to the mark, but created an immediate headache. DesignStage costed the equipment and infrastructure wish-list at AU$8M, while the preliminary budget allowed by the Quantity Surveyors was very considerably less than that!
"Keeping the best till last proved to be a wise move"
---
SILK PURSE ON SOW'S EAR BUDGET
Sadly, technology budgets, even for major projects, often do start out staggeringly low. As Phil notes: "Somehow that [arbitrary] figure becomes your target – unless you vigorously defend your brief and go into bat for it – and that's what we did". With enthusiastic support from Brian Nash and BCEC Operations Director Geoff Hanrahan, the final equipment and infrastructure budget eventually settled on a more realistic figure of something over AU$5m, but DesignStage had one more trick to ensure that the project extracted every possible cent of value from the budget. While all the infrastructure such as cabling, racks, patching and built-in equipment went into the construction package, all the loose equipment including consoles, flown speaker arrays, lighting instruments and the like was placed in a separate 'eleventh hour' procurement package. Purchasing for this equipment could then be delayed by several years until the building was nearly complete, allowing the project to then take advantage of the rapid development in equipment by buying the latest models.
The strategy worked spectacularly well, and the BCEC in-house lighting, sound and AV facilities are second to none, with rapid turn-around between functions and instant linking of spaces facilitated by the extensive built-in patching and rigging.
PARALLEL UNIVERSES
Though there are five levels, BCEC on Grey Street can function very effectively to host two simultaneous conferences. Each of the two auditoria (seating 400 or 600) has its own foyer space for exhibitions, break-out rooms and speakers' facilities – allowing delegates to 'own' the floor for their conference.
Viney's patching plan for Grey Street is enormously flexible. Each room contains a rack with connections out to the presentation area and strategic points around the room (depending on size). Each rack on every level is joined by dedicated tie lines with video, audio, data and fibre runs allowing almost any kind of connection to allow presentations to be shared between spaces. In addition at least one rack on each floor has patching to a central rack on floors above and below allowing virtually any combination of rooms to be accessed. All spaces have semi-permanent operator stations that can be equipped with vision switchers, audio mixers and lighting consoles to cover requirements of any complexity. As you would expect, these operator stations have links to a number of projection and PA points, as well as the key stage and presentation areas.
The two auditoria are striking in design and provide a very flexible space for plenary sessions, with a stage area spacious enough to easily accommodate a speaker panel or even allow musical or small-scale theatrical performances. Each has an open operator station at the rear with plenty of space (and patch points) for audio, video and lighting consoles. as well as video cameras. While the control, PA and projection equipment were placed into the 11th hour fit-out package (see sidebar) the infrastructure package did include the main audio DSP which was interfaced with the centre-wide paging and background music systems via Cobranet.
CONTROLLED FLEXIBILITY
An AMX control system is included in each of the auditoria. The touch screens are generally for room setup and mode selection, rather than for presentation control by an operator, though both are technically possible. Each central controller is interfaced with the house lighting, blackout blinds, and curtains as well as having basic control over the sound system. The control system can also provide basic stage management functions such as control of any performance relay cameras and zone paging to back of house areas.
Fixed lighting bars and motorized trusses (generally each with 500kg capacity) were specified above the stage and over the seating areas. The rigging had specific provision for central projection points (for single screens) and dual projection positions as well as rear projection points.
The lighting provisions are extensive and well thought-out. Dimmers, dimmer outlets, lighting bars, patch panels, and DMX lighting control distribution were all part of the infrastructure package while the luminaires and consoles were left until the fit-out. Cleverly, most major rooms have both central dimmer racks and provision via 40A three-phase outlets to add extra dimmer/distribution racks wherever needed. This adds enormously to the flexibility for set-up while keeping complexity (and dimmer/distro inventory) under control.
FITOUT KIT
Keeping the best till last proved to be a wise move as Brian was able to snap up the very latest in lighting, vision and audio. Both the Digico SD9 and the Yamaha LS-9 series consoles that were finally chosen were far and away superior to anything that could have been specified early on in the project and both practically obviate the need for racks of outboard processing with extensive EQ, dynamics and effects capabilities provided on each channel. Likewise the extensive snapshot and recall capabilities give operators a very quick starting point for set-up, speeding change-over time between functions and eliminating much of the drudgery in setting up for shows.
There's too much more to this story to tell in just one article, but the function rooms, especially the stunning Boulevard room and Sky room are worthy of special mention. Cleverly conceived 'black zones' in the ceilings of each space allow functions to be fitted with extensive lighting and sound when required yet these rigging positions virtually disappear when not in use. This allows a very clean and elegant look when dressed for a formal dinner, yet each of these major function rooms retains the ability to be rigged with a tour-de-force display of start of the art lighting and sound that would rival any top club venue.
The Grey Street project at BCEC has given smaller conventions access to truly top-end function rooms that, thanks to a uniquely flexible partnership between designers and operators, provides unrivalled opportunity for an uncompromised audiovisual experience.
---
PRINCIPAL PERSONNEL
Design and Consulting: Phil Viney & Ian Laird (DesignStage) (AV, stage machinery & drapes)
Architect: Cox Rayner
AV Integration: EO Design
Stage machinery/drapes: Jands
BCEC: Geoff Hanrahan (Operations Director)
Brian Nash (AV and Production Services Manager)
---
EQUIPMENT LIST – (INSTALLED INFRASTRUCTURE)
Audio DSP: Biamp AudiaFlex
Audio amplifiers: Dynacord
BGM loudspeakers:
JBL Control series
Electrovoice EVID
Acoustic Technology LG series (customised)
Hearing assistance: I-AMP induction loops
AV control: AMX throughout
Intercom: Clearcom
DMX distribution: Jands
Projection screens: Screen Technics
---
EQUIPMENT LIST – (FIT-OUT PACKAGE)
AUDIO
Auditoria, Boulevard room, and Sky room
Consoles: DIGICO SD9; Yamaha LS9-32 and  LS9 -16
Amplification: Camco D-Power; Nexo NX 4X4
Processing: Xilica XD4080
Speakers:
NEXO S1210 (L & R PA)
NEXO S1230 (down fill)
NEXO PS10 –R2 (centre cluster)
NEXO RS15C (subs)
NEXO PS10-R2 (foldbacks)
NEXO PS15-R2 (floating PA systems)
NEXO RS15 C  (floating PA subs)
JBL ceiling mount speakers (meeting rooms)
VISION
Meeting rooms:
Projectors: Sony VPLFX35
Screens: Screen Technics
Auditoria and Boulevard room:
Projectors: Barco RLM W8 (DLP)
Screens: Stumpfl 20 x 11 and 16 x 9
Switchers:
Panasonic AV HS400A
Folsom Image Pro HD
Barco PDS 902 presentation switchers
Capture/replay: AJA HD Pro Res video capture
Cameras: JVC GY-HM77E HD
Tripods: Miller
LIGHTING
Auditoria, Sky room and Boulevard room:
Luminaires
3 × Robert Juliat Victor follow spots
72 × Selecon SPX profiles (assorted lenses)
20 × Selecon Acclaim 650W fresnels.
16 × Color Kinetics Colorblast LED cyc floods
30 × Tri-colour LED PAR wash
20 × Martin MAC Entour 350 LED profile
16 × Robe Robin 600 LED wash
40 × Martin Mac 101 LED wash
20 × Martin Mac 301 LED wash
Control
Jands HPC dimmers
Strand 200 series 12/24 consoles (meeting rooms)
LSC Clarity VX 20 consoles (auditoria and Boulevard room)
More for you