The Atmospheric Memory installation at the Powerhouse Museum is a way for visitors to interact with artworks in an immersive environment filled with light, sound and colossal projections provided by an army of Epson projectors.
This exhilarating show features historical artifacts mixed with cutting-edge technologies from AI, robotics, endoscopy and fluid-dynamics to nanotechnology, mapping and 3D-printing. In Atmospheric Memory you can touch the world's first 3D-printed speech bubble, see your voice travel in a ripple tank, walk through clouds of text written in mid-air, hear 3,000 speakers each with its own field recording and interact with virtual environments in a colossal 360-degree projection chamber.
Explaining the museum's critical choice of projectors for this amazing installation and many future installations, the Powerhouse Museum's media technologies manager Owen Conlan said, "Atmospheric Memory required the use of 23 projectors with a significant minimum lumens requirement for a travelling exhibition. I considered a number of models and brands comparing all specs and variables and this led me very clearly to choose and purchase a range from Epson."
Understandably the museum's requirements for such an immense installation were significant and comprehensive as Conlan added, "We wanted and needed projectors that fulfilled the project's specification and met all of our requirements, including brightness, laser option, weight and physical size, networking connectivity, display orientation and a seven-day operation. When we completed our assessment of all available options, we purchased multiple Epson EB-PU2220B projectors with ELPLU03S lenses."
According to Conlan the EB-PU2220B has a great deal of flexibility and configuration that allows his team to create a room that is 20 x 10 x 12 metres, projecting on all walls and floor and giving enough brightness and blending to minimise shadow.
He continued, "The EB-PU2220B has a compact footprint, is lightweight for its category and can be installed in any orientation. As a result of using these projectors the installation's designers were delighted with the final result, very impressed by the compact size of the projector and loved that we were able to achieve a much brighter image over previous models that they had used. They were also particularly impressed by the range of functionality of the projector and its image adjustment and blending capabilities."
The multiple EB-PU2220B projectors are networked and computer controlled for power management as the museum runs them seven days per week and up to ten hours per day.
Conlan explained, "Due to this high usage level it is important for them to be powered off when not in use. They are set up in a number of configurations from a single standalone projector and media player, through to multiple projectors blended together. In the case of the main chamber 16 projectors are blended together to achieve an entire room projection. It is quite an amazing result."
As you would expect from the Powerhouse Museum, an organisation with an excellent reputation for quality and creativity, Owen Conlan and his team not only spent a good deal of time finding the projectors that would work now, but critically would also form the cornerstones of many large and impressive installations in the future.
Owen Conlan concluded, "We really did research every possible and available projector on the market and in truth, nothing came close to the bright, clear and sharp images that the EB-PU2220B projectors produce. For me and my team the EB-PU2220B is simply the best projector in its class and nothing even comes close to it in terms of image quality, functionality and reliability."
More about the Epson EB-PU2220B projector
The new generation 3LCD EB-PU2220B projector is incredibly lightweight and compact, being 60 percent smaller and 50 percent lighter than the model it replaces. Epson achieved this compact size by developing and designing key components in-house.
The EB-PU2220B is part of the EB-PU22 series which boasts astonishing quality and reliability with Epson's new efficient 4-in-1 laser light source that helps reduce the unit's size. This new laser is one-third the size of a conventional laser bank while still delivering the same brightness as the previous generations.
The newly designed laser light source and advanced electrostatic filter deliver 20,000 hours of maintenance-free White Light and Colour Light Output up to 20,000 lumens in WUXGA resolution, delivering captivating images in virtually any venue.
The EB-PU2220B also delivers high-precision images with 4K Enhancement (4KE) technology enabling users to upscale 1080p content by shifting pixels diagonally by 0.5 pixels to double the resolution, for crisp and high-definition images.
For more on the EB-PU2220B projector go to: https://www.epson.com.au/products/projector/EB-PU2220B.asp
For more information on the Atmospheric Memory installation at the Powerhouse Museum go to: https://powerhouse.com.au/program/atmospheric-memory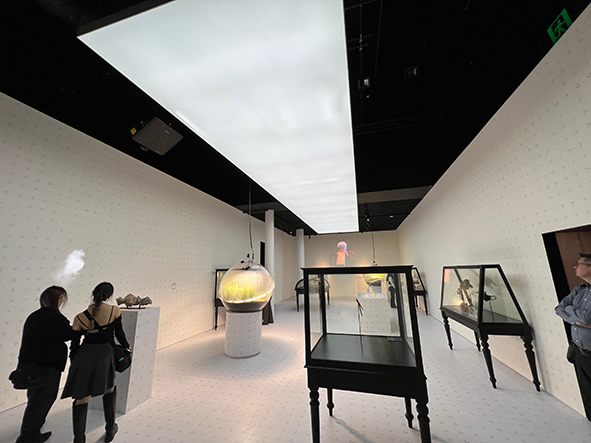 More for you