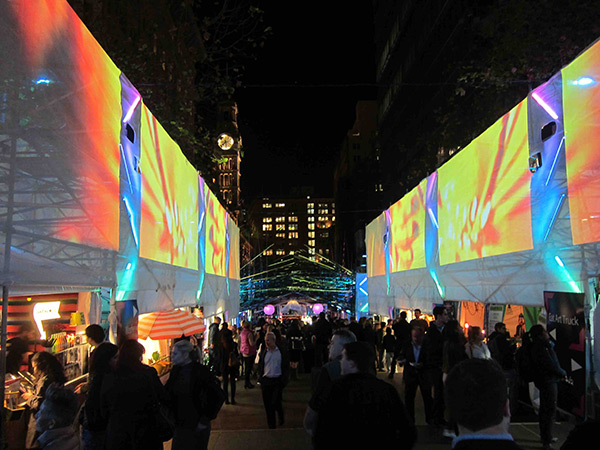 EPSON VIVID TRANSCENDENCE
When new media artist Joe Crossley designed 'Transcendence', an installation that illuminated the daytime centre of Sydney with an impressive towering structure that wrapped around a special pop-up experience running the length of the Vivid Sydney festival in Martin Place.
Such was the uniqueness of Crossley's vision that not only did he decide to purchase 10 Epson projectors but the project also led to Epson sponsoring Crossley and Transcendence.
Crossley's requirements were very specific as he explained, "I wanted very bright, sharp, vivid, large venue projectors that were easy to set up and adjust to get the exact look and effect I was after. Having looked at other projectors on the market it became clear that the best ones for this installation were the Epson G and Z Series.
Epson's Z Series projector are capable of creating captivating presentations in virtually any venue with native resolution up to WUXGA. The Z Series also offers cinema quality images, edge blending, 360° installation and arc and point correction allowing users to fine tune image geometry to perfection.
The Epson G6770WU WUXGA large-venue projector provides incredible colour brightness and WUXGA resolution meaning images are brighter, crisper and even more brilliant. Setup is a breeze with flexible, 360-degree installation and diverse connectivity options including HDBaseT. There are remote management functions and the G6770WU easily adapts to its environment with six optional lenses. Edge-blending capabilities enhance the experience with panoramic images and integrated curves and corners. Point and arc correction ensures that rectangular images are never compromised.
Crossley continued, "I found both the Epson projectors particularly bright and vivid and easy to set up. The keystone correction was amazing and really allows you to get exactly what you want. Having worked with many projectors over the years I have found Epson to be a brand that really understands the technology and the art. Their projectors are also known for their luminosity and vivid colours. In fact the colours these two projectors produce are way brighter than any other projector I've seen."
He added, "Transcendence was a complex installation and the fact that we could move the images remotely and that they would morph the way we wanted them to was a massive plus. This is a very advanced feature of the Epson projectors and one not found elsewhere. It also means we could manipulate the images and use every centimeter of surface space without losing a single pixel. Again, a great example of Epson projectors proving how they are best in their class."
For Crossley Transcendence was all about community collaboration, support and transformation. An inclusive installation that included scaffolding "exploding" and mirroring eight projectors Transcendence was a very powerful piece of work.
Crossley concluded, "The Epson projectors have quick corners, meaning we can quickly line up the images and adjust them remotely. In an installation such as Transcendence it's all about the brightness of the projectors and the Epson projectors really delivered here. They also excelled in the luminosity of every colour and just knowing you always have those 5000 lumens is amazing. With Epson projectors there is no loss of light when you change colour and the colours are always vivid, high contrast, extremely punchy and vibrant. We tested both projectors in a warehouse before we bought them and knew then they were special. When we saw the end result in Martin Place we knew that not only did we have the best projectors for the installation but also two of the best on the market."
Transcendence was produced by Finely Tuned.
More info: www.epson.com.au
More for you