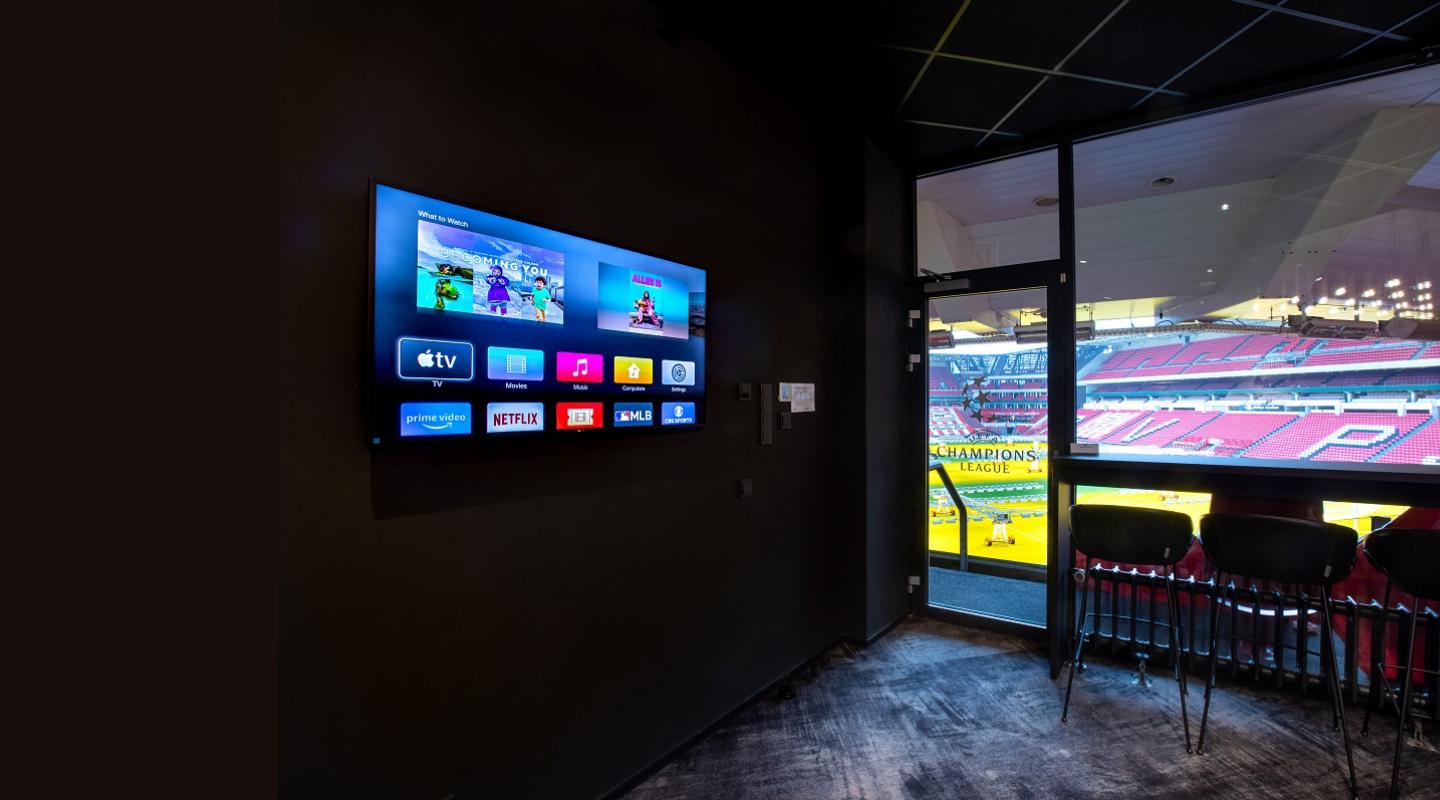 PPDS announces a range of its Android-powered Philips signage displays have been selected and installed at one of soccer's most luxurious suites. Dutch footballing giant PSV Eindhoven's 35,000 seat stadium new Jan Heintze Kick Box features the displays, bringing matchday entertainment and year-round flexible meeting room solutions.
The club wanted to not only to provide a best-in-class visual solution for matchday entertainment services, but also to utilise the room for non-matchdays, adding new revenue opportunities. Providing a professional communication system for meetings and events to local businesses was key, as demand for equipped flexible work offices and spaces continues to grow.
Eight smart HD displays were installed by PPDS, in collaboration with Panduit. Supporting Philips, the club's official sponsor, all the displays were installed to create a premium, inclusive and versatile meeting room and function room experience. Philips recently extended its sponsorship of the club – which was founded in 1913 as Philips Sport Vereniging – by a further ten years, expiring 2031. It is the longest known sporting sponsorship of any professional sports team, totalling 118 years.
The installation inside the Jan Heintze Kick Box, includes 3x Philips 32" Q-Line displays, 4 x Philips 49" P-Line displays and, designed as the room's centrepiece, a Philips 50" Q-Line display.
A custom AV over IP solution by partner, Atlona, enables easy wireless presentation, with content able to be cast and streamed from their Windows, Apple, Android or Linux devices. Using the PPDS CMND platform, TVs can be easily managed and updated by staff, either in the room or remotely, while custom branding and content on displays, as well as promotions and sponsored content can be created and deployed instantly.
Roeland Scholten, Sales Director Benelux & IKAM EMEA at PPDS said: "The result of this custom solution transformed the box from an empty and unused space when no games were on into an in-demand and profitable space."
More for you