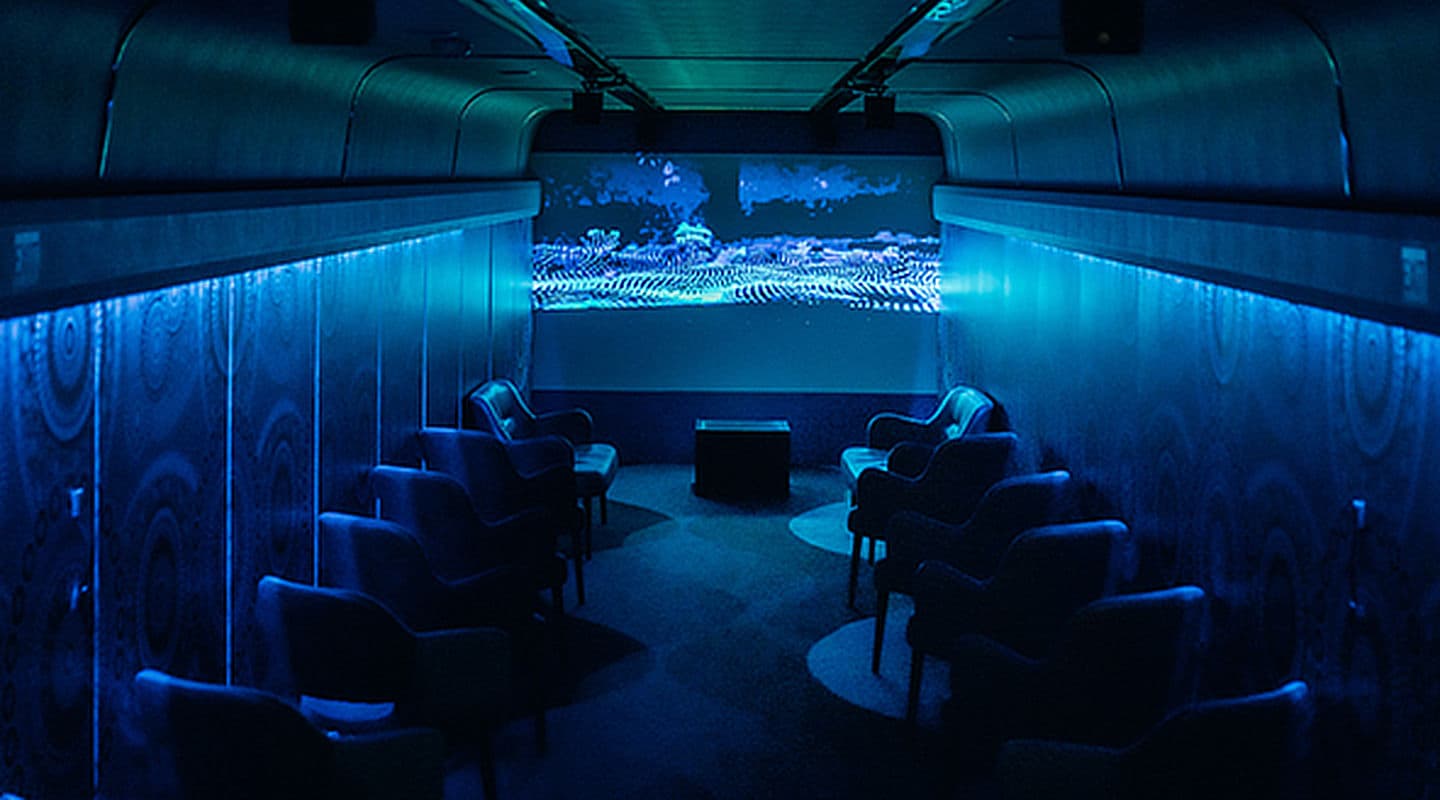 Working as the creative directors and producers of the 2021 Parrtjima Festival, which is owned by the Northern Territory Major Events Company (NTMEC),AGB Events produced and delivered a travelling installation on The Ghan for NT Tourism with the help of technical partner Novatech Creative Event Technology and a FUJIFILM Z5000 projector.
Novatech Creative Event Technology Director of Sales & Marketing, Ashley Gabriel, explained, "We needed a projector with ultra-short throw capability plus a small footprint as rear projection and long throw projection wasn't an option. We also needed to fill the screen with as large an image as possible in a confined space, and have it run reliably from Darwin to Adelaide. The FUJIFILM Z5000 was the ideal projection solution as it provided great ultra-short throw in a small footprint giving bright results on the screen from sitting on the floor, so any viewing sightlines were not impeded yet a great image was displayed."
The end result was a whole carriage of The Ghan – a 900-metre luxury train that travels the 2,797 kilometre stretch between Darwin and Adelaide – being turned into a travelling Parrtjima light installation utilising digital imagery from the 2019 Ranges Show. This imagery was projected onto a wall the entire width of the Ghan carriage measuring 2.7 metres by 1.6 metres high and was enriched by an epic musical composition and narration.
Gabriel continued, "The intention was to render the Z5000 projector almost invisible, sitting on the floor in a custom enclosure very close to the screen. The solution was very discrete and enabled a great projection result based on the circumstances. It was also incredibly reliable for the entire trip and resulted in the brilliant clear images we needed."
Due to its flexibility only a single projector was required for the entire production as it ran a programmed video set including holding slides and a video of projections in Alice Springs, among other images.
Ashley Gabriel concluded, "We used the Z5000 as a single front projection using a simple but effective video input. It is a very flexible projector with great optics given its unique dual-axis lens. It really was the ideal projector for the job."
More for you