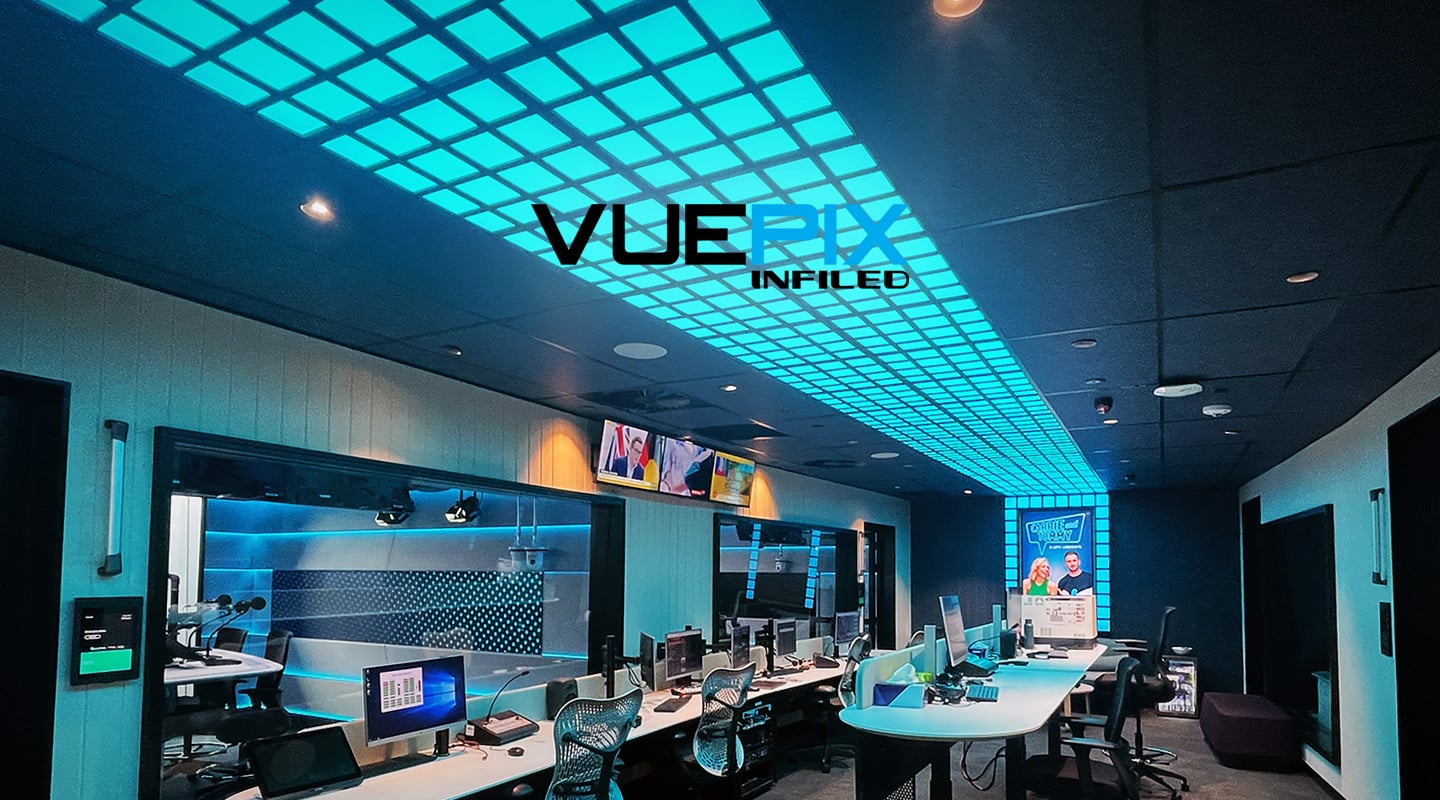 VuePix Infiled Digital Wallpaper platforms have been installed in the new state of the art facilities of Southern Cross Austereo, creating a perfect environment for producing outstanding content. Southern Cross Austereo is Australia's pre-eminent entertainment company, delivering creative media solutions across a diverse portfolio of Australian multimedia brands. Its content creation hub in South Melbourne moved to a brand new premises last year. Lumicom took on the challenge to provide cutting-edge AV technology for the new premises.
"We knew before we started working on this project, that this would be a delicate one, which would require first-class technology and a high level of customisation," says Scott Summers, Engineering Services Manager at Lumicom. "The client is an expert in the media and broadcast world, and the quality of content that they produce is really outstanding. We had to make sure that the technology solution we delivered was not only the best that is out there, but also perfectly suited for the environment. Factors like extremely quiet operation, no moiré on camera, reliable and user-friendly content control solutions, were crucial for this kind of the environment," explains Scott.
Lumicom team worked closely together with the architects and engineers and came up with a solution which included 168 VuePix Infiled Digital Wallpaper cabinets, seamlessly attached to the building structures, complimenting the ultra-modern look and feel of the environment.
High-resolution Digital Wallpaper media platforms (of 1.5mm pixel pitch) were installed in 5 main studios, each of them in various sizes and configuration to best compliment the space and purpose of each studio. The flexibility of the space and technology have also been taken into consideration, with two rooms offering a semi-permanent solution, which can be easily changed and reconfigured when required.
"The final result, and of course client's satisfaction, speaks for itself," says Scott. "To deliver new ultra-modern facilities with first-class technology was the ultimate goal for the entire team at Southern Cross Austereo and 40+ architects and engineers who worked on this project. To see it come to fruition makes us super proud that we have been part of this project, creating a new benchmark for the entertainment content production & broadcast environment in Australia."
Southern Cross Austereo prides itself on producing and delivering creative content reaching over 95% of the Australian population. "We have seen outstanding results out of the audio and video content produced in our new studios thus far, further cementing our focus on entertaining, informing and inspiring Aussies no matter where or when", comments Gino Canzano, Engineering Manager at Southern Cross Austereo Victoria.
More for you