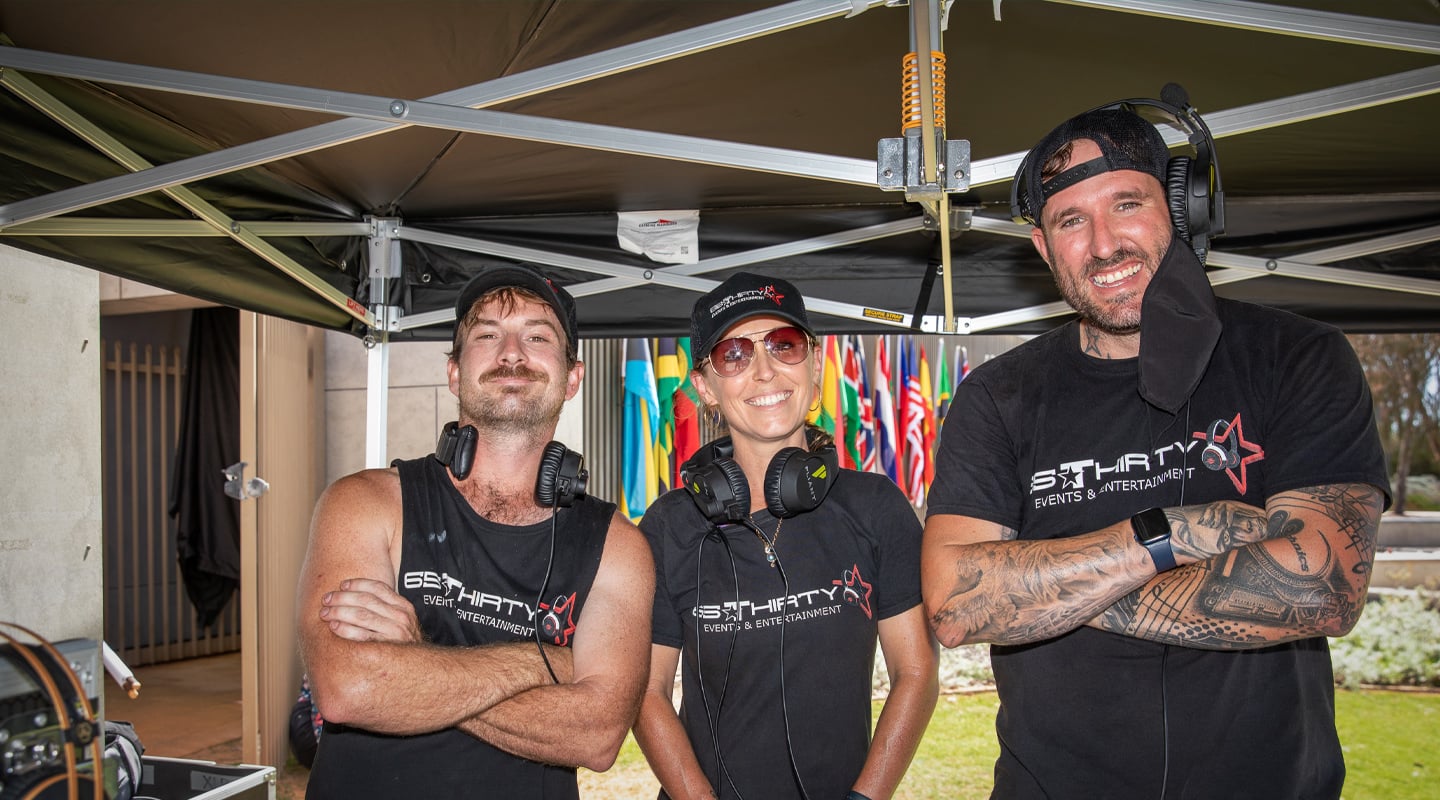 Although the circumstances of the past few years have been tough for many businesses, you might agree that a lot of the adaptations we've seen in AV services were going to happen anyway. Some things just got kind of accelerated, that's all. Savvy integrators and production companies are constantly looking to stay ahead of the curve and be prepared for anything, especially as clients' perspective of what's possible can be somewhat… let's say, ambitious, thanks to household technology making everything seem so easy. For example, mobile streaming of family events like weddings and funeral was certainly on the cards. But no one could have foreseen the sudden, huge demand caused by quarantine and isolation rules.
Lane and Candice Place, the husband-and-wife team behind 65Thirty Events & Entertainment in Geraldton, Western Australia, are always thinking towards the future with their company rapidly expanding and attracting a growing clientele. Add to the mix the large region they service — Geraldton is over 400km north of capital city Perth — and it makes quality, reliable equipment an absolute must. Nipping back to the warehouse for a replacement unit often isn't an option.
NO MARGIN FOR ERROR
In the past—and the foreseeable future — 65Thirty Events has been involved in every kind of AV production including local and touring bands, concerts, conferences and festivals, all on a large and small scale. Admittedly, a lot of events have been mothballed for a time, while mobile streaming has become a much larger focus in their business model, including corporate events that use remote participation, and that live 'you don't get a second chance' factor is never far from the crew's mind.
Which has meant clear communication between crew has become even more vital. Lane was considering upgrading their comms units, so Steve Parkins from NAS demonstrated the latest Pliant Technologies MicroCom 900XR wireless talkback units, and the advantages were immediately obvious. For a start, the design of the units paired with any of Pliant's SmartBoom headsets is really beneficial for people who already have their hands full with audio mixing desks, cameras and the like. The simple yet innovative idea of pushing the boom microphone aside triggering an actual microphone mute is — well, simple — but very clever (why didn't someone think of that twenty years ago? It could have avoided a lot of backstage talkback… ah, indiscretions). Experienced operators know that sometimes you don't have time to fumble for a belt pack mute switch, but you still get grumped at by the Stage Manager. Flicking the microphone out of the way is much easier.
The extended range and solid performance of the MicroCom 900XR was another big plus. Lane was surprised and impressed when the system still operated clearly from over 150m away, then in environments where many of the older systems are going to start failing, or eavesdropping on the nearest fluorescent lights, the MicroCom system remained discrete and immune to interference.
DOWN WIND
For those who don't know, Geraldton is renowned for many things, among them warm days, sunny skies, fresh fish, and wind. Lots of wind. In fact, a really annoying amount of wind. The wind is always blowing in Geraldton, and when it comes to outdoor events it's the curse of all microphones — except the MicroCom 900XR. Pliant Technologies has put a lot of thought into the boom microphones, filters, and the noise-cancelling technology incorporated into the belt packs. Lane and his crew were well pleased to discover that the dreaded wind met its match, and that outdoor communications weren't compromised by the endless roar of wind noise in their headsets.
Lane explains, "That was a big winner for us. The noise cancellation and clever technology is one thing, and it's all in a very robust unit that can take a lot of punishment too — it's exactly what we need. The batteries will last all day, and the Pliant Technologies design allows for expansion into different kinds of MicroCom units for various applications."
That expansion isn't far away. For a while, 65Thirty Events and Entertainment has worked on a core unit of three technical staff for most gigs — thus they initially invested in three MicroCom 900XR units. Now that the industry is coming back to life, hiring extra staff is on the horizon and Lane plans to grow the Pliant Technologies communication system accordingly. And all he has to do is pick up the phone.
He says, "NAS offers such a fast turnaround, and the prices are unbelievable. Most important of all, we have great, close relationship with Steve Parkins at NAS. He 'gets' what we need and understands the position we're in and what will suit our requirements. Steve is always available, and ready to listen and help us find good solutions with NAS products."
Things are going to be getting very busy at 65Thirty Events & Entertainment, but Lane, Candice and the crew will be taking everything in their stride. And the clear, reliable communications through the MicroCom 900XR will be a big part of that.
Oh, by the way… did we mention the wind?
More for you