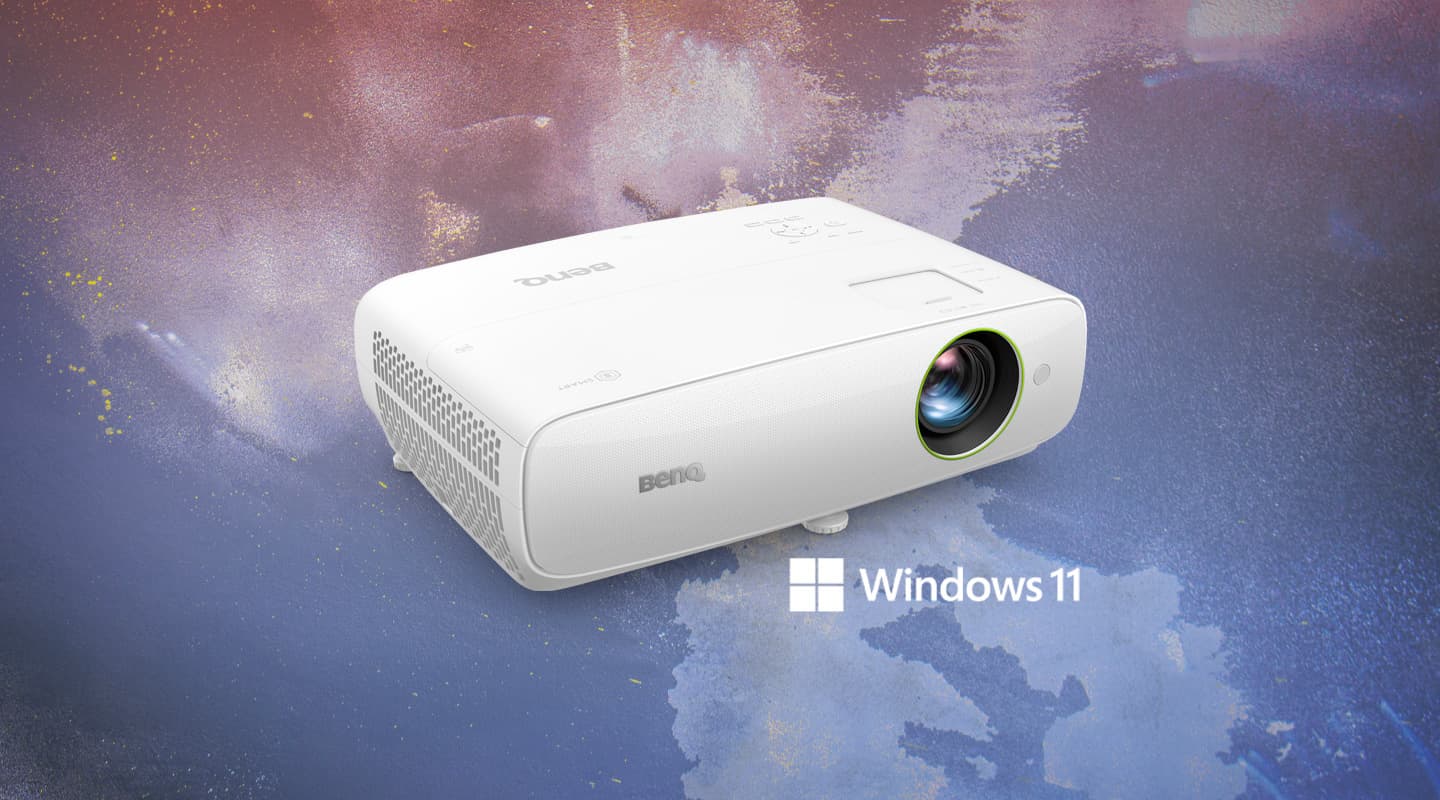 Review:/ Christopher Holder
It's very easy to get our heads around the advantages of a smart TV or IFP, but if you're anything like me, it's harder to fully appreciate the 'whys' of a smart projector. After all, both have a starting point of being a display technology. Perhaps, because we all have smart TVs at home, we instinctively understand the value. And, in the office, an interactive flat panel with integrated whiteboarding, web surfing, video conferencing and more, makes instinctive sense, because we can reach out and control it.
BenQ is championing the concept of the smart projector. I reviewed its EW-800ST back in 2020. It ran on a version of Android, which hobbled its performance somewhat. For starters, loading Zoom was a real faff. That said, it was an interesting introduction to the concept in a Covid season when people were moving their office to home.
Two years on, the EH620 is a full-HD projector that runs on Windows 11, rather than Android. By hitching its smart projection wagon to the world's most widely accepted enterprise operating system, BenQ has high hopes for this new iteration. 
WHO'S IT FOR
A few observations and generalisations: a smart projector isn't going into any ASX100 boardrooms. If you have the money, then a 98-inch LCD is way more likely to be at the front of the room.
Of course, that leaves many thousands of other boardrooms and meeting rooms not in ivory towers, without champagne budgets, where projection, indeed, smart projection, has a place.
For example, for spaces already fitted with projection, then the EH620 is a very simple upgrade — switch over the IEC lead and you're instantly in a brighter, smarter room.
Then there are the myriad multifunctional meeting spaces where the EH620's portability is a real advantage. At 4kg, you can tuck the EH620 under your arm and it fits easily on the back seat of your car. 

SYSTEM SPEC
The EH620's operating system is an IoT version of Windows 11. There are advantages here.
The first is the user interface. You can work within the familiar Windows 11 'desktop' interface or you can operate within BenQ's 'Launcher' UI or you can toggle easily between the two.
The Launcher UI is friendly and graphical. The Launcher Home screen is dominated by three buttons accounting for the three key operations you'll want to instantiate — sharing, VC and finding files.
Like I said, it's friendly (written as a dyed-in-the wool MacOS person).
For enterprise clients, the Windows 11 OS means you're immediately speaking the IT department's language. The projector can be seamlessly incorporated into an enterprise Microsoft platform. Thanks to the Windows OS, the EH620 has beefed up security features, including WPA2-Enterprise wireless security to protect all of its Wi-Fi traffic and also features AES-128 data encryption. For any business that takes its IT seriously, this is a big deal.
""
I can see how the EH620 could be the travelling rep's best friend
VC FRIENDLY
When it comes to video conferencing, IT Admins will also appreciate the Windows and Teams pairing. Naturally, the EH620 isn't preloaded with Microsoft Office but if you're a Microsoft customer, the tools will play seamlessly with the projector. Teams is huge in Australia and this feature is non-trivial. The projector also likes other VC platforms, in fact, it comes preloaded with Skype, Google Meet and Teamviewer. As a business manager, you might have a remote operative who needs to share presentations and combine remote participants into a VC call. With the EH620 it's easy to wirelessly access files on OneDrive — again negating the need for a PC. In fact, I can see how the EH620 could be the travelling rep's best friend. For these presentation situations, I'm grateful for the beefed up audio on the EH620, with the 2 x 5W speakers — that doesn't sound like much but they're grunty enough to not detract from the call experience, or be an embarrassment when playing back those video presentations.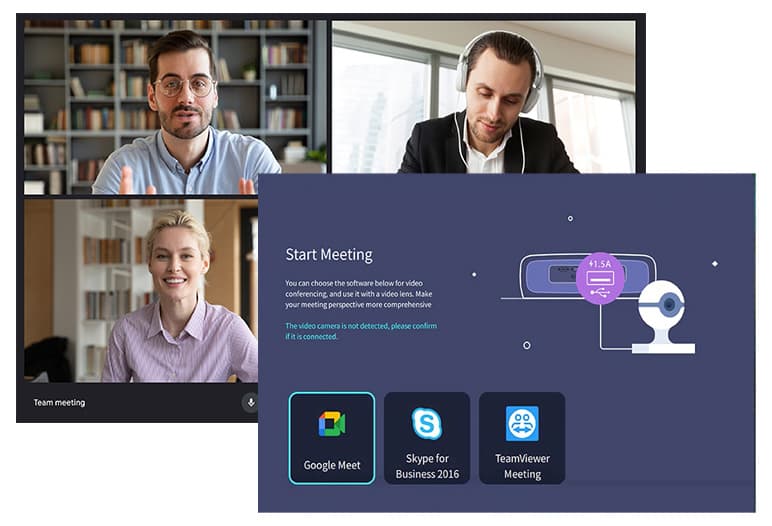 COLLAB HABIT
Apart from video conferencing, screen sharing is probably the next most important feature. The EH620 ships with a wifi dongle that easily slots into a port just under the bonnet of the unit. Once you've found the network, participants can cast to the projector via Miracast, Airplay, Google cast or BenQ's own InstaShare system, which is very capable. Up to four participants can cast at once — a big improvement on BenQ's original smart projector. Here's when you'll fully appreciate the oversized image afforded by a projector such as this. You'll achieve a sizeable 100-inch image from around 2.5m away — just point it at a clean wall.
EDUCATION
I suspect there are education applications for this projector. Not necessarily as a permanently installed item in a multi-classroom institution but perhaps as a tool for itinerant educators or in secondary spaces. I could imagine having a couple of EH620 projectors ready to roll in the IT storeroom or on a media trolley.
It's worth noting that with the EH620's 64GB ROM and 4GB RAM, it'll happily natively run any Windows application your school relies on.
IFP OR SMART PROJECTION
If you're still struggling to fully wrap your head around the smart projector concept, perhaps think of it as a 4kg Wintel laptop with a full HD, 100-inch screen. Okay, admittedly you do need to add your own keyboard, mouse and webcam but it really does provide that laptop-style portability and convenience. The EH620 isn't trying to directly compete with a meeting room IFP but there are instances where it would be more flexible and more cost effective. Especially when the Windows OS is important, an oversize image is required, and/or when portability is key.
The EH620 is a neat self-contained collaboration and VC appliance. At around A$2200 — plus the cost of a keyboard, mouse and webcam — it's decent value, considering the onboard Intel processing and the 100+-inch image size you can easily achieve. An equivalent 65-inch interactive flat panel with similar functionality will likely cost double.
The fact the EH620 runs on a version of Windows 11 is significant. For anyone working in the Microsoft ecosystem, it's instantly reassuring, and the Windows 11's familiarity and security features are just as reassuring.
SPECS
3400 ANSI Lumens
Full HD
Windows 11 IoT Enterprise OS built-in
Embedded Intel Celeron CPU
WPA2 certified and AES-128 encryption security
4GB RAM
64GB ROM
Bluetooth 4.2
More for you