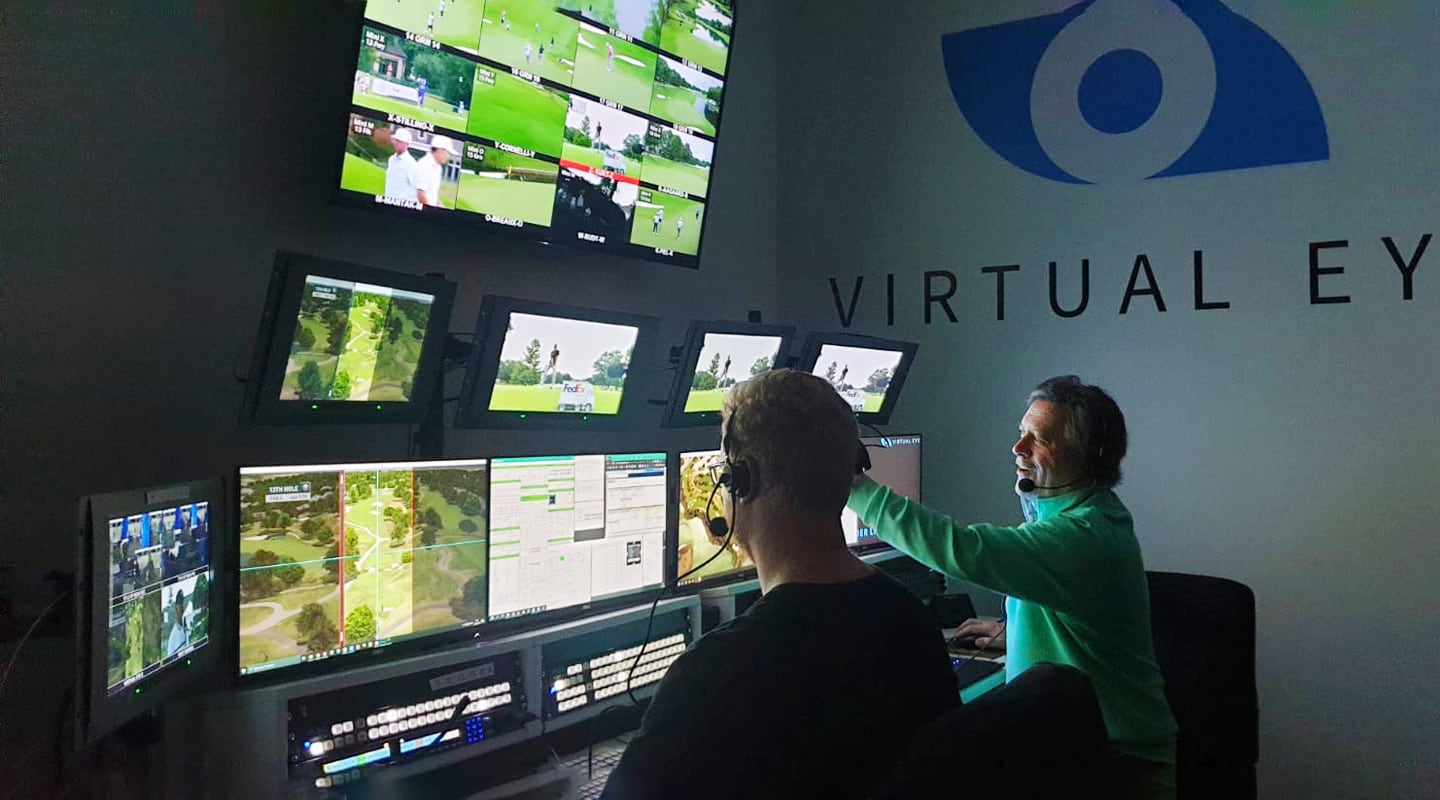 The answer isn't SRTAWS. But nice try.
Covid has accelerated the uptake of two emerging 'technologies' in AV events.
SRT: The 'secure reliable transport' of IP video; & AWS: Amazon web services.
The combination allows AV streaming businesses to do their jobs when Covid has prohibited them from attending broadcast events in person.
WHAT'S SRT?
For those new to the SRT world here's the elevator pitch: SRT is a point-to-point, open source IP video transport protocol devised by Haivision, designed to ensure the pixel-for-pixel transport of encoded video even on dodgy internet connections.
It's 'reliable' because it uses a buffer and a check sum system such that if any packets are missing they're re-sent. It's 'secure' because it's encrypted.
Broadcasters love it. You don't need a satellite truck to send video back to base. Plus it's codec agnostic.
WHAT'S AWS?
Amazon web services (AWS) is a secure cloud services platform, offering compute power, database storage, content delivery and other functionality. Think of AWS as your very own off-site PC you can run your software and tools on.
VIRTUAL EVENTS?
For a while now there's been an almost secret society of AV live streaming businesses who have cottoned onto a way of live streaming events while not actually being at the event. The transport and man-hour cost savings are considerable. But it's only possible to take care of the AV live production aspects of a event (vision switching and streaming etc) remotely if you are totally confident in the quality of the video you're monitoring off site. SRT provides this assurance.
I spoke to Aaron Rebbeck, boss of Platform AV about how his company is harnessing SRT and AWS: "What we're doing with AWS is, essentially, spinning up a sufficiently powerful cloud computer with enough GPU for our vMix video switching software. To take care of video switching remotely, you need a reliable way of getting the video up to the cloud — that Amazon computer sitting in a rack somewhere — and then into my control room so I can monitor multiviews etc. Then, of course, you've got to have the link going back the other way from our studio to the server. With SRT, we're in control of both ends. After thorough testing and fine-tuning, our multiviews perform as if we were actually sitting in front of the computer.
"If we used any other way of getting video backwards and forwards, you wouldn't be 100% sure of the quality of the images. You'd be relying on Web RTC, or RTMP for critical monitoring and they wouldn't be reliable enough."
MORE SRT HACKS: ZOOM ON CRACK
Anything you can do with a recorded Zoom call you can do better with SRT.
Covid has necessitated some ingenuous ways of connecting remote guests. But Zoom is the most popular — it's supremely easy and the results are good enough, most of the time. But if you're endeavouring to take your production up a notch, then Zoom instantly smacks of 'wot evs'.
I spoke to the guys at Epiphan — which specialises in livestream and recording devices, like the popular Pearl2, Pearl Mini and Pearl Nano appliances — in Canada about how their customers are doing something different.
David Kirk, VP of Marketing: "Zoom has its own peculiarities that aren't often broadcast friendly or production friendly — the video resolution and audio quality aren't great, for starters.
"What we're doing with our livestreams, and what we're seeing our customers getting excited about, is bringing in those remote guests via SRT. So we might send the guest a Pearl Nano and a camera, and we can cut them into the production with high quality audio and video.
"One really nice thing about SRT is it's firewall friendly — you don't need to punch any holes in your firewall or do anything crazy — simply type in an address and a port and it will find our Pearl and connect very simply that way.
"SRT is designed to deal with quite unpredictable networks. It allows you to trade off latency to compensate for that unpredictability. There are rules of thumb of how to set the buffer, so it does take a little bit of tweaking to get the most out of it. But the other protocols, like RTMP or RTSP, don't offer the user any ability to fine tune the setting to the quality of the network. They assume you have a solid network. And when you don't, you just get really poor performance. Whereas SRT is designed to work over some sub-optimal networks and allow you to tune to the protocol so that you still get very high quality audio and video."
As for Zoom? David describes how it's often used in parallel as the comms platform. The high quality production is cut together using SRT (which is buffered and slightly delayed as a result) and goes to the stream, but the participants are using Zoom to chat.
CONNECTING STUDIOS
Aaron Rebbeck has a few other Platform AV jobs on the go that depend on SRT. He's organising a virtual awards show, for example. The winners don't know they're winners yet, so sending them a camera and an encoder might give the game away, but he does use SRT to connect his studio with the MC's studio.
"Then our studio would manage the eight award winners and sponsors' presentations. Those feeds don't use SRT but the main link, the critical MC link, does."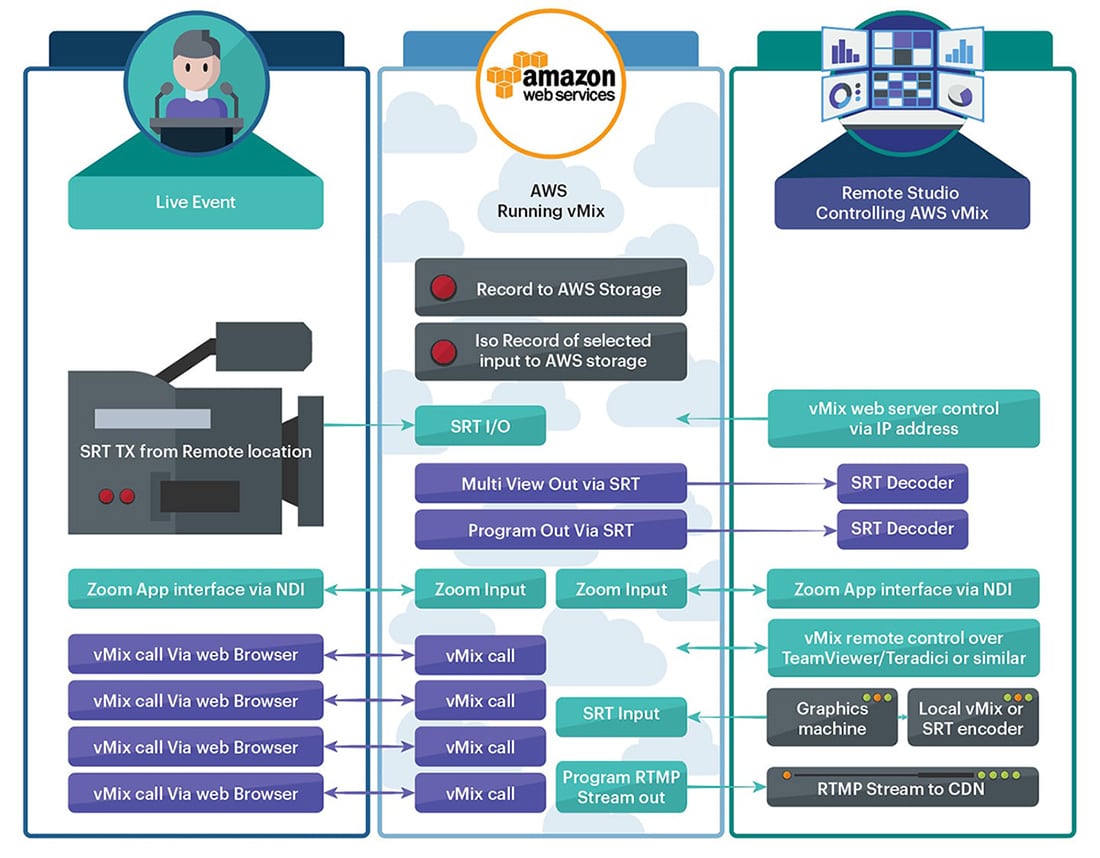 SRT IN HARDWARE
Aaron Rebbeck can see SRT's uptake expanding rapidly in AV. Already some items of hardware are shipping with SRT baked in — Lumens has recently released a PTZ camera, for example. Aaron Rebbeck:
"We are very close to a time where I can send a PC-free kit, that might have a 4G dongle, lighting kit, and a PTZ camera with a lav mic plugged into it and we're good to remotely set up that location.
"It's exciting. Multi-sites are possible using this method. If we set the shots up with the same buffer, they'll all come in to our studio in perfect sync. That's 'next level'. The only the way to do that pre-SRT, is by paying for fibre in the ground."
Certainly, sync is crucial for any multisite stream. Set a generous catch-all buffer if you must, but sync is everything. As Aaron observes, adding an extra 100ms to the buffer is immaterial when you consider YouTube is adding 20 seconds.
EARLY DAYS
Producing livestream events remotely still feels like walking tightrope with a blindfold. But Aaron Rebbeck and businesses like Bird Dog prove its possible.
Aaron Rebbeck: "Yeah, it's kinda freaky. You have an instance of AWS and you can compete with anyone in the world."
In a similar vein, Virtual Eye (a NZ-based augmented reality graphics company) has been using AWS to supply graphics for big international sports events in real time from their office in Dunedin. Prior to Covid they had teams flying around the world doing the same job. Now the team sleeps in their own bed every night. AWS is a gamechanger. As is SRT.
More for you