Environmental projection is on the rise, as event organisers understand just how much of a splash a large projected image can make without breaking the bank. Thredbo ski fields engaged digital artist Scott S Baker to provide visuals to mark the opening of the 2021 ski season.
Technology partners of the event, Be Productions, provided the Epson high brightness firepower to make it all possible. The company is best known for making high-quality events happen, often in hard-to-reach urban locations. But hitting the slopes is well and truly in its wheelhouse. Both directors are mad snowboarders and didn't need much convincing to load the van with an Epson 15K and 25K projector from their inventory. And it's not the first time they'd been engaged to provide projection at Thredbo:
"We were engaged to provide environmental projection to commemorate the 20th anniversary of the Thredbo landslide. It was a poignant marking of a sombre occasion for everyone in the village and also gave us the confidence we could make this job a success," notes Be Productions Director, Marc McAvoy.
The snowy projection canvas was to be the lower quarter of the Sundance Hill. Days prior to the opening weekend a big dump ensured the scene was set for some effective after-dark visuals and a fireworks display. Be Productions used the Epson EB-L25000UNL 25K with a long-throw lens to shoot across the Thredbo Village Square onto the snow hill.
"It's a thrill to project huge images onto snow, the impact is enormous. Scott's artwork came up a treat and helped raise the excitement around the village to kick off the season. I couldn't have been happier with the result."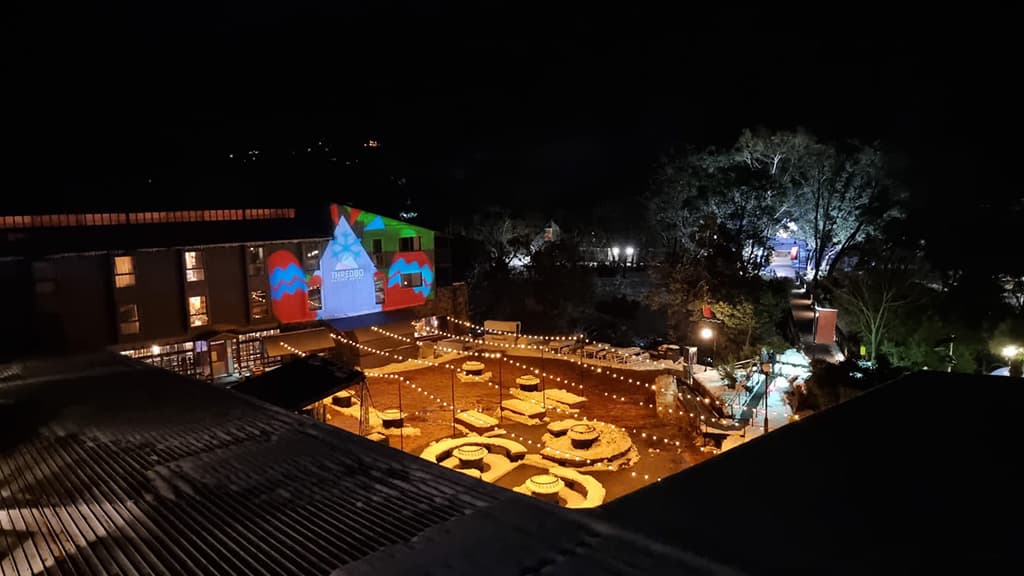 SMOOTH ALPINE
To cap the weekend off, Be Productions used an Epson EB-L1755U 15K unit to project onto the front of the Alpine Hotel in Thredbo with more evocative wintery imagery. "We projected over the street from the window of our hotel room," reports Marc McAvoy. Thankfully, that could be achieved through the glazing of the window — given the subzero temperatures!
Be Productions has noticed an uptick in demand for environmental projection in recent years. Marc McAvoy: "What with the roll out of winter festivals like Vivid, it's shown what can be achieved. Other winter activities, such as pop-up ice skating rinks, are now also using environmental projection to turn up the volume on their theming. The possibilities are endless."
Epson high-brightness laser projectors are Be Productions' mainstay, offering a handy combination of high output, portability, versatility of orientation, and ease of double stacking and edge blending: "We love the 25K but the Epson EB-L1755U 15,000-lumen model is our true workhorse. It's got the additional power over the 12K that sets it up to be just a really strong projector. The housing makes it very, very manoeuvrable: it's still nimble and small enough to be able to get around. And if you need the high brightness we can stick two together."
More for you