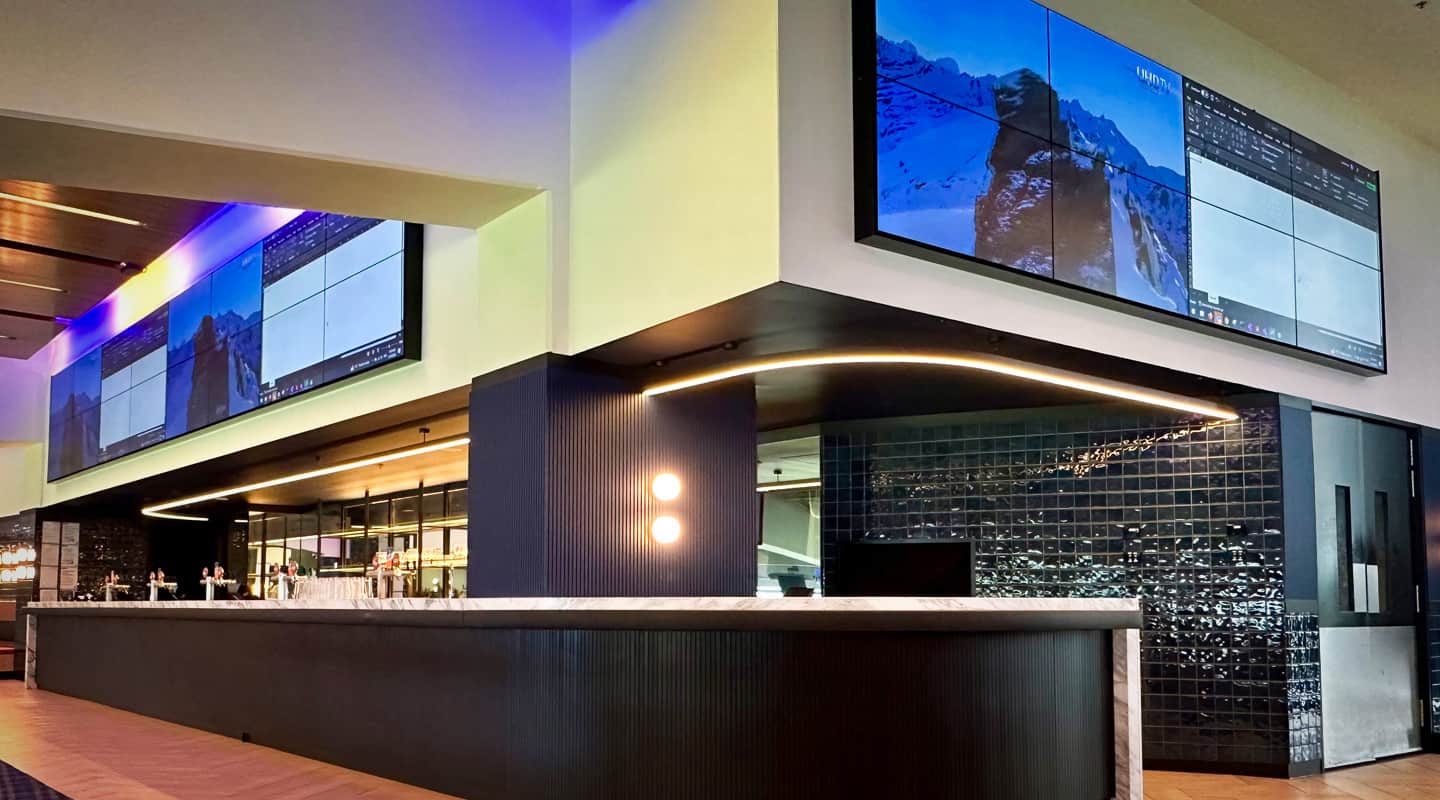 The MCG is upgrading its function spaces in the Great Southern Stand with new Samsung displays and an upgrade of the old Crestron DM switching. Diversified is the long-time AV service provider for the MCG and would usually recommend traditional AV over IP solutions for media transport. However, these technologies have been hard to come by recently, so they explored alternatives. Diversified has had limited exposure to NDI technologies in fixed installations in the past and with mixed results. They persisted with the NDI solution, given it's a broadcast standard which is in line with other technologies currently operating at the MCG and bench-tested Magewell's Pro Convert NDI converters. Diversified's Operations Manager, Daniel Woodward, picks up the story:
"Our Team Lead in Perth, Victor Laubscher, bench-tested the Magewell converters and reassured me about their performance and reliability. From there, we did on-site tests and a demonstration for the client." Convinced the Magewell Pro Convert NDI converters could be relied on, and with stock ready to roll, Daniel and his team were given the green light to proceed.
LAPTOP TO SCREEN 
On game day, the displays in the MCG function spaces are locked into the in-house IPTV content. During the week, Encore (the in-house AV events team) will plug in a laptop feed to display on the Samsung screens — whatever the client desires. The Magewell Pro Convert encoders will take the HDMI feed and send NDI network video to multiple displays using the Pro Convert Decoders. The Pro Convert AES67 will also de-embed the HDMI audio and convert it to AES67, which the Q-SYS Core will happily accept and make available for audio routing.
"It's not a hugely complicated setup," admits Daniel Woodward. "We don't typically need multiple sources routed to multiple destinations. The majority of the events are just a single video input to all the screens — but it does need to be absolutely reliable, which the Magewell converters are. The latency is low, and the price is right."
Diversified has also configured the system such that the NDI feed can be shared to every function space in the Great Southern Stand, which will be handy for larger, takeover-style events.
UNDER CONTROL 
Magewell Control Hub, its management software, is also proving to be useful: "We purchased the previous iteration, Magewell Cloud, but we found the feature set a bit limiting. The updated Control Hub is a far better proposition and we are transitioning all endpoints across, and the testing to date is working well for us. The ability to conduct bulk firmware updates is important, along with the management and diagnostic tools. Monitoring is important to the MCG. If there's a problem, using Control Hub, our on-site team will be able to pinpoint the issue quickly and get it resolved."
So, can Daniel Woodward see NDI taking on a larger share of AV tasks? "Our first preference would still be an AV over IP system. These technologies are proven and are more flexible with some of their features. That said, the low bandwidth of NDI is attractive — AV over IP solutions typically use a lot of bandwidth and the network overhead is large. For a job such as this, we're not doing anything too complicated and Magewell's NDI product is making easy work of it. So, for sure, we'd consider using it again."
More for you