Text:/ Christopher Holder
We've all seen examples of 'brave hotel technology gestures' that have almost instantly and fatally dated. How about bedside music/clock systems that include an original iPhone Lightning dock? Or 'business friendly' TV/keyboard combos that allow business travellers to work and send emails from an in-room desk? They're all technology albatrosses, mostly installed in the period before the widespread use of laptops and certainly before the widespread use of casting systems like Airplay or Chrome- and Miracast. 
Little wonder then that hotel owners are wary of dropping too much money on in-room tech. 
The Salter Brothers Group owns a portfolio of six IHG-managed hotels, including three Crowne Plazas, voco Gold Coast, the Holiday Inn Potts Point and the Intercontinental Melbourne. The business is smart enough to engage a client advocate, Rajan Balaguru, to assess and negotiate technology purchasing decisions.
HOTEL TV UPGRADE
The Salter Brothers' properties are going all-in on Philips hotel TVs. Three hotels —  Crowne Plaza Coogee, Crowne Plaza Canberra, and Crowne Plaza Melbourne — have already been upgraded, with the Holiday Inn Potts Point next cab off the rank. Rajan explains: "I spent a good deal of time comparing the options. Philips is the only commercial TV that has Chromecast built-in and that was a big plus point. Studies show that hotels offering Chromecast are experiencing a sizeable 20 to 40% uptake — so we know this is something our guests want. Having Chromecast built-in, negates any issues with guests walking away with hardware dongles or the expense of installing separate dongles.
"Pricing was a big consideration, and the Philips hotel TVs are very competitive, and cheaper to run. Philips, being a Dutch business, is compliant with relevant European Union energy initiatives, which works out to save about 50% on energy consumption as compared to the big Korean brands.
"As an IT person, I'm reassured by the fact the Philips hotel TVs are powered by Android. Android is the favoured operating system for most of the devices in the world, so there's an immediate compatibility with guests' phones and tablets. If you have a Google account then it's easy to buy a movie then cast it to one of our TVs — it's seamless.
"When you check out of the hotel all those details are automatically cached out of the system. No private information is retained, and certainly not waiting on the TV for the next guest.
"We're yet to implement Philips CMD software but we're interested in moving in that direction. It's an easy solution to work with and is being approved by IHG."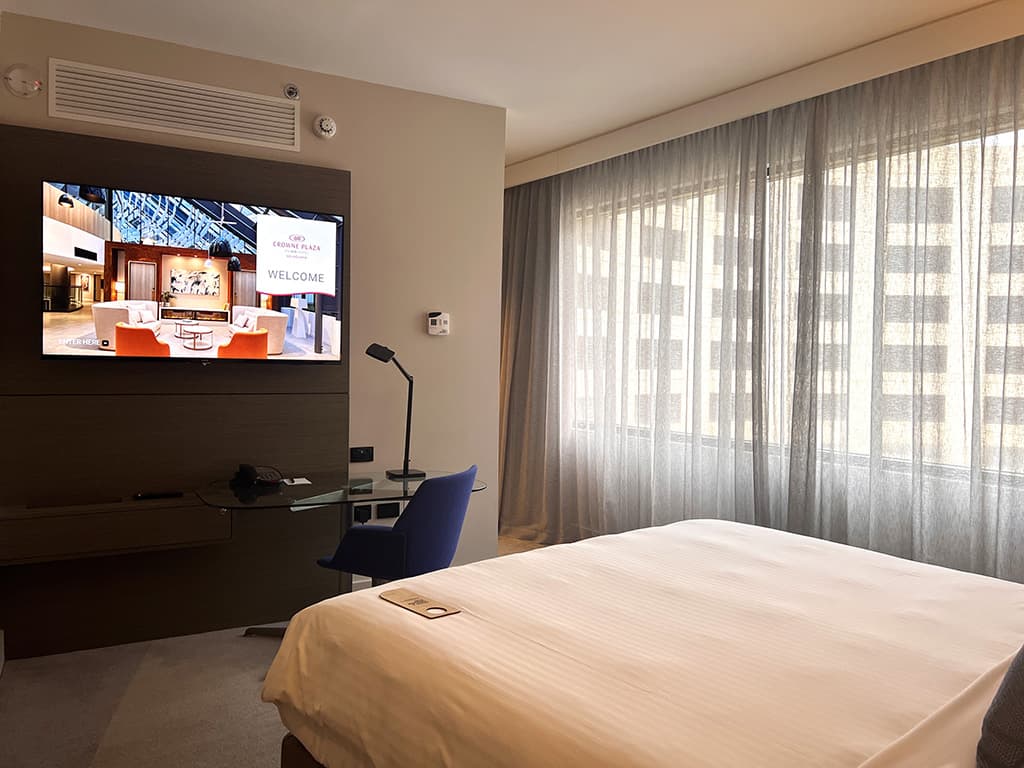 SONOS AUDIO UPGRADE
Rajan's role is to assess the technology alternatives, and be a client advocate to ensure Salter Brothers makes the most of its buying power. Apart from the Philips hotel TV investment, a significant wi-fi upgrade is well underway, and another area of improvement is in the group's installed audio offering in its public spaces.
First to enjoy an audio refit is the Holiday Inn Potts Point. The foyer, port cochere and restaurant areas now have Sonos Architectural surfacemount loudspeakers, installed by Nick Media Systems.
"There's lots to like about the Sonos system," continues Rajan. "The loudspeakers can use existing cabling infrastructure; it's easy to create zones; and the app is very user-friendly."
The Sonos system uses network cable and connections to plumb in a system. For a refit, it means you can use existing network ports and cabling infrastructure to run audio back to an equipment rack. Pull the relevant cables out of the IT network switch and pop them into the Sonos amplifier instead."
IN THE ZONE
There are four audio zones at the Holiday Inn Potts Point — the foyer, porte cochere, restaurant, and restaurant courtyard — and, via the Sonos app, staff can control levels and program different Spotify content for each zone. "The staff love it," confirms hotel GM Bruce Edwards. "Most of them are Gen Z and the app and interface are instantly familiar to them. Prior to the audio upgrade we needed a different music system for each zone, now it all can be controlled from one phone. We love our Sonos system!"
Nick Graham has been installing Sonos systems into commercial environment for some years now and sees the appeal: "For cafés, restaurants and retail, Sonos makes a lot of sense. A Sonos system is cost effective, can use existing structured cabling if needs be, and is modular — with the Sonos amp you can easily augment an existing system with additional loudspeakers or a powered sub, for example. The interface and media player is part of the system which means you don't need the extra expense of a control wallplate or touchscreen."
Nick installed Sonos Architectural surfacemount models into the Holiday Inn Potts Point. Each zone gets its own Sonos amplifier. Each zone is run in low-impedance mode making for a higher quality result than a more traditional 100V mass distribution method, with superior bass response and clarity.
YOU'VE ARRIVED
It feels only appropriate to give Holiday Inn General Manager, Bruce Edwards, the final word on what the audio upgrade has done for his property and his guests: "We've had a lot of work done recently in our public spaces — painting, furniture upgrades and soft furnishings. Adding music has been one of the most important. What I love, is that as a guest approaches our hotel through the porte cochere, they're already hearing the music and being welcomed before they've made it to the lobby. Straight away, from a sensory perspective, you're being drawn into the vibe of the hotel. Getting that arrival experience right is really, really important. It goes hand in hand with the greeting and the check-in to provide a seamless experience."
More for you