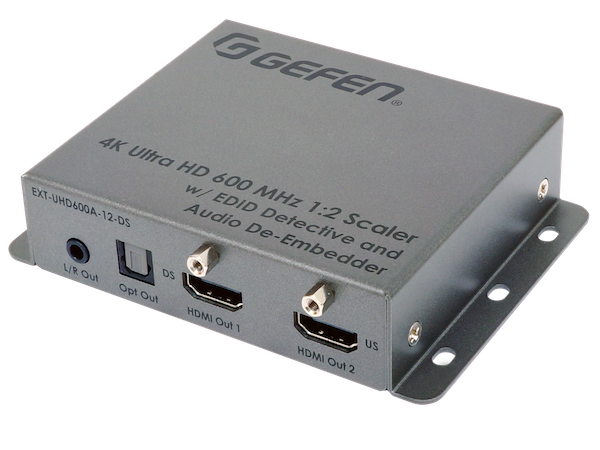 /
/
600MHz 1:2 SCALER WITH EDID FROM GEFEN
600MHz 1:2 SCALER WITH EDID FROM GEFEN
Demonstrating its commitment to develop problem-solving signal management solutions for installers, Gefen from Core Brands today announced that its 4K Ultra HD 600MHz 1:2 Scaler with EDID Detective and Audio-De-Embedder (EXT-UHD600A-12-DS) is now shipping worldwide. According to Gefen Product Manager Jason Fitzgerald, the new splitter incorporates scaling, EDID management, and audio break-out functions in one product to help commercial integrators solve compatibility issues often encountered in installations including a mix of 4K and 1080p displays.
Thanks to independent scalers built into each of its two HDMI outputs, one output can downscale a 4K 600MHz signal to 1080p Full HD, while the other can upscale an HD signal to 4K Ultra HD 600MHz, maximising compatibility in a mixed resolution display system.
"Gefen has a history of creating affordable, easy-to-implement signal solutions that make installations easier for the integrator. The EXT-UHD600A-12-DS follows in this tradition," Fitzgerald said. "This unit can accept a Full Bandwidth 600MHz HDMI 2.0 4K signal while offering downscaling capabilities on one of its split outputs, enabling users to pass the original 4K signal through while gaining a 1080p output for use with downstream devices that are not 4K-capable."
Conversely, said Fitzgerald, a single 1080p input can also be split and scaled to separate 1080p and 4K Ultra HD 600MHz outputs, providing upscaling functions that increase the fidelity of the original input for use with 4K Ultra HD capable displays. "Commercial integrators are often called upon to update and upgrade legacy system, and may encounter a mixture of 1080p and 4K devices within a system," he explained. "This unit allows them to create two video paths from one input, with each path best-suited for the devices it will be connected to. This solution allows the installation to attain the highest possible performance in situations where legacy equipment coexists with the latest technology sources and displays."
In addition to its scaling and splitting capabilities, the unit also features advanced EDID management with built in, pass-through, and user EDID capabilities, which can be used to control how the source outputs its AV signal. It also works with the Gefen Syner-G software for easy configuration and firmware updates.
The new 1:2 scaler also de-embeds audio from HDMI, and outputs it as L/R analogue and Toslink Optical Digital Audio (two-channel LPCM, and up to 5.1 channels of Bitstream). "This solution features analogue and digital audio outputs that break out the audio stream from the HDMI signal, allowing the de-embedded audio content to be sent to external amplifiers and music distribution systems for added impact and enhanced user experience in bars, restaurants, clubs, venues, and corporate offices," Fitzgerald added.
Highest performance multichannel digital audio including 7.1 channels of LPCM and HBR (High Bit Rate) digital audio formats, such as Dolby Atmos, Dolby TrueHD, DTS:X, and DTS-HD Master Audio are passed through to both HDMI outputs.
The 4K Ultra HD 600 MHz 1:2 Scaler with EDID Detective and Audio-De-Embedder accommodates resolutions up to 4K Cinema-DCI (4096 x 2160 to 60Hz 4:4:4) and 4K Ultra HD (3860 x 2160 to 60Hz, 4:4:4), while High Dynamic Range (HDR-10 and Dolby Vision) capability is also built in. HDR delivers greater contrast between light and dark areas of a video image, resulting in tremendous improvement in picture quality and colour depth. HDCP 2.2 and the legacy HDCP 1.4 are both supported. The new Gefen scaler also supports 1080p Full HD, WUXGA (1920 x 1200 to 60Hz), 3DTV (1080p), and 12-bit Deep Colour (1080p).
"The 4K Ultra HD 600MHz 1:2 Scaler operates as an all-in-one problem solver," Fitzgerald concluded. "With EDID capabilities built into this multi-functional splitter, commercial integrators now have the opportunity for enhanced functionality in a mixed display environment."
Gefen: www.gefen.com
More for you