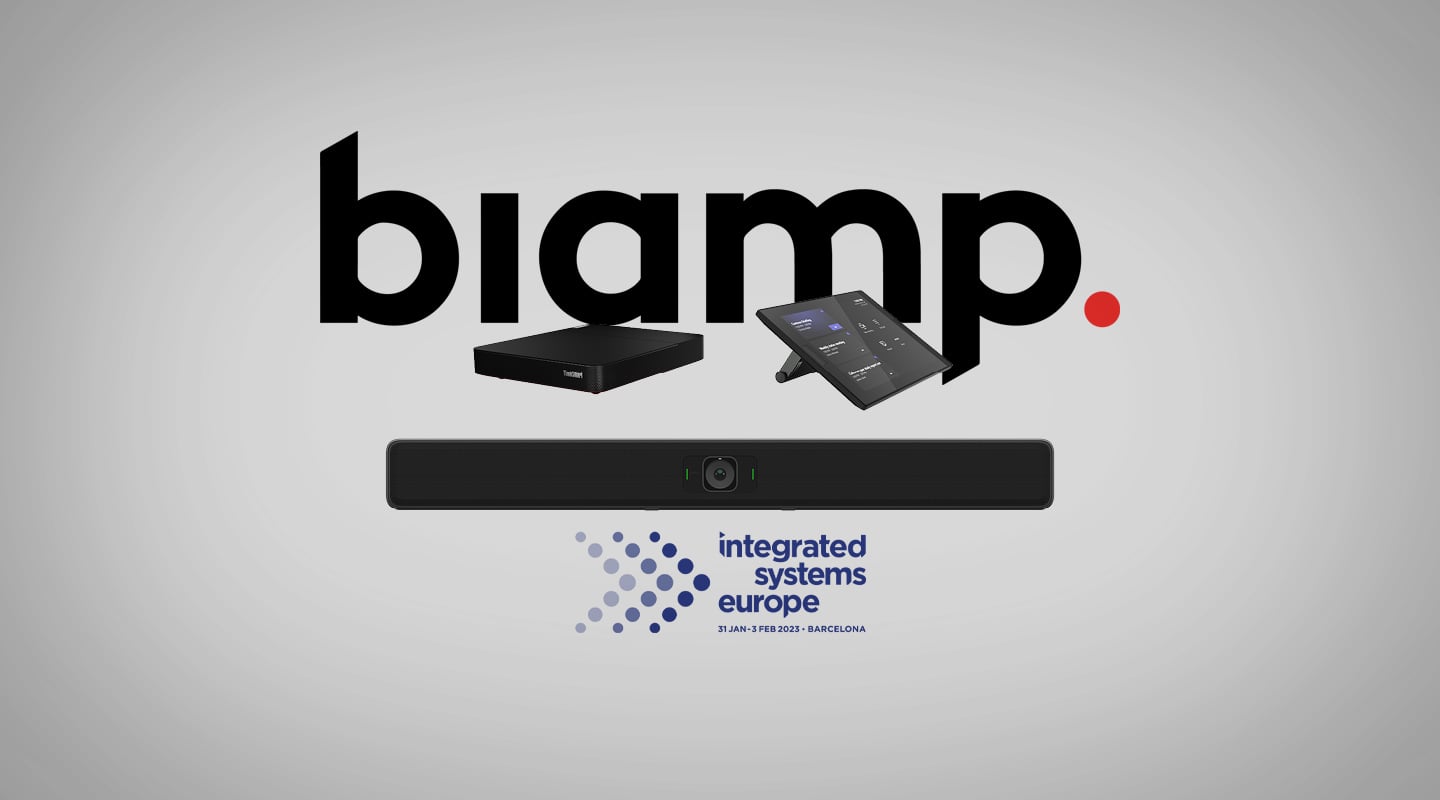 /
/
Biamp Thinks Smart At ISE 2023
Biamp Thinks Smart At ISE 2023
Collaboration with Lenovo to deliver state of the art conferencing compute device.
Biamp, a leading supplier of professional audiovisual solutions, today announced that it has collaborated with Lenovo to deliver the ThinkSmart Core and Controller Kit-based solutions configured for Microsoft Teams Rooms or Zoom Rooms. The Lenovo ThinkSmart Core and Controller Kit can be paired with any Biamp room solution to offer a complete UC Room, allowing integrators to source an end-to-end conference room solution from Biamp.
"The addition of the Lenovo ThinkSmart Core and Controller Kits for Microsoft Teams or Zoom Rooms to our conferencing line up makes Biamp a complete, one-stop-shop to outfit practically any conference room," said Joe Andrulis, Executive Vice President of Corporate Development at Biamp. "In addition to the simplicity and ease of ordering a complete conferencing solution from one provider, we are thrilled to offer our integrators and customers the reliability and certified UC compatibility of Lenovo products."
The Lenovo solution includes the Lenovo ThinkSmart Core, a computing device based on the Intel vPro platform, and certified for Microsoft Teams Rooms or Zoom Rooms, a Controller display, Premier Support, and ThinkSmart Manager software for remote manageability, deployment, and more.
"Biamp is well known for helping organisations optimise their conference room audio and was a natural fit for us to extend our ThinkSmart Core and Controller Kit into a wide array of meeting spaces as part of a complete conferencing solution," said Shannon MacKay, General Manager, Worldwide Smart Collaboration Business Group, Lenovo. "Together with Biamp, we look forward to making it simpler and easier than ever for businesses to purchase and implement turnkey UC conferencing solutions for meeting spaces ranging from huddle rooms all the way up to large conference rooms."
The Lenovo ThinkSmart compute and touch-panel Controller Kits are available in two options, configured for either Microsoft Teams Rooms or Zoom Rooms, enabling users to connect, share, and collaborate seamlessly. Its small size with integrated cable management and VESA mounts enables speedy installation and placement in tight spaces.
Running on the trusted Windows 10 IoT Enterprise SAC OS, the Kit includes Lenovo Premier Support and ThinkSmart Manager software for remote manageability and deployment. Integrators now have a complete set of tools to outfit any size conference room with UC-certified Microsoft Teams and Zoom equipment through Biamp.

Fira Barcelona, Gran Vía
31 Jan – 3 Feb 2023
ISE 2023
Integrated Systems Europe is the world's leading AV and systems integration exhibition. ISE 2023 showcases the world's leading technology innovators and solutions providers, and includes four days of inspiring conferences, events and experiences.
More for you