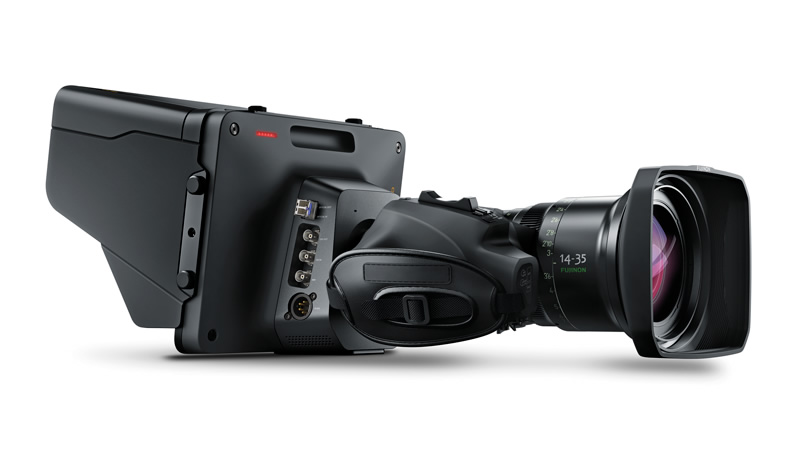 BLACKMAGIC AT NAB
Blackmagic Design backed up a truckload of new products at NAB. Here's a summary.
DaVinci Resolve 11 – A major upgrade with more than 100 new editing and colour grading features. This new update includes improvements in online editing plus context sensitive trimming, onset file cloning, photographer style colour grading tools and a new collaborative workflow that allows multiple users to work simultaneously on the same timeline.
Cintel Film Scanner – A film scanner that features a new wall mount and desktop design with Thunderbolt 2 for real-time scanning of 35mm and 16mm film up to 30fps in Ultra HD resolution.
Blackmagic Studio Camera – A camera specifically designed for live production and available in 1080 HD and Ultra HD models.
ATEM Camera Control – An update that adds support for controlling cameras from their ATEM production switcher via the program feed to the camera. This update will be free of charge to ATEM customers when available in May 2014.
ATEM 2 M/E Production Studio 4K – A 2 M/E based Ultra HD live production switcher with 20 6G-SDI inputs, SuperSource layering engine and more.
Teranex Express – A real time SD, HD and Ultra HD broadcast up and down converter with Teranex image processing.
Smart Videohub –  A family of mixed format routers with a visual routing user interface and 6G-SDI technology allowing SD, HD and Ultra HD routing all on the same router at the same time.
New Mini Converter 4K Family – a range of Ultra HD Mini Converters that feature new 6G-SDI technology allowing customers to use a single type of Mini Converter for all conversion needs in SD, HD and Ultra HD television formats. All these new models replace the previous model for each conversion type.
New DeckLink 4K PCI Express Capture Cards – Two PCI Express capture cards, DeckLink SDI 4K and the DeckLink Studio 4K models, now include all the features of the previous models, but with faster four lane PCIe connections and 6G-SDI and HDMI 4K connections to allow SD, HD and Ultra HD capture and playback.
Australian Distributor: New Magic Australia 03 9722 9700 or www.newmagic.com.au
More for you