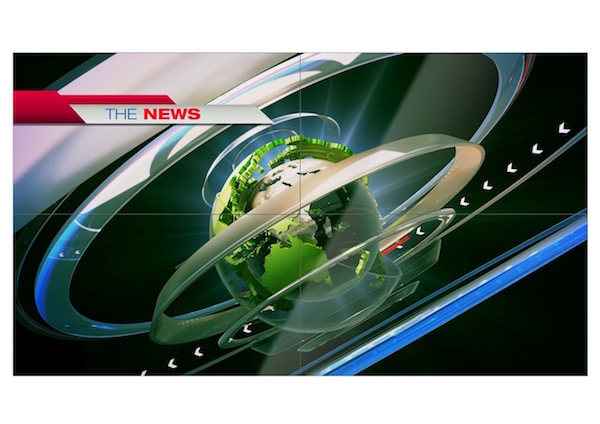 /
/
CHRISTIE AT INFOCOMM 2018
CHRISTIE AT INFOCOMM 2018
InfoComm 2018 will see the official launch of Christie Guardian as an option in the new, globally debuting, Mystique Install 2.0. Other global launches include the introduction of three new Christie HS Series projectors, including a 4K ultra high definition model as well as the new Pandoras Box 6.1 which is available in nine languages.
Introduced earlier this year, both the Christie FHD493-XE 49-inch LCD panel and Christie CorePlus LED are making their first North American appearance.
The booth also features a Guardian demonstration showing how the software automatically scans for misaligned blended images and, while the content is playing, almost instantaneously realigns them without disruption or a visible test pattern. In addition, new and exciting content generation tools for Pandoras Box will be shown.
On June 7 from 10:30am until noon, at Pavilion 10 in the Westgate Hotel  which uses Christie LED at one of the world's largest sportsbooks Christie Senior Product Manager Karl Johnson is teaching the fundamentals of AV over IP technology and network requirements including multicast networking. Mr. Johnson will also explain investment and lifecycle management considerations for SDVoE.
On the InfoComm show floor, Christie specialists will explain and demonstrate how, from project conception to years after installation, Christie's hardware, software, and services deliver incomparable and memorable visual experiences – as already evidenced by an ever-growing roster of installations.
Numerous sports, entertainment, and corporate venues trust the combined power of Christie hardware and software including Denver's Pepsi Center – home to the Colorado Avalanche and Denver Nuggets; the Air Canada Centre – which the Toronto Maple Leafs and Toronto Raptors call home; Capital One Arena – home of the Washington Capitals and Washington Wizards, which all rely on Mystique Install for automatic alignment and recalibration of their Christie projectors and Pandoras Box for media compositing and playback. Capital One Arena also uses Christie Terra to transport, process and control AV content over its 10G Ethernet network.
Speaking to the Capital One Arena installation, CJ Davis, Creative Director at Quince Imaging praised the uniqueness and dexterity of Christie technology. "Christie hardware was the obvious choice for this installation. Christie alone has the only truly native 4K-resolution display chip that can produce the high pixel density required to meet the quality we — and our customer, expects. The result is a fully 4K-native workflow from media servers to projectors."
Additional sports venues and teams using Christie include the PPG Paints Arena – home to the five-time Stanley Cup champion Pittsburgh Penguins; Key Bank Center – home of the Buffalo Sabres; the Cleveland Cavaliers with their interactive, full-court arcade games using Pandoras Box; the University of Florida Gators, and Michigan State University, among many.
Christie: Trusted for live events, museums, corporations and control rooms
Christie is also a leader in live events staging applications such as with WorldStage, a trusted Christie partner, which used Christie Boxer projectors for Elton John's farewell tour official announcement earlier this month. Christie and WorldStage also teamed up at the Adobe Summit on March 18, using both Boxer and Spyder X80.
Other live shows using Christie included the Ariana Grande Dangerous Woman Tour, where audiences were treated to an electrifying show that included over 20 Christie Boxer 4K30 projectors.
In addition to both the 'No Spectators: The Art of Burning Man,' at Smithsonian American Art Museum's Renwick Gallery and the Museum of the Bible – both in Washington, DC  the Cleveland Museum of Art and China's Changchun Museum are among the hundreds of museums, hotels, higher education facilities, houses of worship, airports, and other facilities that are outfitted with the power and reliability of Christie technology.
In lower Manhattan sits the famous 55 Water Street building, complete with an elegant 42ft x 8ft Christie Velvet Apex Series video wall  bisected by a marble pillar  that greets people with the latest information and stunning images of an eclectic New York City.
At Buffalo Airport, in which Christie LED, LCD panels, Spyder X20 and Pandoras Box are used, Kevin Kelly, President & COO of Stampede Global said, "Christie professional services can do it all, even in such a challenging environment. Your engineering team is great."
Other noteworthy installations include the Zurich Opera, Radio City Music Hall – home to the world famous Rockettes, the Liberty Science Center's Jennifer Chalsty Planetarium, and several other large screen experiences including both the Cleveland Clinic DOME Theater at the Great Lakes Science Center and the Fernbank Museum's Giant Screen Theater.
You'll also find Christie's presence on the InfoComm floor at the Da-Lite, Stewart Filmscreen, and JB&A booths.
Christie: www.christiedigital.com
More for you