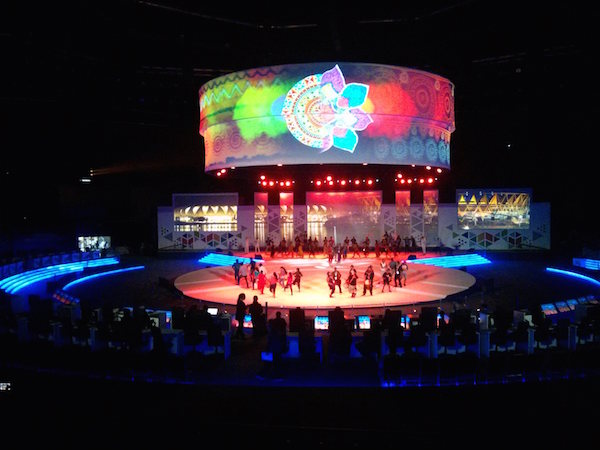 /
/
CHRISTIE ROADSTER AT INDIA-AFRICA SUMMIT
CHRISTIE ROADSTER AT INDIA-AFRICA SUMMIT
Christie Roadster Series projectors played a prominent role at the 3rd India-Africa Forum Summit by delivering impressive visuals for an audience of heads of state and government officials from India and Africa from October 26-29, 2015.
The projection mapping display was planned and executed by Christie India's partner Modern Stage Service using 30 Christie Roadster HD20K-J 3DLP projectors, and an additional six projectors for backup at the summit's opening ceremony, held in the Indira Gandhi Stadium Complex in New Delhi. This is one of the largest deployments of Christie projectors to be used at a major conference in India.
40 Christie Roadster HD20K-J projectors are deployed for projection mapping during the Summit, attended by more than 3,000 delegates. The event had been described as the biggest gathering of world leaders in India for 32 years.
The organisers tasked Modern Stage Service to deliver a projection mapping display in the centre of the circular-shaped main floor measuring 70 feet in diameter, on the surface of two large cylindrical screens suspended from the ceiling that measured 68 and 66 feet in diameter, as well as on the stage's backdrop which featured multiple screens of different sizes.
"Our objective is to create a single canvas that not only exude a stunning look, but also an awe-inspiring element which is usually absent at major conferences, with the purpose of providing a sense of motion to the stage design without distracting from the protocol of the opening ceremony of the summit," commented Davinder Wadhwa, director, Modern Stage Service. "Given the size of the stadium and stage area, we decided that the Christie Roadster HD20K-J is the best choice for us to deliver bright, colourful and lifelike images that are worthy of this large scale event. We have used the HD20K-J on a number of occasions and we are confident that they can provide the performance and reliability that we are looking for."
During the opening, a variety of exciting visuals, including the India-Africa Forum Summit's logo – depicting a Lion with one half of an African lion and another half of an Indian lion against the map of Africa overlapping with India in the background – were projected on the cylindrical screens and floor of the circular stage by the Roadster HD20K-J projectors. Live proceedings of the summit were also projected onto multiple huge screens which formed the backdrop of the massive stage, so that delegates could always have a clear and detailed view.
Equipped with DLP technology, high-quality optics and 10-bit image processing, the Christie Roadster Series utilise light efficiently to ensure brightness uniformity and are ideal for large venues such as arenas/stadiums, government and building displays. Embedded with Christie Twist, the projectors allow users to expertly edge-blend and warp images seamlessly to almost any projection surface.
More Info:
Christie Digital: www.christiedigital.com
More for you