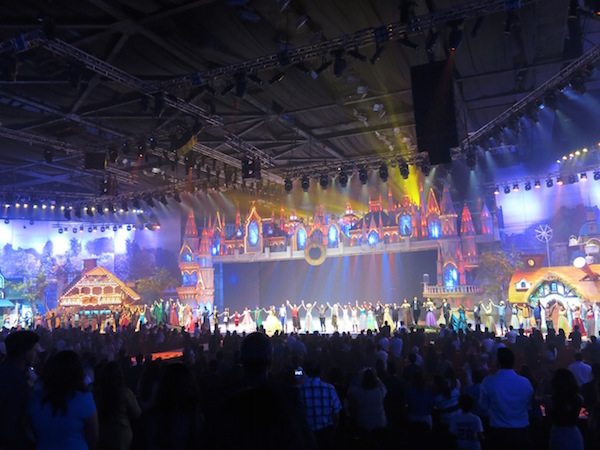 /
/
CHRISTIE ROADSTER PROJECTORS IN INDIA'S DISNEY MUSICAL
CHRISTIE ROADSTER PROJECTORS IN INDIA'S DISNEY MUSICAL
Five Christie Roadster HD20K-J 3DLP projectors displayed brilliant and realistic images on the elaborately decorated stage sets at Disney's musical theatre extravaganza Beauty and the Beast, which premiered in India on October 21.
Presented by Disney India, the stage version of the highly popular animated film features over 100 of the best musical theatre performers in India and adding 'Indian influences' to the meticulously choreographed performances. The 130-minute production is in English with shows in Mumbai and Delhi from October to December 2015. In Mumbai, it will be performed at Dome@NSCI, SVP Stadium, with the Delhi performances staged at Thyagaraj Sports Complex. Each venue seats about 2,500 people.
The five Christie Roadster HD20K-J 3DLP projectors used for the performance projected bright images on the elaborately decorated stage sets, such as Belle's House, Tavern, Clock Tower, Beast's castle area with Belle's bedroom, and many others.
"We are extremely pleased by the love and appreciation the show has received from the audiences. The Beast Castle is one of the crucial parts of the story and Christie technologies helped us bring it alive through LED screens, which made the experience for the audiences even more magical," said Vikranth Pawar, Show Director and Creative Head, Live Entertainment, Disney India.
"It is a great pleasure for us to be part of the Disney magic with the first ever Beauty and the Beast musical in India, with the deployment of our Roadster HD20K-J projectors – widely known to provide outstanding and lifelike projections – at this highly anticipated event," said Lin Yu, vice president, Christie Asia Pacific. "We have a longstanding relationship with Disney and this latest collaboration is a testimony of our strong ties built over the years. We are fully committed in ensuring the delivery of the best visual experience for the Indian audience with our 'Best in Class' visual solutions."
Christie Roadster Series projectors are designed with built-in handles, an improved airflow system and multiple rigging points. It features high-quality optics, 10-bit image processing and a variable contrast ratio of 1600–2000:1.
More Info:
Christie: www.christiedigital.com
More for you