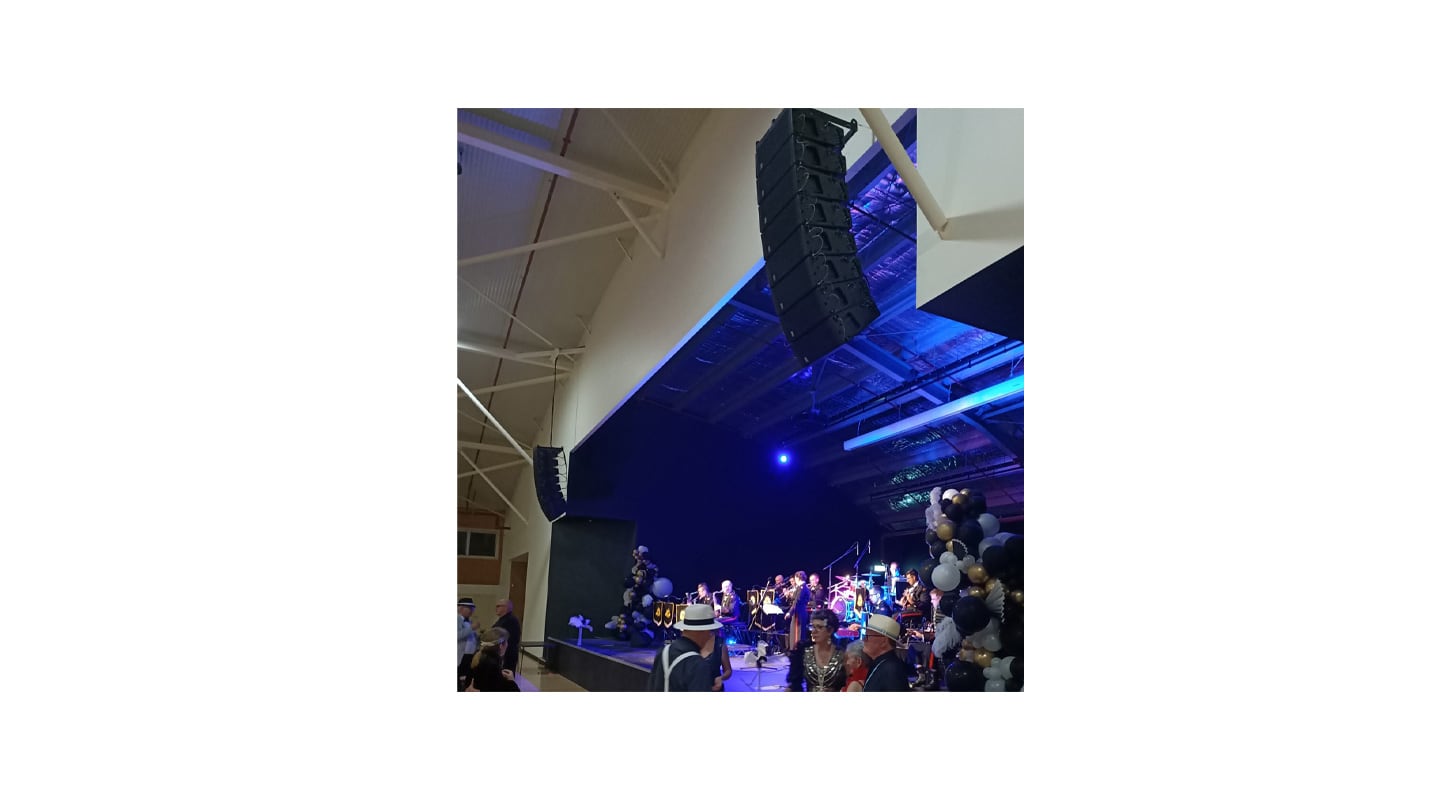 /
/
Dunn Good: Community Centre's Big AV Upgrade
Dunn Good: Community Centre's Big AV Upgrade — AV.technology
An Acoustic Technologies PA leads the tech charge in this Fat Sound AV upgrade of the Dunn Lewis Centre in Ulladulla.
The Dunn Lewis community centre provides opportunities for young people in the Ulladulla area — training and life skills. The centre includes a climbing wall, gymnastics pit and sports courts. A more recent stage of work includes a 1500-cap auditorium. The multipurpose Auditorium is designed to attract corporate and function bookings, with revenue fed back into the youth development programs. 
Ray Eberle, Director of Fat Sound, provides a first-person account of his work on the Auditorium's AV design and installation.
Ray Eberle: This project started for me in February 2018 after being invited to a meeting at the Dunn Lewis Centre in Ulladulla, where I was asked to give a brief description of my company's work over the last 20 years.  I was subsequently requested to be a mentor on this project, and advise on stage design, audio, visual, and lighting (all aspects of live production).  These meetings continued throughout most of 2018, during which time funding had been approved and the project could move forward.
Our initial task was to run cabling in cable ezy strut trays  under the concrete floor (450mm thick) for 50 metres.  This was done in complete darkness. Ultimately, more than three kilometres of cable was used, comprising speaker, data, audio and power, running from the stage to the back-of-house rack,  neither of which were even built at this juncture.
During the mentoring period we examined a variety of scenarios for the FOH system which would best suit the client's budget. One of the reasons I was invited to mentor on this project was due to my extensive touring experience both here in Australia and overseas using many systems – some good, some bad, and some… just don't go there!
FRONT OF HOUSE SOUND
Being an owner of many Acoustic Technologies systems, which I have used in so many applications over the years, both indoors and outdoors, I looked hard at the TLA508 with CLA-LF6000 subs.  Not only did I know how good they sounded, it also sat well with the budget we had.  These speakers ticked all the boxes for this project in particular: they are of superior quality; their sound exhibits wonderful clarity; and they are Australian made and owned, a fact which should be of great importance to those of us who make our living in the Australian entertainment industry. So the decision was made to purchase and install a system into the Dunn Lewis Auditorium which consisted of 8 x TLA508 per side and 6 x CLA-LF6000 subs under the stage, which was built around the subs (see image).  All are powered by Powersoft X8 amplification. To me this was the perfect marriage, as I have been using Powersoft X4s in my inventory since 2017, and know how excellent they sound.
The choice of foldback was Acoustic Technologies 6 x SFM25, with 1 x FR07, all powered by X8s.
PROJECTION
At this stage we designed a projector bracket to hang a 25kg Epson EB-L1505U 4K, 12000-lumen laser projector, and to hang a 6m motorised Grand View screen above the stage plus 3 x 10m Jands JLX Lite lighting bars — two above stage and one front of stage, with all bars powered and wired DMX to rack.
We designed and had a crossbar welded in at 45 degrees on either side to take a left and right speaker hang of eight elements per side with sling and fly bar. Each weighed in at 265kg per hang, so we had to ensure that everything was in accordance with AS specifications for our structural engineer to sign off on the hang.  As the stage was being built around the subs (see image), we had to build a 80mm plinth frame with 6mm rubber mat for each sub to lay on for acoustic stability and ground coupling, incorporating 6x CLA-LF6000 at the front of the stage behind the front press grille (see image).  
We also installed a back-of-house rack so no multi-core or any cabling could be seen or pose a potential trip hazard, so from the back of house rack we could run a small length of cabling safely to this control (mix position).
COMMISSIONING
Around mid 2019, as this was a project entirely dependent on funding – we were able to purchase most equipment and implement that into the install, and we proceeded to populate the server/amp rack with 3 x Powersoft X8 to drive the system.  The population of this rack took about four weeks to complete, with 5 x floor pits utilising Sommer cable SYSFloor 06 (see image). Once all the components, rack population front and rear were in position, the speakers were hung in accordance — left/right and sub aligned and tested for continuity.  Surprisingly, out of thousands of soldering, looms and speaker leads and multicore we made, only four were out of phase — not bad considering we made over 3000 joins and punchdowns!
We had scheduled some of December and January off due to our silly season, but we got smashed by the bushfires. Once they were controlled, we were back into it and agreed to fly Brendan Keane from Dead Keane Productions down to tune the FOH speakers and Powersoft X8 amplifiers via Armonia.  This took only a day and a half of testing and listening, but when he finished you could hear how good — I mean unbelievably good — this system sounded. Not only that, it  was a  multi-purpose room with basketball court and rock-climbing wall sharing this complex.  The Dunn Lewis staff and tradies still finishing off the building were in awe of what they were hearing.  This was a highly-rewarding culmination of 26 months of research, planning, implementation and choice of awesome products to suit the project's budget.
GEAR HIGHLIGHTS
Dunn Lewis Auditorium
Acoustic Technologies PA
16 x TLA 508
6 x CLA6000 subs
6 x SFM25 low profile 12-inch 2-way monitors
1 x FRO7 dual 15-inch & 2-inch horn for drum fill
Drive rack
1 x QSC Q-SYS Core 110f
3 x Powersoft X8 Dante power amps
1 x Midas DL32
2 x Shure QLXD RF units
1 x Shure UA844 antenna distribution unit
1 x Chauvet Net X 11 DMX splitter/distributor
1 x APC 2200 VA online UPS unit
1 x Omega Tech PDUv2-CFM-M 3 Phase power distribution unit
Vision
1 x Epson EB-L1505U 4K Laser 12000-lumen projector
1 x 6m motorised Grand View screen (250 inch)
Lighting
12 x Jands JLX Lite lighting bars
4 x Chauvet Colorado 1 Quad Zoom Tour
4 x Chauvet Ovation E-260 WW ellipsoidal
LSC Redback 18-channel Dimmer
More for you