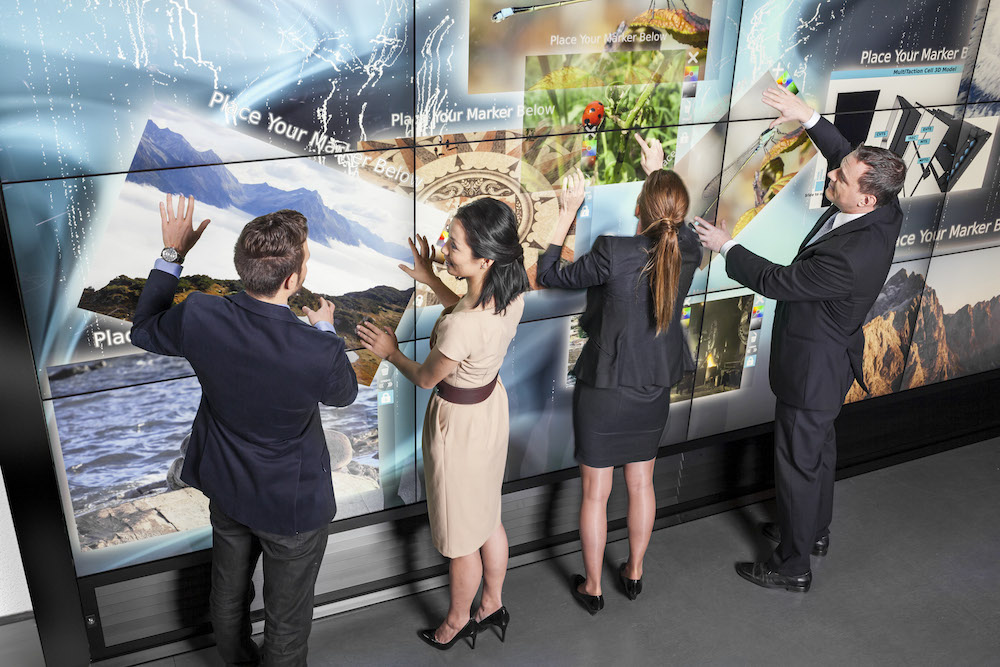 /
/
MULTITACTION DEBUTS MT CANVUS
MULTITACTION DEBUTS MT CANVUS
Interactive touch display specialist MultiTaction has launched MT Canvus, a new application developed to help organisations visualise big data sources, improve collaboration, socialise ideas and educate employees and clients.
Supported by MultiTaction's iWall (pictured), MT Canvus enables companies to embrace smart devices by sharing content onto the interactive walls, improving productivity and accelerating business processes as employees can work together with co-located teams and clients to develop and circulate new ideas. MultiTaction's iWalls, which are made up of 55-inch MultiTaction Ultra Thin Bezel (UTB) displays including all custom implementations as well as turnkey packages such as the three-display meeting room solution, the six-display board room solution, and the 12-display MultiTaction iWall. The application can also be optimised for other configurations of interactive display solutions of up to 24 displays.
Corporations can use MT Canvus to build large workspaces that contain documents, images, notes, annotation, videos, live video feeds and websites. It can also bring together content from multiple existing sources at the same time – file shares, web-based services or enterprise clouds for instance – so users can easily save and access content created on the display at any time.
When paired with the MultiTaction iWall, it allows active collaboration and improved productivity among an unlimited number of concurrent users. Users can also experience ultra-fast responsiveness, and IR pen and object recognition. Additionally, with MultiTaction Codice technology (2D barcode recognition) in place, MT Canvus users can receive their own unique Codice ID to store and access content at any time.
"MT Canvus is a solution that supports today's workforce which embraces the growing bring your own device (BYOD) trend and allows organisations to streamline business timelines in a highly-visual, engaging way," says MultiTaction's vice president of marketing, Jonathan Priestley. "MT Canvus allows employees and clients to work on content at the same time from ideation to final product. It expedites decision-making and will have a significant impact on numerous industries."
MultiTaction is showcasing MT Canvus and the 12-display Curved MultiTaction iWall on booth #4647.
MORE INFORMATION
MultiTaction: www.multitaction.com
More for you