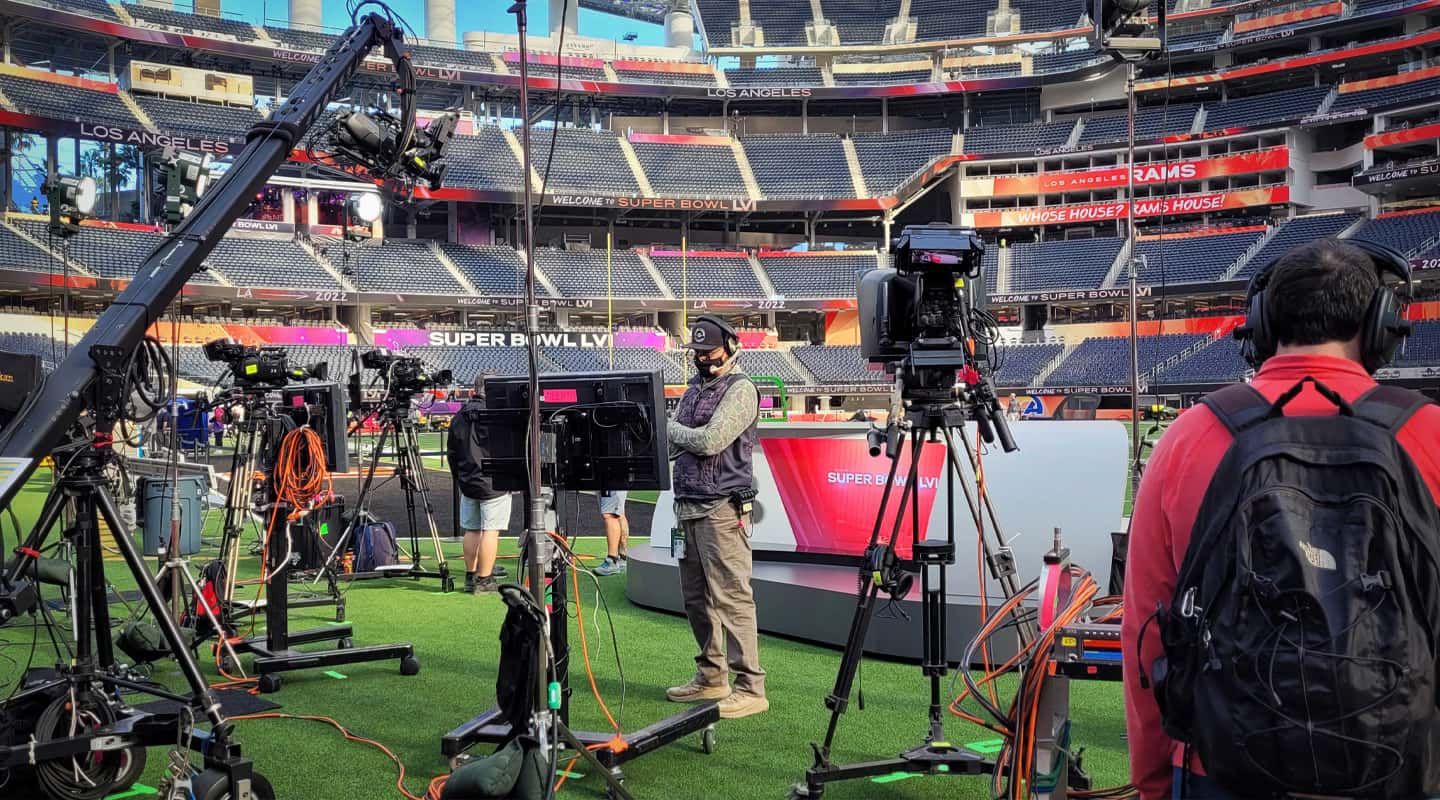 /
/
Pliant Technologies CrewCom Scores A Touchdown
Pliant Technologies CrewCom Scores A Touchdown
Three wireless intercom systems synched by one primary control unit at Super Bowl XVI
With over 114 million viewers tuning in to the game, network coverage of the Super Bowl begins hours and days before the kickoff. American football and game broadcast networks were provided with communications by audio and coms specialists CP Communications for the NBC broadcast and AY Productions for NFL Network. To manage the RF communications associated with Super Bowl XVI's RF requirements and SoFi Stadium's RF environment, and to provide coverage with the multitude of wireless intercom users, both companies implemented Pliant Technologies' CrewCom wireless intercom system.
Pliant has provided equipment for the event for the past five years. "This year was the first time three separate CrewCom systems, using both the 900MHz and 2.4GHz frequency bands, were all synched using one primary Control Unit (CU)," says Gary Rosen, Vice President of Global Sales, Pliant Technologies.
Across the event CP Communications and AY Productions utilised approximately 80 CrewCom Radio Packs, 45 Radio Transceivers, 12 Control Units, and a large variety of both 8-Port Copper Hubs and 8-Port Fibre Hubs. The three separate systems were used for the two main broadcast networks' pre-game shows with the largest configuration being used for the NBC pre-game show. 
In addition to AY Productions' set up, CP Communications relied on the CrewCom solution for the game's network broadcast and pre-game show coverage. "I worked with Pliant to configure the systems and coordinate the antennas in terms of placement and hopping patterns. This was important so that the three systems worked together instead of conflicting. No other system is able to operate seamlessly in both the 900MHz and 2.4GHz bands at this scale", said Brian Ready at CP Communications.
CrewCom is an innovative wireless system featuring 7KHz voice quality with 4-conference or 2-conference full-duplex Radio Packs that can select from up to 64 different conferences for each user and is available in 900MHz and 2.4GHz frequency bands. Unlike a matrix-based architecture, CrewCom is based on a decentralised network platform. CrewCom wireless products easily put dependable RF coverage where needed, all while employing a consistent user interface throughout the system.
More for you