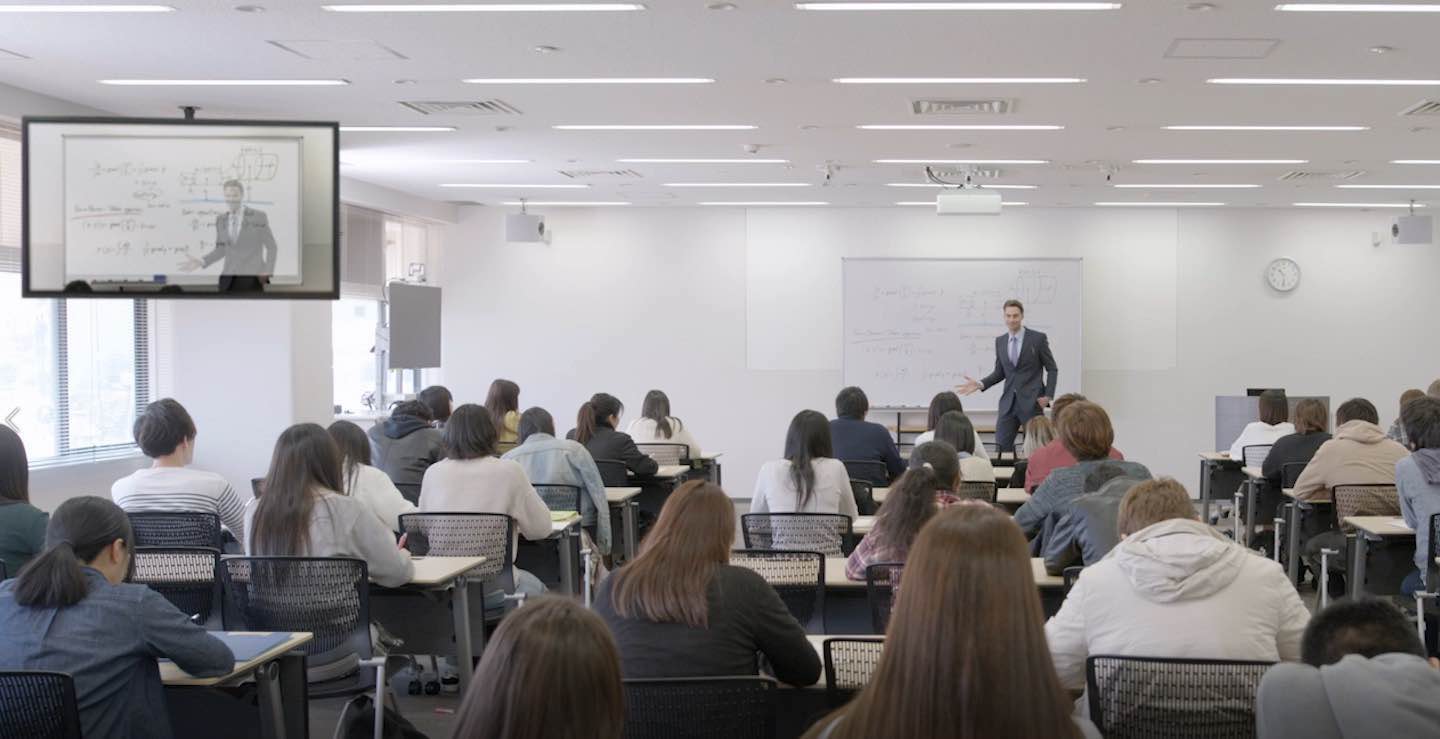 /
/
Sony AI-Based Remote Learning Solution
Sony AI-Based Remote Learning Solution
Complete Ecosystem Combines MAS-A100 beamforming microphone with Edge Analytic Solution Along With Reputable Ptz And Display Options 
Sony Australia launches a unique remote learning solution that combines its new MAS-A100 beamforming microphone with Edge Analytic appliance enabling lecturers to teach and students to learn remotely. The seamless combination of Edge Analytics, MAS-A100, Sony PTZ cameras, projectors and BRAVIA 4K displays when used together give lecturers a clever, efficient and professional remote teaching platform – a major plus for universities in these challenging times.
Once installed there are far fewer touchpoints and very few, if any, AV staff required to work the system which, given the current COVID-19 restrictions around social distancing and surface sanitising, are major advantages for teachers and instructors alike.
Sony's new distance and remote learning solution also enables a teaching solution to be customised for any requirements irrespective of whether students are allowed on campus or not, or if a classroom is limited to a certain number of people at a time to adhere to social distancing rules. Sony's new system is ultimately flexible and thus a teaching solution can now be created and used across multiple environments simply, efficiently and cost effectively. 
Sony Australia's group manager – business and institutional solutions, Daniel Hancox, explained, "The impact of social distancing and other restrictions on people's movements has had a serious effect on face to face learning. Many tertiary education facilities are currently restricted or even closed and universities need new and innovative alternatives in order to teach. The remote learning solution Sony has developed is uniquely positioned as we are able to provide and integrate all the products that are required in order to enable lecturers to provide first-class teaching and for students to learn remotely."
New Beamforming Mic
A key part of the new remote learning solution is Sony's new MAS-A100 beamforming microphone as it presents an advanced audio solution that enables flexible and creative hands-free lectures and presentations. 
The MAS-A100 delivers hands-free and hassle-free lectures and presentations with acoustic feedback prevention. 
Specifically designed for lecture and presentation environments, the ceiling-mount microphone offers advanced clear audio quality features for both speech reinforcement and recording with a unique combination of beamforming technology and an Intelligent Feedback Reducer function. The microphone has a dual channel output for simultaneous recording of a wide area to capture both the speaker and students' voices.  
Hancox continued, "The MAS-A100 achieves hands-free speech reinforcement without requiring hand-held or body-worn microphones and subsequent batteries or device management. This is enabled by a unique combination of beamforming technology and an original feature called Intelligent Feedback Reducer which can extract speech sound while suppressing unwanted feedback with Sony's high-performance digital signal processing and unique algorithms. After capturing voice, the microphone's Automatic Gain Control function automatically adjusts the output volume to be consistent regardless of the presenter's location and makes lectures and presentations easier to listen to." 
Together with the support for Dante and Power over Ethernet (PoE) to enable easy installation, the MAS-A100 simply and significantly improves the audio experience in and for education organisations. 
Making the MAS-A100 particularly effective for remote learning is the way it combines and integrates with Sony's AI-based Edge Analytics solution, the REA-C1000, which allows users to create video content in real time, without the need for professional training, additional staff or equipment.
Sony REA-C1000
The compact and lightweight REA-C1000 uses its advanced AI-based video analytics technology to analyse the input received from connecting cameras, automatically extract the object in focus and combine it with other images in real-time on a GPU. This unique technology uses motion/face detection and colour/shape recognition effectively making the REA-C1000 the powerful brain to any connecting camera and AV setup to create professional content in a cost-effective manner for educational facilities to keep students fully engaged. 
With Edge Analytics, you can engage your audience like never before by;
Extracting characters and diagrams in real time from a whiteboard or blackboard, with Handwriting Extraction license REA-L0100.
Using tracking to stay in focus and within the frame, with PTZ auto-tracking license REA-L0200.
Zooming in on an audience member to show reactions or highlight questions, with Close Up by Gesture license REA-L0300.
Creating animated imagery, still pictures and supporting graphics – without a dedicated studio with Chromakey-less CG Overlay license REA-L0400.
Showing two different images at once for added impact, with Focus Area Cropping license REA-L0500.

 
Hancox, said, "The Edge Analytics REA-C1000 solution combined with the MAS-A100 provides educators and teachers on a limited budget a cost-effective, yet powerful video and audio solution that allows them to easily create professional and engaging content." 
Another key part of Sony's remote learning solution is its range of PoE+, IP-based pan-tilt-zoom (PTZ) cameras which includes the SRG-X400, SRG-X120 and BRC-X400.  
These cameras incorporate Sony's newly developed 4K Exmor R CMOS image sensor that ensures superb image quality for every application. The SRG-X400 and BRC-X400 are equipped with 40x zoom capability utilising Sony's Clear Image Zoom technology, while the SRG-X120 camera has a 12x zoom. The powerful zoom options, combined with a wide viewing angle, enable the capture of both an entire room and a zoomed-in image with a single camera. 
As the demand for high resolution image has been increasing in various applications, Sony's cameras now also offer a future-proof 4K upgrade option – a first for Sony's PTZ cameras to ensure today's HD usage and protect the investment for tomorrow's needs. On the other hand, 4K resolution comes standard on the BRC-X400, which is ideally suited for broadcast studio and higher-end production as well as live event capture.
Projection & Display
Sony's projectors range is comprehensive and highly acclaimed with three new projectors, the VPLFHZ131L, VPLFHZ101L and VPLFHZ91L launched this year alone to sit alongside the best-selling VPLPHZ12. 
Each different projector model is suitable for a key application and the range boasts brightness offerings from 4,200 to 13,000lm making them ideal for every type of venue from small classrooms through to large lecture theatres and auditoriums.
Sony's BRAVIA 4K HDR BZ40H Series of displays brings 55 to 85-inch models that combine flexibility, connectivity and ease of use along with superior picture quality, capability and performance.
The BRAVIA 4K HDR BZ40H series include the 55-inch (FW-55BZ40H), 65-inch (FW-65BZ40H), 75-inch (FW-75BZ40H) and 85-inch (FW-85BZ40H) options for use in various education applications.
The BZ40H series combines Sony's high picture quality and System on a Chip (SoC) platform with intelligent, convenient professional features, providing flexibility to customise the display to meet any educational facility's requirements. The new professional BRAVIA series has also been cosmetically redesigned with a flat bottom bezel, all aluminium bezel, a reinforced rear cabinet and all input terminal position on the side.
More for you