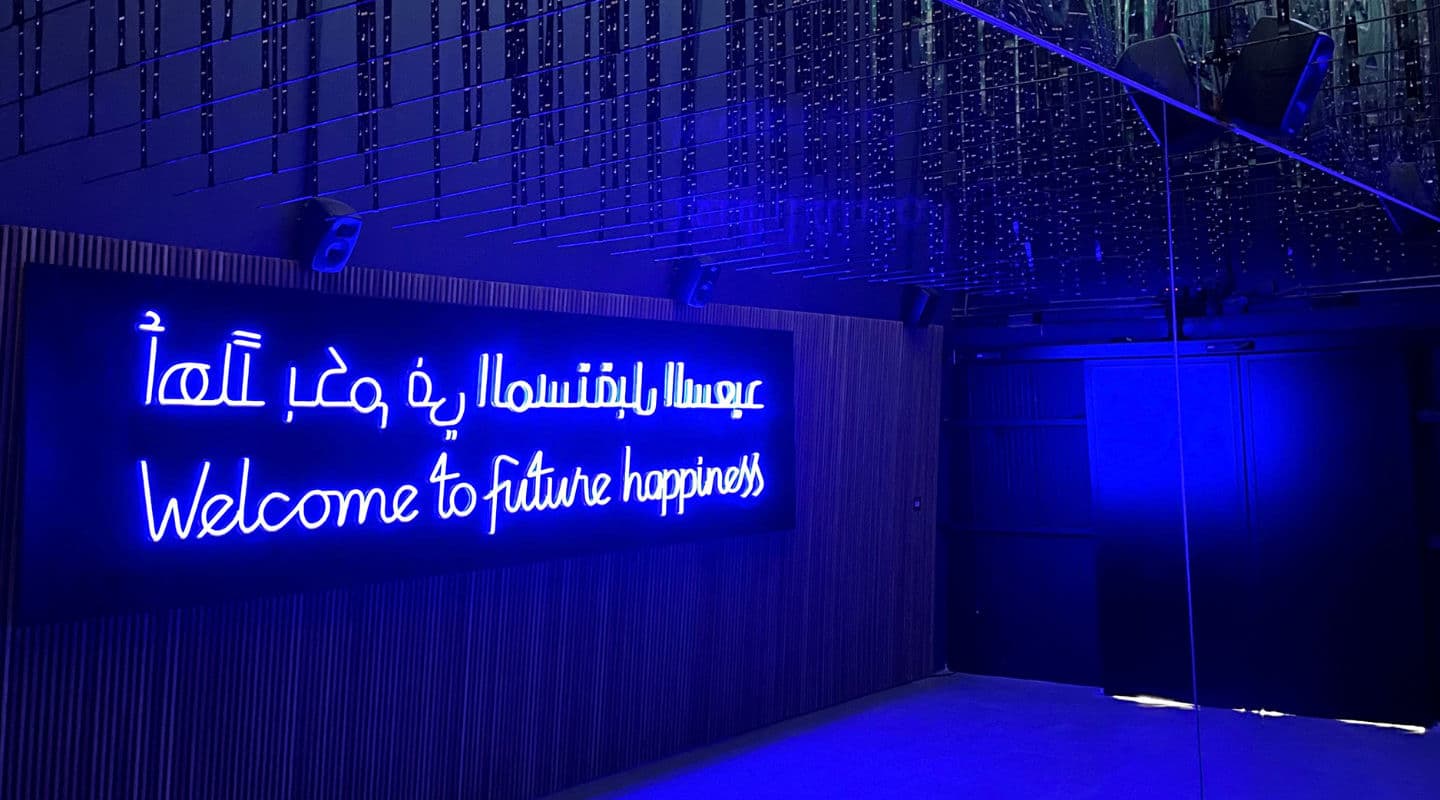 Genelec is proud to join forces with Business Finland to showcase its Smart IP networked loudspeaker technology at Expo 2020 Dubai, running now until 31st March 2022. A total of eighty-four 4430Smart IP installation loudspeakers are incorporated into Finland's Snow Cape Pavilion, including a ten-channel immersive loudspeaker array that will reproduce specially commissioned sound art by Finnish composer Emilia Takayama, entitled 'The Land of Snow'.
With the theme of 'Connecting Minds and Creating the Future', Expo 2020 Dubai is the first World Expo to be held in the Middle East, Africa and South Asia (MEASA) region, and creates an opportunity for attendees from all over the world to come together and connect with eachother, share ideas, learn and innovate. Postponed to 2021 due to the global pandemic, the Expo features participants from 192 countries and is predicted to attract millions of visitors during its six month duration.
Within the Snow Cape Pavilion, over 100 Finnish companies will be presenting world-class solutions in areas such as natural resources and energy, ICT and digitalisation, smart cities, technology, education, health, design and tourism. The Pavilion will focus on 'Sharing Future Happiness' by highlighting the symbiosis of people, pure nature and technology. Visitors will be taken on a journey through Finland's key strengths: education and know-how, functionality and wellbeing, and nature and sustainability.
Genelec's Smart IP loudspeakers provide power, audio, and loudspeaker management features via a standard CAT cable. Powered by PoE and compatible with Dante and AES67 IP audio streams, installers can also deploy Genelec's Smart IP Manager software to configure an almost unlimited number of rooms, zones, loudspeakers, and audio channels, and provides device discovery, individual equalisation of each loudspeaker, system organisation and status monitoring.
Manufactured from recycled aluminium to the highest environmental standards and providing long life and total reliability, Smart IP perfectly encapsulates the spirit of Finland – technical excellence, aesthetically beautiful Nordic design and a total commitment to sustainable development. In the Snow Cape Pavilion, seventy-four 4430 Smart IP loudspeakers are located in the exhibition area, configured as a custom immersive array, while the other ten 4430s will be handling The Land of Snow sound art content in 'The Gorge' area of the building. The entire system is fed via Dante and powered using standard PoE+ network switches, and was designed by Genelec and commissioned by GSL Professional in Dubai, Genelec's local distribution partner. The system installation and programming were handled by Audico Systems from Finland.
The marriage of Smart IP technology and Emilia Takayama's sound art makes a particularly pleasing and natural combination, since The Land of Snow represents the Finnish seasons of the year, creating an immersive atmosphere through instrumentation, melody, and harmony – plus sound recordings of nature, which are embedded into the composition.
Over the six months of the Expo, the Snow Cape Pavilion will enable visitors to learn more about Genelec technologies, as well as hosting events by partner companies and industry leaders, thematic days, VIP events and special celebrations of Finland's National Day and Christmas.
More for you