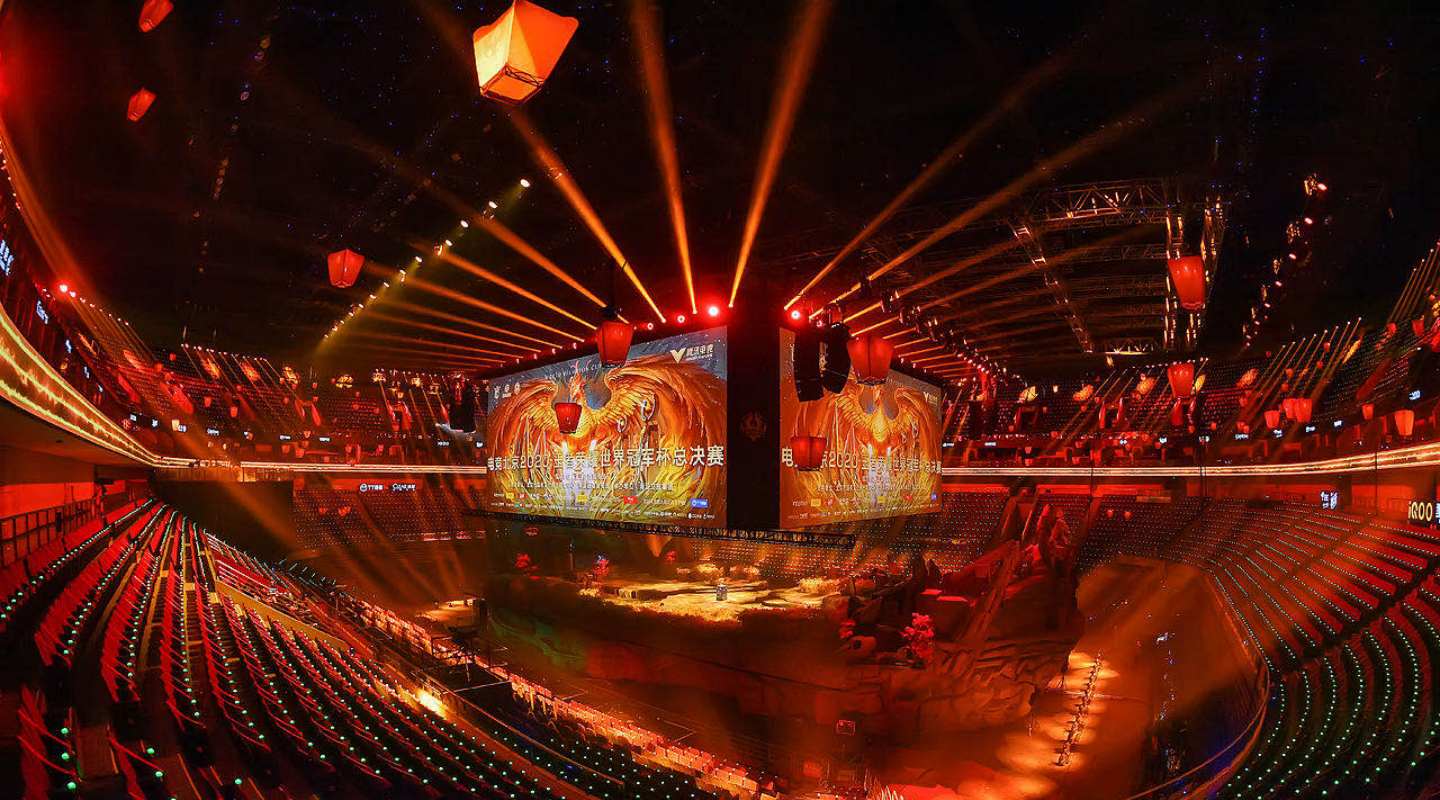 With a cinematic setting and surrounding giant screen, the ceremony not only brought an immersive audio-visual experience to the audience and added to their enjoyment, but also aptly reflected the spirit of passion and persistence in the face of global challenges.
The entire stage was designed with projectors and visualisation elements with the aim to deliver every detail of the show to the audience. As a visualisation provider for a number of major national campaigns, Barco took on the responsibility to deliver one of the most important parts in the championship – the opening ceremony.
The stage comprised of three layers. The first layer was suspended from the ceiling and decorated with the projection of thousands of Kongming Lanterns adorned with golden phoenixes. The second layer consisted of four 21m×9m projection screens that were used to stream the game in real-time. Because of the load-bearing construction of the giant screen, the solution features two Barco 40,000 lumens projectors per screen. The solution provided the audience with a great viewing experience in brightness and resolution.
As for the third layer, the main stage including a 32m×6m holographic projection screen, 8 projectors were used, among which 4 were Barco UDX-4K40s.
The first act of the opening ceremony – "Meeting with Fairy Deer" – featured strict requirements on the colour and image quality of the projection equipment. Barco's UDX projectors were equipped with dual-colour laser source to ensure top-level visual effects. The automatic colour calibration technology brought to life a vivid fairy deer and phoenix.
The second act of the opening ceremony – "Rough Days" – reviewed the promotion of the two teams in the form of stage play. With the brightness of 40,000 lumen, Barco's projectors effectively ensured visual quality with amazing brightness despite ambient light.
The third act of the ceremony – "Strive and Rise" – vividly showed the champions the two finalist teams chose with holographic technology. Barco's image processor E2 enabled the perfect input and lossless output of 4K signal source, making the 2D champions more lifelike and provide the audience with an immersive experience.
Barco hopes to innovate further in the eSports arena, and increase its presence in the industry in future.
More for you