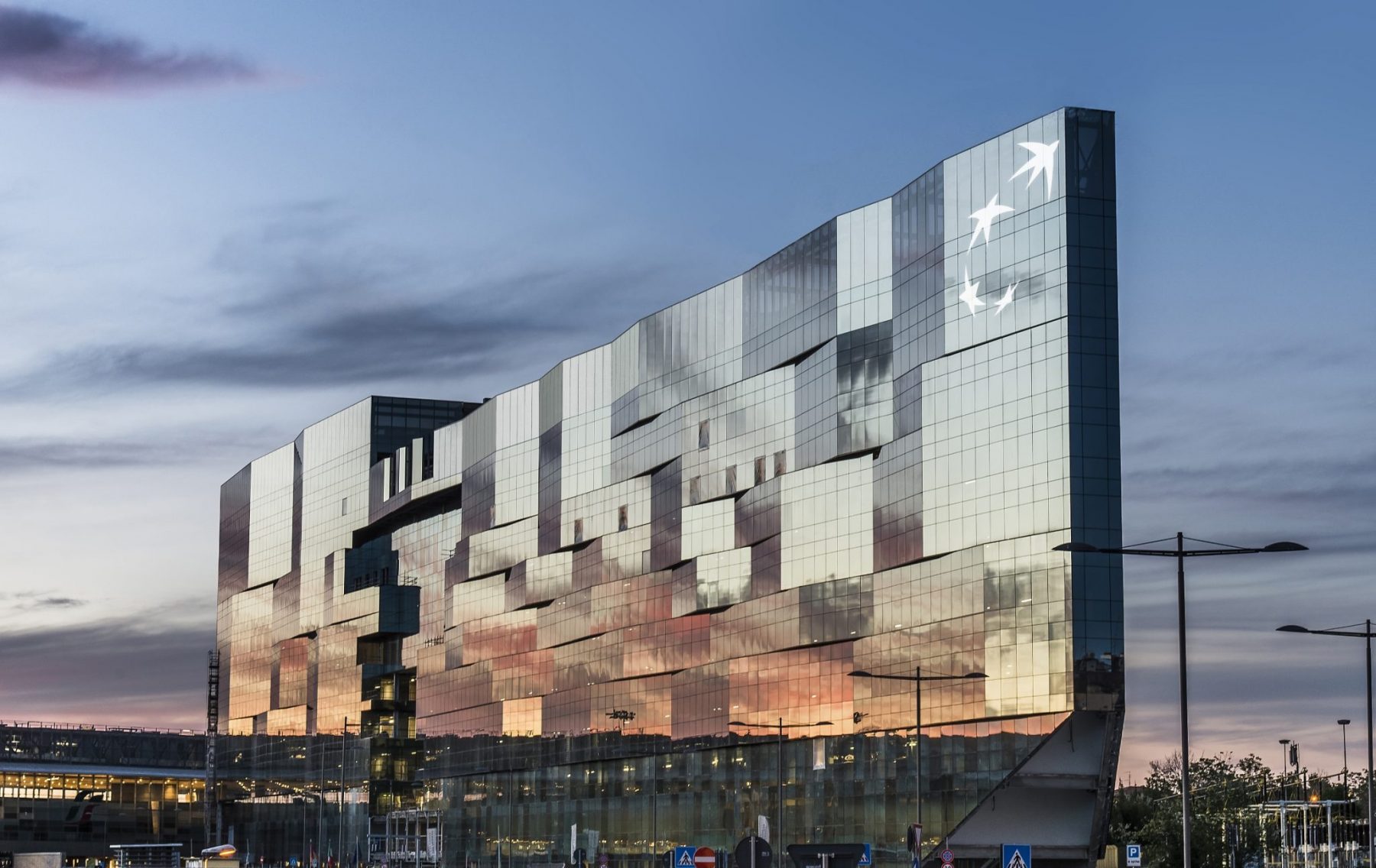 Mersive Technologies announces that 115 pods have been installed by BNL, part of BNP Paribas and one of Italy's leading banks. This major deployment at its new Rome headquarters is the bank's first engagement with Mersive. Since the building opened, BNL has installed another 15 pods in its HQ in Milan, and 20 in a separate building in Rome.
Mersive Solstice Pods have been installed as standard in meeting spaces at the 16 story building. These range from informal areas for just two people to larger meeting rooms accommodating up to 20 participants. In the larger rooms there are video conference facilities with the Solstice Pods configured so that content on the display can be shared over the video conference link. 
Commenting, Antonio Amoroso, Technical Architect at BNL Gruppo BNP Paribas said, "In our new headquarters, we wanted to offer our co-workers access to the very latest technology, to maximise collaboration and to make information sharing fast and simple. Plus being in the financial industry, data security and centralised management are paramount.  We sought the right wireless solution to create a clean, easy and inclusive working environment. Our vision was that anyone in a meeting could securely share content from any device quickly and easily including smartphones, laptops, tablets and other devices. Mersive Solstice Pods were the perfect solution as they allow for a number of devices to be connected to one screen without any risk of data breach or viruses.  It enables a truly interactive meeting whereby all participants can contribute content to the display as part of the discussion." 
BNL commissioned IT System Integrator Reply Spa to identify a suitable solution, and they quickly realised that Mersive Solstice Pods delivered everything that the bank was looking for. Alessio Taverni, Project Manager at Reply Spa said, "Mersive stood out at every level. From the perspective of the meeting user the technology is exceptionally easy to use. Once a simple and intuitive app has been installed on the device, any screen can be accessed quickly and simply just by entering the code on the display. The user then has the choice to share all content on the device screen, or simply a single window. The App is available for all popular platforms: Windows, Android, iOS."
Antonio Amoroso continues, "We were further impressed by the central management facilities offered by Mersive. We are allowing a massive number of devices including employees' own phones to access screens on our corporate network across over 100 rooms. In evaluating the solution, we were very impressed with the consideration given to the security implications by Mersive. Mersive Solstice Pods are an enterprise grade solution that is designed to support central management by an IT team. For example, we are able to use the Solstice management interface."
"Solstice has exceeded our original expectations," Antonio Amoroso concluded. "Because Solstice is essentially an in-room software platform, we can continue to develop new use cases. For example, we are now able to display corporate messages of our choice in meeting rooms and public areas – reminding staff of promotions or events for example. We look forward to future releases of the software so that we can continue improving ways we can share content and collaborate."
The Reply Spa team was impressed with the ease of installation of the Mersive Solstice Pods. Alessio Taverni said that, "The units really were plug and play. Connect them to the screen and the corporate network and they appear in the central management interface and are essentially ready to use. This is our first install of Mersive and we encountered no issues or difficulties of any kind."
With a floor area of 75,000 m2, 12 storeys and four underground levels, the building developed by BNP Paribas Real Estate and designed by architects 5+1AA, has an original and innovative design that integrates it into the surrounding urban environment. The building houses up to 3,300 workstations, as well as a training center, an auditorium and other facilities. The project is also distinguished by the building's high level of environmental sustainability. In July 2016, the building received "The Plan 2016" award, as the best property development for office use. It was also selected as a finalist at the 2017 MIPIM Awards.
More for you