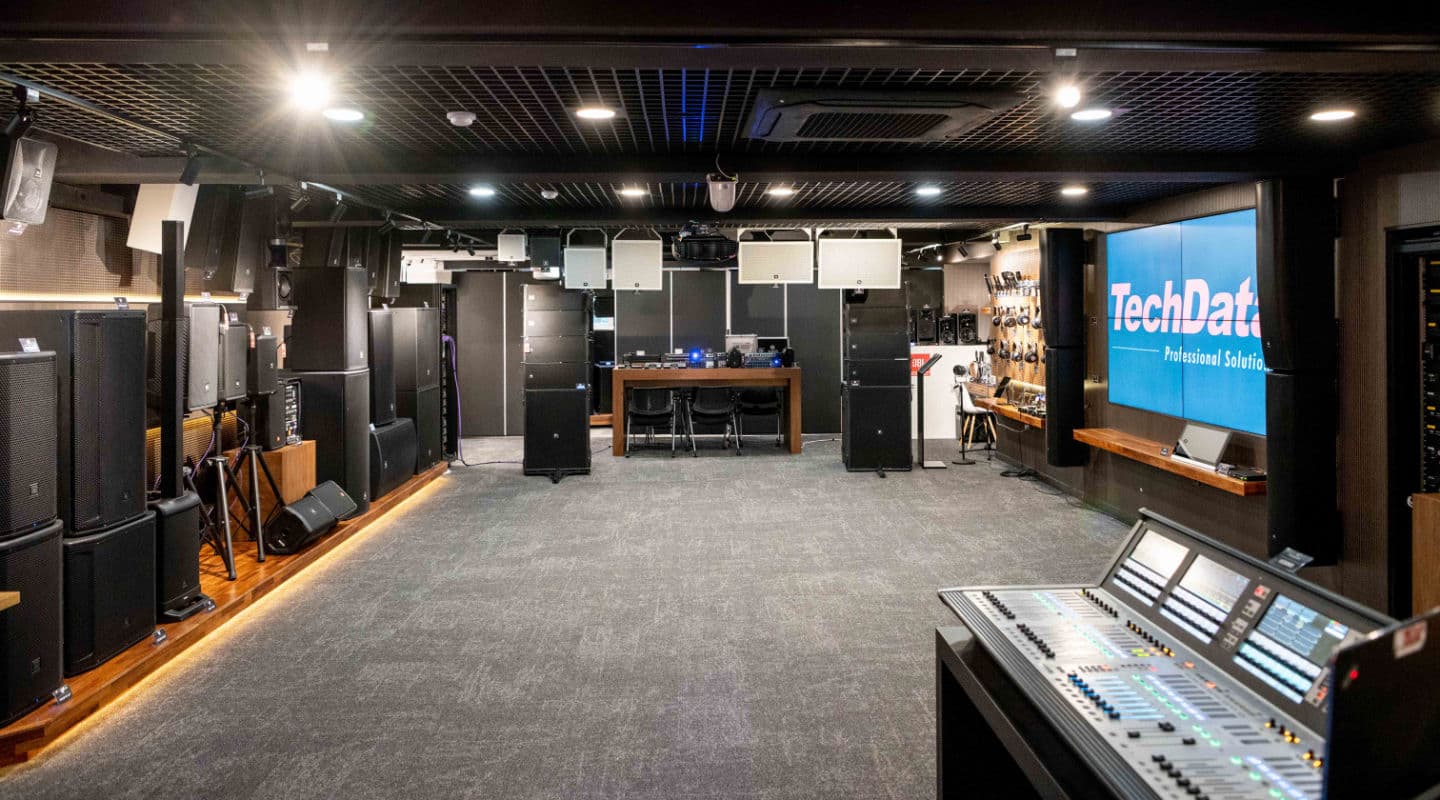 To create its new experience centre, TechDataPS Co., Ltd. installed audio systems from HARMAN Professional Solutions to showcase the latest in technology to customers and visitors.
TechDataPS is a provider of professional audio solutions in South Korea. To demonstrate how HARMAN Professional's audio technologies meet the needs of various spaces and events, from bars to major concert venues, TechDataPS decided to create a dedicated Showroom facility. Opened on November 25, 2020, the Showroom offers an immersive tour of HARMAN's  audio, video and control brands such as AKG, JBL and AMX. With more than 200 products on display, including loudspeakers, microphones, audio mixers and more, the centre houses the largest collection of audio technology products in South Korea.
The Showroom is divided into several zones, each highlighting a different range of solutions. TechDataPS equipped the Performing Zone with JBL Intellivox Series, VTX A Series, VTX F Series, VTX M Series, VLA Compact Series and VP Series loudspeakers, all of which provide consistent coverage throughout the space. The team powered all speakers with Crown VRack amplifiers, and the Control Zone features a Soundcraft VI2000 professional audio mixer for customers to experience first-hand its premium sound quality and user-friendly mixing interface.
In the Display Zone, TechDataPS installed JBL CBT series column speakers and an array of AMX networked AV and control devices, including SVSI N2400 4K Series encoders and decoders, Acendo Vibe soundbars, Massio control and keypads, and Modero G5 touch panels. The Install Zone features JBL's impressive line up of permanent installation speaker solutions including AE series, AWC compact, AW series, Control 23-1, Control 25-1, Control 28-1L and CWT128 loudspeakers.
The Portable Zone showcases JBL's plethora of portable self-powered speakers, including BRX300 Series, EON One Series, IRX100 Series, EON208P, PRX800 Series, SRX800 Series and PD500 Series loudspeakers. In the Recording Zone, listeners can compare the reference-quality sound provided by JBL One Series, 7 Series and 3 Series MKII reference monitors. Customers can also test out AKG's iconic lineup of microphones including DMS300 Series, WMS470 Wireless, Lyra USB, C414 XLII, C214, D5, K872 and K275 microphones.
TechDataPS outfitted the Table Zone with AKG conference microphones including PCC160, PZM30D and DAM Series models. They also included Soundcraft's lineup of compact mixers, including Notepad Series, Si Series and Ui Series consoles. TechDataPS used the Café Zone to showcase JBL Control 10 Series, Control 40 Series, Control 60 Series, Control 300 Series, VMA Series, CSMA series, Control HST, CRV and CSS8018 loudspeakers.
To power all speakers in the showroom, TechDataPS equipped the Rack Zone with Crown CDi DriveCore Series, ComTech DriveCore Series, DCi Network Series amplifiers and BSS Soundweb London Series, Soundweb Contrio Series. Additionally, AMX touch panels operate all the speakers across the showroom, making it easy for visitors to select the music and speakers they want to audition. TechDataPS staff reported that their customers are particularly impressed with the direct AV-over-IP experience provided by the AMX interfaces.
"For an ambitious project like this, creating an impactful audio experience is essential," said Amar Subash, VP & GM, HARMAN Professional Solutions, APAC. "We would like to thank TechDataPS for using our solutions to create this world-class showroom and give customers a one-of-a-kind experience."
More for you