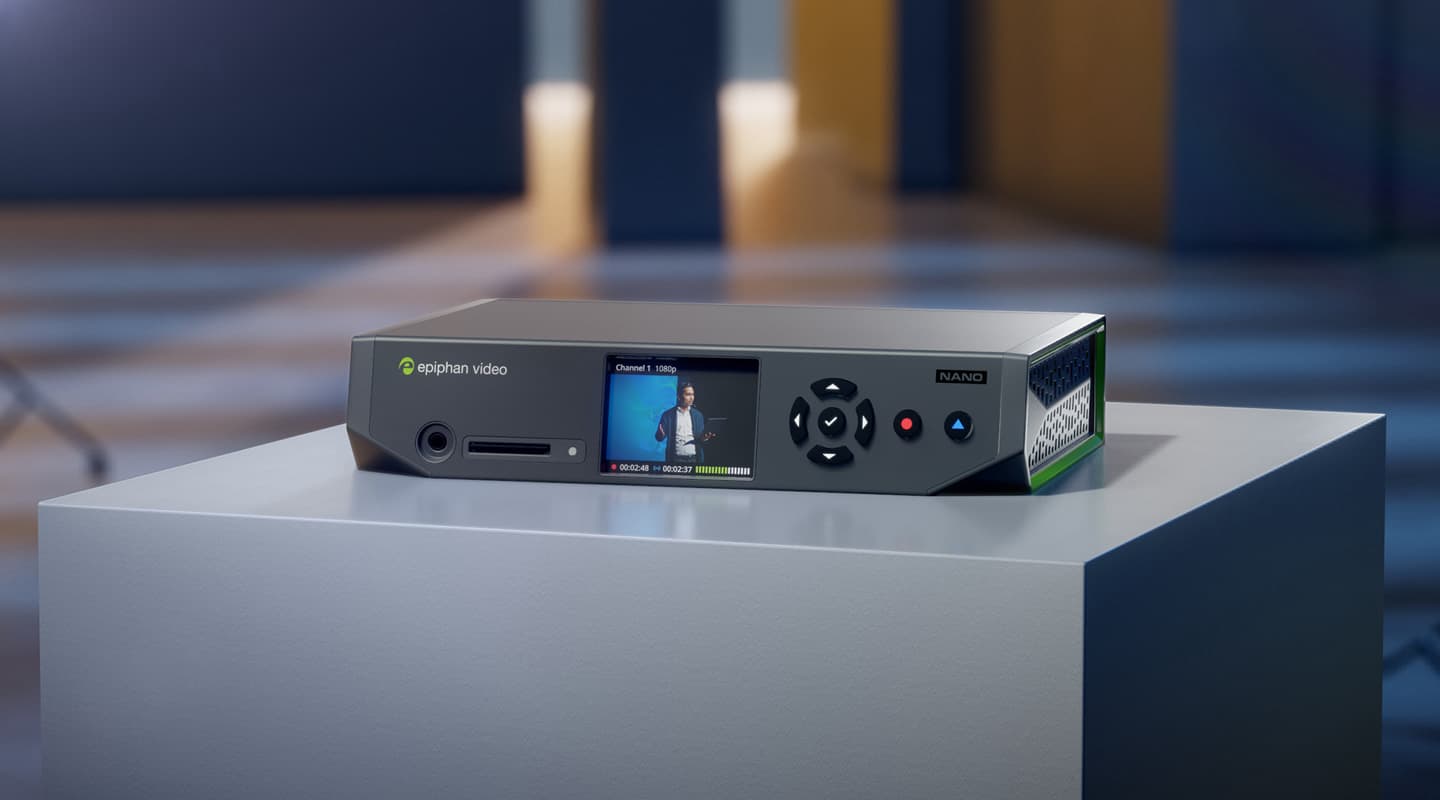 Review:/ Christopher Holder
If there was a company perfectly placed to make lemonade from a global pandemic, it's Epiphan. Epiphan specialises in streaming devices in a world that's turned to virtual events, virtual meetings, and virtual classrooms.
Quick history lesson: Epiphan kicked things off in 2014 with the Pearl, then the updated Pearl 2, followed by the popular Pearl Mini. And now Nano has been unleashed mid-pandemic and it's a product that I've got to say is, plague perfect. 
PEARL DNA
Nano carries the Pearl DNA, in that it's a streamer and recorder and takes care of camera switching and audio. It's an all-in-one, portable production box. There's no need for a computer.
As the name suggests, Nano is the smallest in the Pearl range and designed to be portable. 
The focus of the front panel is the 2.2-inch display. It's by no means large or even touch enabled, but it's sufficient for confidence monitoring, interrogating device information, and looking at network settings without recourse to a PC or external monitor.
Looking elsewhere on the front panel, there are start/stop recording and streaming buttons. Nano can do both at the same time.
INS & OUTS OF STREAMING
Around the back is a  USB port to connect an external USB mic, USB storage, but not a USB camera, at least not yet. There's a programmable and assignable HDMI output, gigabit ethernet, an SDI input, HDMI pass thru with zero latency, an HDMI input, RCA inputs and two balanced XLR inputs. You can, of course, source your audio from the HDMI input as well.
There's a DC power input, or you can power Nano via PoE+ which could be super handy for installs.
On the bottom is a hatch to drop in your own M.2 SATA SSD drive. Which is a nice touch and means you can install as much or as little memory as you need or you can use the SD card slot on the front panel.
Epiphan Pearl Nano
Streamer, Switcher & Recorder
---
PRICE
$2696 RRP
---
CONTACT
AP Technologies: (02) 9452 6001 or aptech.com.au


PLATFORM CHOICE
Much like the other Pearl streamers in the range, you can stream simultaneously to an array of platforms, CDNs and CMSs, as well as using Nano's built-in streaming server to stream locally to a Smart TV, set top box etc.
The CMS integration is a particularly big deal for the education market, as it can sit happily in a Kaltura or Panopto environment.
SECURITY CALL
The Pearl Nano will keep your IT department happy as it ticks the security boxes with 802.1x support, RTMPS encryption for secure live streaming, SFTP, and HTTPS data encryption.
Nano may be the baby of the range but it still allows you to customise the look of your presentations. There are some picture in picture options, you can add your logo, text overlays and your own background.
Epiphan has always been popular in the live events market and Nano will be ideal for smaller scale events or as an add-on for larger events… where you might need a dedicated encoder or another option to an existing workflow.
SRT OUT OF THE BOX
Nano can deal with SRT straight out of the box and this makes it ideal for piping in remote talent. It might be a virtual awards presentation or an important interview and you don't want to rely on the participant's laptop set up. Nano is absolutely perfect. Preconfigure it and package it up with a USB mic and an SRT camera. You can pair it to Epiphan's Cloud service for remote control. Effectively all the talent needs to do is plug it in and power it up.
Nano's price, size and capabilities are perfect for this type of application.
SPECIALISTS
Pearl Nano, of course, has its limitations. It's a one layout, one channel device. It's an HD device, not 4K — although Epiphan tell us that 4K streaming and recording is on the Nano roadmap. There's no built-in scaler (again, there are plans), so you'll need to be more careful your inputs. And it lacks some of those next-level sync features of the Pearl Mini.
That said, it's a highly capable device designed and built by a company that lives and breathes streaming.
More for you