Care Package
Monash Children's Hospital's $4.5m AV installation is brought to heal.
Hospitals are amongst the most complex of building projects, with specialised requirements for the clinical, education and research work that goes on. But a Children's Hospital adds still more elements to the mix. At the new Monash Children's Hospital (MCH), they've dug deep into their 120 years' of experience with kids to arrive at a range of facilities that all contribute to the healing process. So, alongside the treatment facilities there's all kinds of extras such as a four-storey high interactive Imagination Tree (co-sponsored by Disney), free patient entertainment screens at every bed, and even an open-air park so that pets can visit their young companions.
Opened in April, the brand-new, 230-bed MCH is already one of the busiest paediatric facilities in the country, expected to cater to more than 100,000 children a year. Keeping things moving behind the scenes is a $4.5m audiovisual installation planned by CHW Consulting and integrated by the former Pro AV Solutions (VIC) which is now ENGIE AV Technologies.
GETTING TO KNOW YOU
For AV Consultants CHW, the project started with their engagement by the builder, Lend Lease in 2014. Manoje Indraharan was the project lead and he recalled that the first task was to meet the stakeholders from the many different departments. CHW conducted 10 audiovisual workshops, specifically targeting different areas. The aim was to gather the all-important user requirements as well as to drill down to discover the technical capabilities of the hospital and understand their infrastructure and support capabilities.
"One of the things we learned is that there was a primary focus on usability of the system," Manoje recalled. "They wanted systems that turn on quickly and transmit, record, and share media very efficiently. The systems also needed to be fairly robust, without too much downtime in terms of updates." Some of these requirements were to prove quite tricky as the project developed as we shall see.
With that in mind, CHW wrote a performance-based specification to take to market, without specifying particular brands. This allowed the project to select an integrator quite early in the process, enabling work to start on cabling infrastructure while the finer points of the design were finalised.
The winning bid was from then Pro AV Solutions (now ENGIE AV Technologies, see sidebar) which had responded with a design based around Crestron equipment.
Cameron Hewitt was ENGIE AV's project leader and had some well developed views regarding the equipment used. "We've done a few hospitals now," he said. "We recently delivered the new Bendigo Hospital and prior to that the Royal Children's Hospital and Box Hill Hospital developments where we found that Crestron equipment provides a great integrated solution, which delivers value and benefits to the customer. In Bendigo, we based the solution for the operating theatres around fibre and that's where Crestron really excel in their offering to the customer."
THEATRE OF OPERATIONS
There are four operating theatres at MCH and naturally, the surgeons were anxious to ensure the AV systems met all their needs. CHW ran a series of workshops with the surgeons and the Biotechnology Manager to determine the functional requirements and then put these systems out to a separate tender process which included specialist biomedical suppliers as well as AV integrators. "ENGIE AV put forward a Crestron solution which is all TGA-certified and it was a proven solution because it was the same solution they'd deployed in Bendigo Hospital," Manoje recalled. "It ticked all the boxes, met all their requirements and was far more cost effective than any of the other solutions put forward."
Fibre is generally the best solution for equipment that must be mounted in the sterile zone on the various pendants which surround the operating table. Fibre not only provides the necessary electrical isolation, but is also compact enough to fit inside the pendants.
SIM CITY
The MCH includes a very advanced and flexible simulation centre where all kinds of procedures can be simulated to train teams of doctors, nurses and the various technical staff. It is a showcase of AV technology, consisting of a procedure room, a control room that manages the recording as well as operating the simulated patient mannequin, and a debriefing room.
The debriefing room is truly a 'wow' space, featuring a massive 5×4 videowall completely filling one end. "With a large video wall, it almost feels like you're in the simulation as you are watching," Manoje explained. "But you can also use that video wall for other purposes including keynote presentations, briefing sessions and other forms of training." To keep the user experience consistent, all control and switching relies on a Crestron infrastructure with the touch panel having a similar interface to the other meeting rooms.
Opposite the video wall, a massive window looks directly into the procedure room so that training sessions can be directly observed. Meanwhile, two large 80-inch flat panel displays and videoconferencing equipment on the side wall allows the room to be reconfigured for training or all kinds of meetings, making it a uniquely flexible space.
The simulations happening in the procedure room are covered by cameras from every angle and up to four cameras at once can be recorded on the Crestron recording system, along with the mannequin's simulated 'vital signs'. The audio recording includes the wireless lapel mics as well as ambient ceiling microphones to catch every word during the simulated procedure. There's even a dummy phone that participants can use to simulate the phone system within the hospital, which is recorded as well.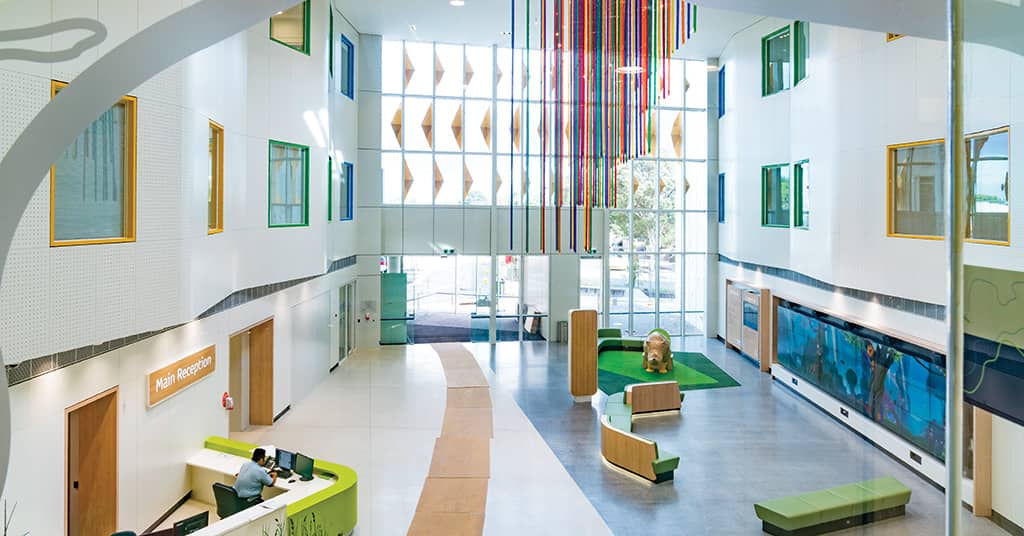 SURGICAL GRADE
ENGIE AV has made health a specialty and Cameron noted that there are many more considerations in working on AV for an operating theatre: "Even getting down to cable rough in, there's additional things to think about because you need to seal cables in walls to ensure the space remains pressurised. When you are choosing connector outlets, you need to think about the ability to clean in the theatres and there's quite a number of considerations that go into body protection, making sure all metal surfaces are appropriately earthed. If you've got audiovisual connectors with exposed metal, all of those exposed parts need to be earthed."
All the operating theatres operate identically with four large monitors plus two more which are predominantly used for videoconferencing. A wall-mounted camera sits between the VC monitors while another camera provides a bird's eye view of the theatre and the bed. Dedicated feeds are available from the endoscopic camera as well as the theatre light pendant camera and from ports on the pendant arm.
AUTO SENSING MACHINES
ENGIE AV's recent experience with Victorian hospitals again proved its worth in the tricky area of the control systems. Operating theatres are multi-user environments where different kinds of mobile equipment are constantly wheeled in or out to cater for specialised procedures. On previous projects, they developed a system that simplifies the touch panel and makes it easier for theatre staff to route new video sources accurately.
"As individual pieces of equipment are brought in, their AV outlets are plugged into connections on the surgical pendants," Cameron explained. "When they are plugged into the pendant, the Crestron system 'sees' that piece of equipment and from its unique ID knows that it is, for example, an anesthetic machine and shows on the touch panel an anesthetic machine as a source that can be displayed on the system and recorded as well."
Cameron explained the choice of equipment in the theatres. "We've used NEC monitors throughout the installation, in the meeting rooms and on the walls in the theatres. We find that NEC has a good product, it's extremely reliable and certainly works well in a medical environment. On the pendants themselves, in the vicinity of the surgeon and their assistant, we've used Sony medical monitors – they are smaller, 27-inch monitors that can be moved into position so that the surgeon can see them."
Of particular interest is the recording system which is the first Australian deployment of the Sony Medical Content Management System (CMS). The system was chosen for its ability to automatically integrate the patient's Electronic Medical Records. As procedures are recorded, the CMS automatically downloads information on the patient and the procedure from a database, embeds it into the video and places the video into the patient's file.
CONSISTENT CARE
The positive outcome from this project has prompted Monash Health look towards establishing a standard for their audiovisual services that can achieve a consistent support experience for their users. "Standardising on Crestron helped them simplify a lot of the problems they've previously experienced, and having Crestron Fusion as an assets management system also helped them proactively manage their help desk as well as maintenance and servicing," Manoje noted. "I've got feedback from them that they're really finding that beneficial."
"They are deploying that strategy across their newer projects," he added. "At Casey Hospital in Berwick they've asked us to follow the same philosophy and ensure everything is integrated onto Crestron Fusion so they can manage it centrally from Clayton. I think that was one of the success stories out of this project."
CHW sees the result of Monash Children Hospital's technology investment as a simplification of the complex hospital environment and an enhancement of the facility's ability to care for Australia's youngest patients. They regard the keys to success as CHW Consulting and ENGIE AV Technologies focus on their stakeholder engagement process and both company's expertise in the health sector. Importantly, though, Monash Children's Hospital is set to benefit from a system which will be used for years to come and will add value to the clinician and patient experience at the hospital.
AV Spaces
Main Hospital
Operating Theatres ×4
Procedure Room ×1
Simulation Centre ×1
Meeting rooms ×8 (plus future proofing 11 more)
Seminar rooms ×3
Multi-Disciplinary meeting rooms ×1
Radiology reporting ×1
Observation rooms ×6
Gym/ Rehabilitation space ×1
Digital signage and way-finding ×10
Journey boards ×16
Patient Entertainment Screens ×230
Monash University Education Centre
Seminar Rooms
Simulation Centre
Wet lab
Videoconferencing meeting room
CHW and PAVS are still currently involved in the delivery of the following areas which were late additions to the project and expected to be completed by the end of the year: Imagination Tree (Interactive space across 4 floors); Early in Life Mental Health Services.
TEAM DETAILS
AV Consultant:
CHW Consulting (www.chw.com.au)
CHW AV Project Team:
Manoje Indraharan (Project Lead),
Daniel Knoche (AV Consultant),
Ashleah Davis (Project Assistant)
CHW were enraged by Lend Lease to design, document and manage coordination of the following services: AV and Videoconferencing; the Patient Entertainment System (PES); IT, Telephony, Communications Systems, Messaging systems & Nurse call; and Integration
AV Integrator:
ENGIE AV Technologies (www.engie-anz.com)
Cameron Hewitt (Project Sponsor),
Travis Beer (Project Manager)
Client
Monash Health:
Dave Bannen (IT Services),
Frank Meacco (Bio-technology Manager)
More for you