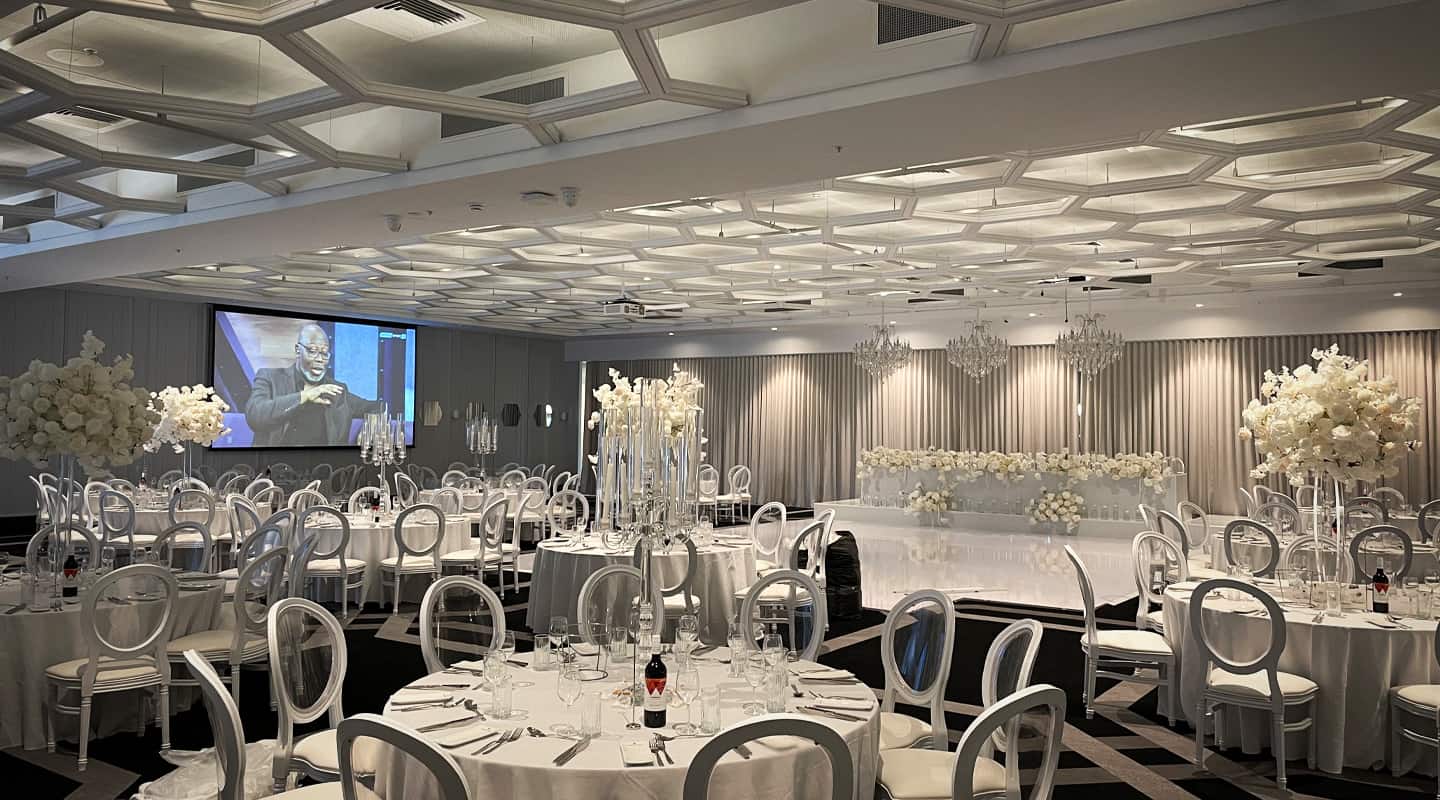 Most function rooms are busy spaces. Weddings, awards ceremonies, corporate presentations – they cater for the lot and tend to keep very busy. Doltone House at Club Marconi in Western Syndey is one such venue. To ensure that their clients have the best facilities, Doltone managers sought to fit out AV equipment that was flexible but remained fit for any purpose. 
The club hosts multiple spaces for function hire. The largest, Colosseo, can accommodate up to 950 guests. This features a custom LED lighting system to highlight the architectural ceiling design. With up to 650 guests, La Boheme is more Hollywood themed. Elettra is also large and has an industrial modern chic look. There are also a range of spaces for reception, conferencing and similar uses.
WED Group has been servicing electrical and gaming at Club Marconi for years. According to Matthew Joyce, Audio Visual and Technical Services for WED, "When they decided to do the function space upstairs, we got on it." They spent a lot of time nurturing the clients "and we provided a lot of design assistance, helping them to arrive at a functional space." This design and construct approach is a speciality for WED, "especially with clubs. We mainly do clubs and RSLs. So we understand how the clubs work and how staff like to use things." 
JOIN THE CLUB
Though its client base encompasses a wide gamut of corporate and commercial electrical fitout, clubs are the WED Group's forte. "We've got a name throughout the industry for being good all-rounders. We do electrical, AV, lighting control, all the gaming cabling and data, everything… and I know our clients appreciate having one contractor to do everything."
The overall scope that WED and Doltone settled on was for lighting, audio, video and control integration for the main spaces. 
Starting from the top, the chosen control layer is RTI. Matt continues: "I've always used RTI. It's got a heap of functions and can do quite a lot." Having tried other systems, "I found other control systems quite convoluted compared to the workflow I can do in RTI. Particularly ID11 with it scalable graphics, layers and system manager – I haven't found anything that I can't do with it. So, we've made RTI our go-to."
JUST ADD POWER
The key system to control is AV distribution, via a backbone based on Just Add Power switches. Matt's a huge fan: "I try and use it for anything that's got matrix switching. It just works. I've had trouble with HDBaseT switchers where you get EDID issues, whereas the Just Add Power switch is fast and just works. I love it – it's my go to."
Not only does it do the job well for WED, but they find it to be entirely robust and spend very little time in the field servicing it. "I'm the first to get a call if something AV isn't working, and that rarely happens with this venue," smiles Matt.
Another benefit is "I can do the serial commands over one cable to the projector and, with Just Add Power, just send one command to turn on all projectors – and they all do it simultaneously. Whereas if I had individual serial cables to each one it would be: that one on, that one on, that one on. With Just Add Power CAT6A, video plus control is all over the one cable."
Matt and WED find RTI very easy to integrate with the other products they are using. "With Just Add Power AVoIP, they work so well together."
BE HEARD
Sound throughout Doltone's rooms is delivered via a combination of QSC AC-C8T ceiling speakers and QSC AD-P6T-BK pendants. Speakers are driven with two QSC CDX4.3 amplifiers, using two Biamp Tesira AVB AI digital sound processors. Matt finds control and integration easy because "the RTI driver also works really well with the Biamp Tesira."
Hearing loops are a Williams AV IRSY11 IR and two Williams AV IRT2 IR Hearing Augmentation Systems. With infrared, "you don't have to mess around with huge amounts of delicate tapes under carpet and getting damaged. IR works great and it gets the job done."
""
I found other control systems quite convoluted compared to the workflow I can do in RTI. So, we've made RTI our go-to.
""
We've had minimal calls for maintenance, which is a good sign for three function rooms.
LASER VISION
The main function rooms feature multiple Panasonic PT-MZ880W laser projectors. These cast onto Grandview screens that "are all motorised and part of the macros." According to Matt, "I don't put it in there as a separate page of screen up/screen down. If the projector is off it goes up, if the projector is turned on it goes down." This is achieved with simple IR control. For Matt: "IR just works and it's simple. We make sure the emitters are well stuck on so they don't come off. I've done a couple with serial, and I can do them quicker and just as reliably with IR."
Elsewhere in the venue, WED provided eight Samsung 50-inch commercial advertising screens. "We also do an advertising system where we host a Scala server that holds all the content for the clubs we service," continues Matt. "The venues are constantly polling the server and when they see new content the system pulls it down."
In the lobby, Matt explains that "some of them are over Bluestream extenders, using RS232 to turn screens on and off from RTI, and some of them are on Just Add Power because there were a couple of locations with duplicate screens. So, instead of using a splitter, we used Just Add Power duplication to send out the signal."
LET THERE BE LIGHT
Architectural lighting was a big part of the brief. Matt elaborates on the Colosseo ceiling: "It was an architect's vision of the hexes with LED strips shining up, but we had to make it work." They used CBUS for control and, as with other peripherals, "put it all onto CBUS to do the heavy lifting. All the scenes are in CBUS, so I'm just sending simple group commands or trigger commands from RTI."
WED leaned on their sister company, Ambilux, to provide the LED strip and controllers. It was quite a feat with "615m of LED strip, 770 individual strips, made up of six strips per hex. We had over 4000 solder joins – we were soldering for days," rues Matt. This hardware aspect is impressive, but it has to work well. He continues, "We have our own DALI LED strip controllers. It was just about balancing the loads." To do that, they used Mean Well power supplies, ending up with 20 x 600W 24VDC units. "It added up to roughly 9000W when it's all on."
The AV division of WED Group is four people out of a total staff of 50. Matt explains "a lot of that AV work comes from getting these big contracts for electrical, then lighting control, and being able to offer AV as well."
Feedback from the client has been great. "We've had minimal calls for maintenance, which is a good sign for three function rooms." These rooms get hammered hard, and reliability is a priority, keeping everyone involved very happy.
More for you