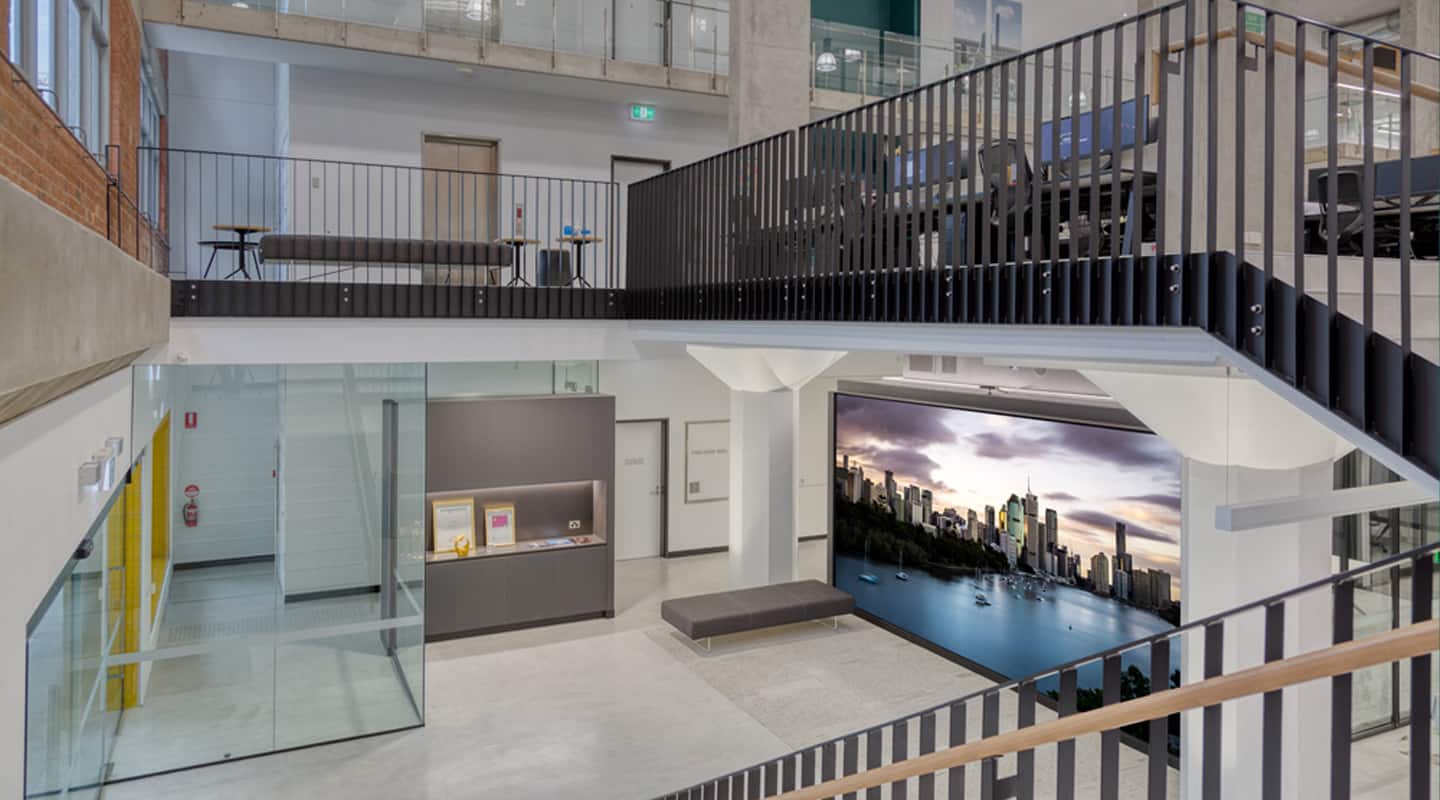 Brisbane's Collin House has a long and storied history. It was originally built in 1928 as a carpark and showroom for AP Eagers, which went on to become the nation's second-biggest automotive group. Dunlop Rubber took it on for some time then, post WWII, it was used variously for storage, government offices and eventually, The Ritz Ballroom. 
Extensively renovated since 2009, the central floors now host the APAC HQ of international architectural and interior design firm Populous. Before it moved in, Videopro were engaged to install AV systems that would complement the business's requirements and do so with the same refined flair as its client.
CLIENT & SPACE
Having fitted out its previous Brisbane office, Videopro had already established a solid relationship with Populous. With the new premises under way, it was asked to design and construct appropriate systems to complement the Populous workflow and accommodate its expanding team.
Being a design focussed client, the look and feel of any proposed equipment on show was critical. However, nothing trumped functionality. Account Executive Darran Cowling explains that: "It wasn't form over function— Populous was keen to meet the business requirements, as well as getting the design aesthetic right."  This process took nearly a year of back and forth until all were satisfied the approach was right. 
The stunning industrial setting suited the client visually but created extra challenges for the integrator. Normally simple things, like cabling infrastructure, required additional consultation before final choices were made. Darran Cowling: "We had to do surface mounted conduit for some runs so there was hours of discussion around what type to use. We ended up with galvanised steel. That sort of detail that went into every part of the project." Further adding complexity, "technically, the users wanted to be agnostic". Videopro carefully selected a variety of equipment that would achieve that aim and provide a seamless user experience.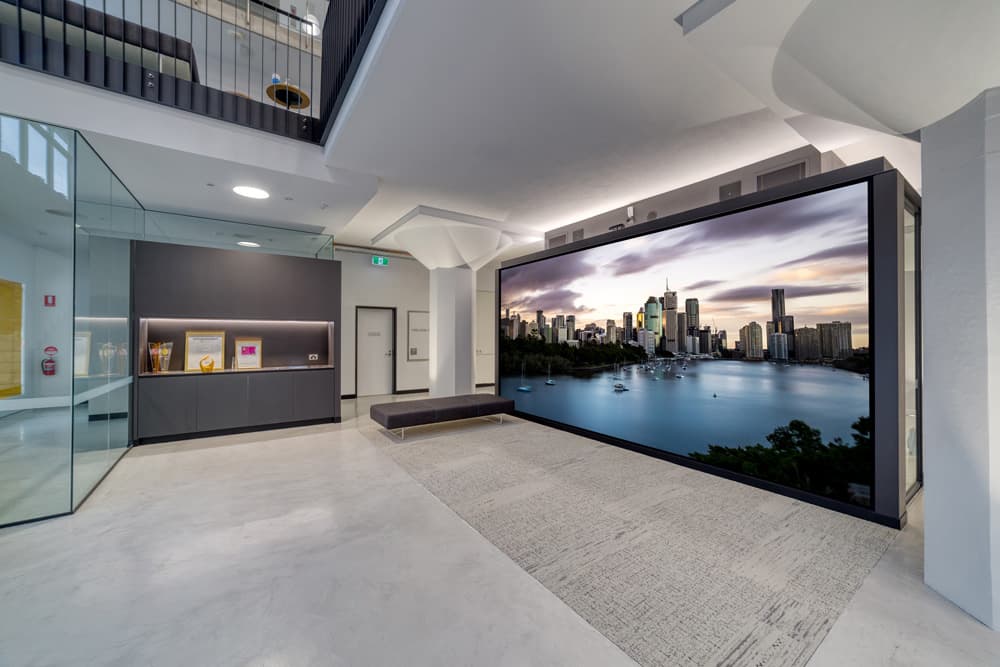 GEAR & SOLUTIONS
The team were tasked with fitting out three main spaces. The first a customer encounters is the reception in the foyer area. An impressive 5m x 2.5m LED wall greets attendees with a series of images of Populous' work. Comprised of 50 x Aurora P3.91mm modules, the resolution is intentionally low, with the wall's primary use as a street-facing digital art piece. This is the first Aurora product that Darran has used, and he is really happy with it. "It's so bright, we ended up having to turn it down. During the day, it's running at 80-90% but, at night, we've had to turn it down to 50%."
Multiple meeting rooms are located further back in the office space and these all run Crestron Flex units with MS Teams. According to Darran: "They are also BYOD rooms so they need to be device and platform agnostic." This approach continues through to the boardroom, which is fitted with the same UC approach complementing a Dell 86-inch interactive display. This room can also open up into an adjoining meeting room and both are covered with Shure MXA ceiling mic arrays and Sonance ceiling speakers. Crestron room booking panels are installed for every meeting space.
Populous has a sizeable workforce, with between 150-200 staff in Brisbane alone. To accommodate addressing such a large group as one, the clients have created a town hall meeting space dubbed the 'Grandstand'. It features an ultra-narrow bezel 3×3 Samsung video wall and JBL CBT column array loudspeakers for speech reinforcement. This is also a Flex environment and incorporates Barco Clickshare as well.
Supplementary spaces re-use some displays from the previous office, including a 90-inch screen with PlayStation in a breakout space off the kitchen.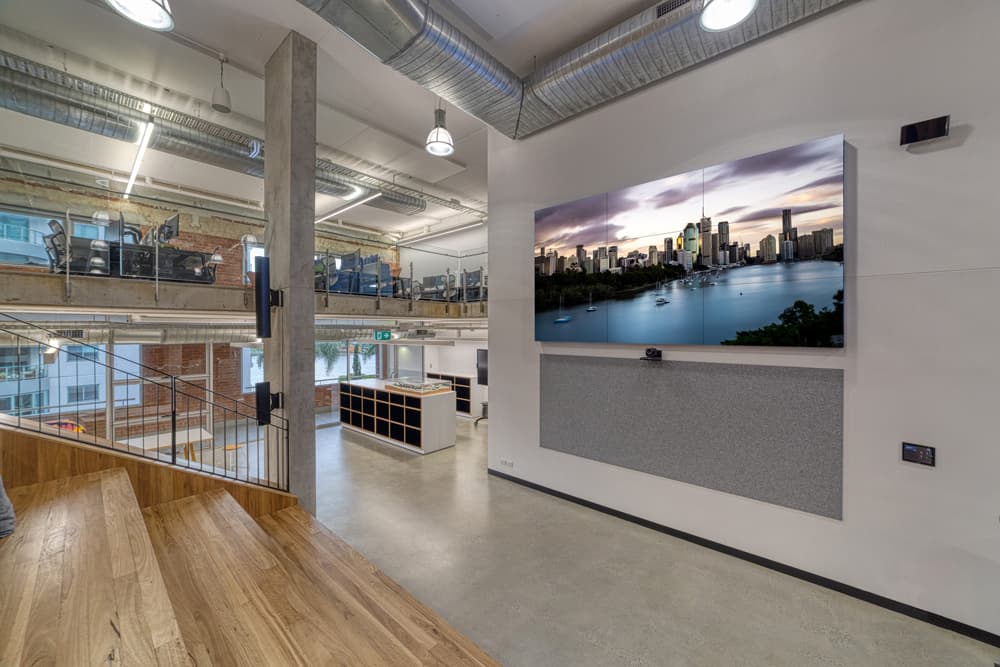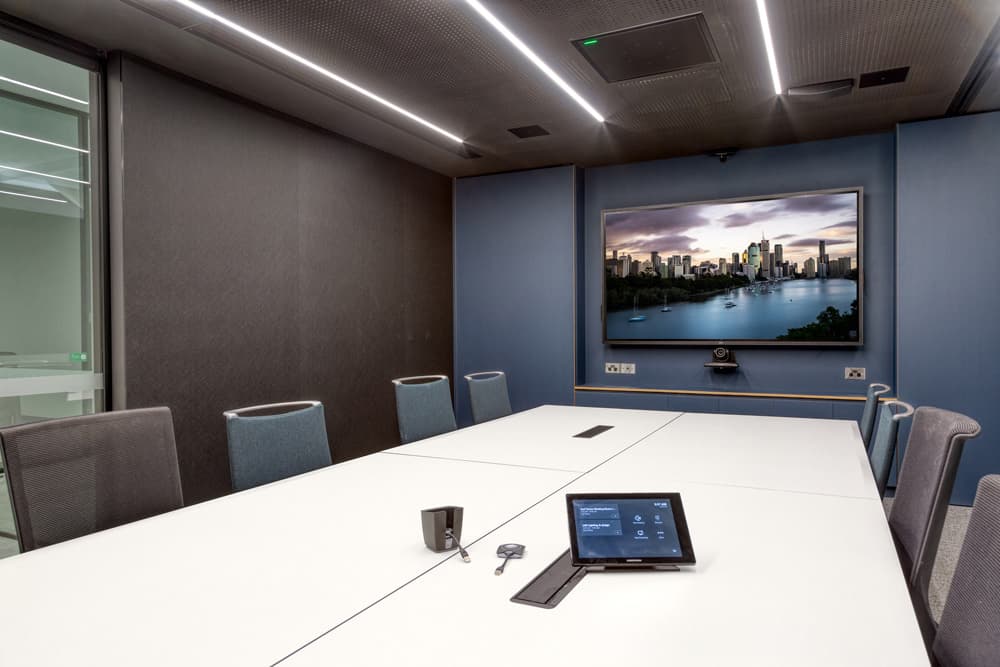 A POPULAR OUTCOME
Almost all the screens throughout are touch enabled. The client "wanted to be able to have a set of plans up on the screen and annotate while live with other people." Integrating this with the other gear was certainly tricky but not beyond Videopro's integration capabilities, "always designing around what is best for the job."
As a company with offices and reach worldwide, it is important to Populous' productivity that UC platforms are consistent and easy to use. Videopro has supplied Crestron Flex UC for all regional offices, so that they can communicate easily between remote offices and sites on a standard platform.
They recently fitted out Populous' Sydney boardroom with a similar mix of equipment, so that the setup between offices is almost identical.
For Darran, the Brisbane APAC HQ fitout "went so well. The relationship is really strong between both businesses." With a high attention to detail from both partners, reducing complex systems to simple user interaction, it easy to see how well that synergy has worked in this sophisticated and elegant job.
The Populous motto is "We design the places where people love to be together". Here, Videopro designed the AV systems to help enable them to do just that.
EQUIPMENT HIGHLIGHTS
Aurora 5m x 2.5m LED Video Wall
Sonance In-ceiling Loudspeakers
Lumens VC-B30U PTZ Cameras
JBL CBT100LA  Column Array Loudspeakers
JBL Pendant Loudspeakers
Crown 8 x 300W Amp
Icron USB TX/RX Kits
Crestron UC Flex & TSW Touchscreens
Shure MXA 910 Ceiling Mic Array
Shure ULXD4Q Quad Channel Mic System
QSC Core 110f
Barco ClickShare
Samsung VH55RR 3×3 Video Wall
Dell Interactive Displays
Williams AV IR Hearing Assist Systems
More for you