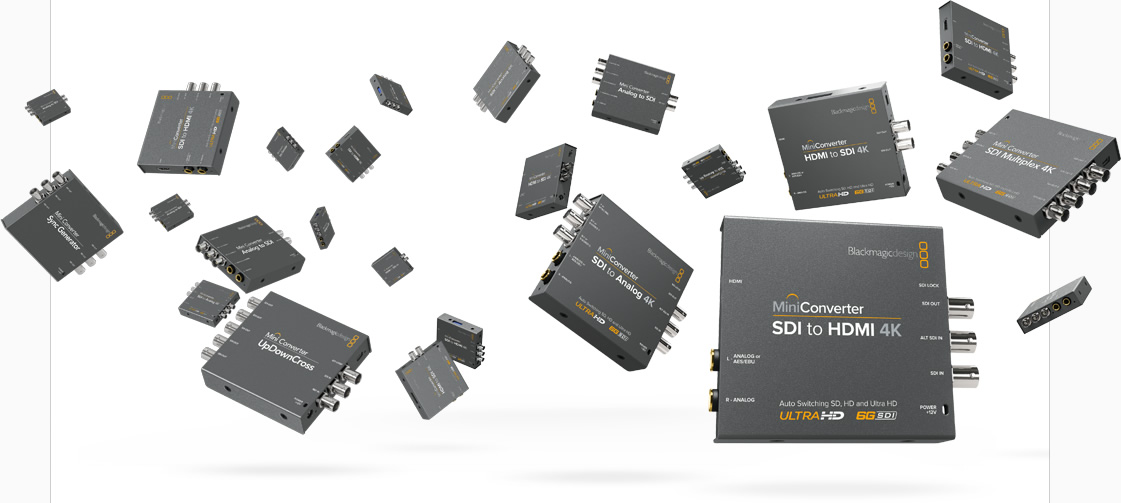 BLACKMAGIC AT IBC
A huge line-up of Blackmagic releases at the soapbox that is IBC included new camera models, multiviews, monitors, routers, mini converters and software. Here's our pick.
PL LENS MOUNT CAMERAS
Top of the list are the addition of Production Camera 4K and Cinema Camera models with rugged machined steel PL lens mounts to the company's range, allowing the use of professional and vintage cinema lenses.
"The PL mount is made out of machined steel so unlike the cheap adapters made from aluminum, the PL lens mount on these cameras won't bind onto the lens and get stuck," explains CEO Grant Petty. "There are nice big tabs to allow you to put good positive pressure on the lens fastening ring, and the whole mount is incredibly strong so it can hold a heavy lens. Because the whole chassis of this camera is machined out of aluminum, it has a lot of strength and can hold these heavy lenses.
"Of course the PL mount front face can be removed and you can shim it yourself. So you can collimate a lens onto the camera for matching the lens and camera perfectly. The PL mount also lets you use decades of 'vintage glass' so you can get the look of old cinema film by using the very lenses they used back in those days.
"We now have five models to choose from in this chassis, with two different sensors and three different lens mounts. This means you can choose from a 4K sensor with 12 stops of dynamic range, global shutter and large Super 35 size, or the 2.5K sensor with 13 stops of dynamic range, rolling shutter but better low light performance. So you can choose the model that's best for the type of work you need to do."
Blackmagic Production Camera 4K PL: US $2,995, AU $3549
Blackmagic Cinema Camera PL: US $2,295, AU $2705
Available: now
MULTIVIEW 16
The new MultiView 16 is a native Ultra HD multi viewer for broadcast, master control monitoring and post-production that allows the use large screen UHD televisions and monitors for displaying images at twice the resolution of an HD multi view. With full frame re-sync in each input, MultiView 16 supports the display of up to 16 mixed SD, HD and Ultra HD video sources.
"Also, any input can be routed to any view, and you route from the front panel or via the external Ethernet connection," adds Petty. "We have used the Videohub protocol for the external control so our Videohub software will control it. I think this is a great solution for broadcast and master control monitoring, but it can also be used on post production to keep track of multiple video feeds. Because you can switch between four, nine and 16 view layouts, it's quite flexible."
Blackmagic MultiView 16: US $1495, AU $1755
Available: now
SMARTVIEW 4K
The SmartView 4K is a full resolution Ultra HD broadcast monitor with a native resolution of 3840 x 2160, a bright LCD screen plus features such as 3D LUTs, adjustable on screen markers, H/V delay, blue only, external Ethernet control and tally.
The monitor offers multi rate 12G-SDI inputs that automatically switch between SD, HD and Ultra HD formats up to 2160p60. With 12G-SDI, SmartView 4K supports full resolution Ultra HD high frame rate support. Its machined metal design has front panel controls, a VESA mount on the rear for non-rack mounting and includes a built-in AV power supply as well as a separate DC supply for battery use.
Blackmagic SmartView 4K: US $1995, AU $2365
Available: December
SMART VIDEOHUB 40×40
This larger router model is part of the company's 6G-SDI based router family and also handles SD, HD and Ultra HD SDI connections simultaneously, at the same time. It includes a full control panel with a five-inch high resolution LCD screen – "The screen is much larger on this model because it's two-rack unit in size to accommodate the 80 BNC connections for the SDI connections," Petty says.
"The control panel includes buttons to direct select a crosspoint, a spin knob for scrolling router cross points as well as a 'take' button. The LCD screen can display nice large labels and the new routers include over 10,000 separate unicode characters so we can handle non-roman labels such as Japanese, Chinese and more."
The LCD screen can also display video from the video inputs or outputs. "We call this new feature 'visual routing' and it allows you to scroll through the router destinations or sources and see the connections as video on the LCD screen as the labels updates. This model also has redundant power supplied," Petty says.
Blackmagic Smart Videohub 40×40: US $2995, AU $3549
Available: October
4K MINI CONVERTERS
"We have continued to upgrade our Mini Converter range over the past year and we are now introducing even more models of Mini Converter with 6G-SDI for use in SD, HD and Ultra HD video systems," Petty says. "The new models are Mini Converter SDI to Analog 4K, and Mini Converter Analog to SDI 4K and are perfect when you need to embed and de-embed audio. This also means all our relevant Mini Converters now support Ultra HD and we have a whole family of converters that work in SD, HD and Ultra HD."
The company has also upgraded its heavy duty mini converters to use the same 4K design as the standard models. The heavy duty versions feature an extremely strong metal chassis, which Petty says can be run over by a car without damage. "We even ran one over with a Centurion tank and it survived and kept working. These are extremely tough converters and are fantastic for live production and outdoor use," he says.
Blackmagic Mini Converter SDI to Analog 4K: US $295, AU $359
Blackmagic Mini Converter Analog to SDI 4K: US $295, AU $359
Blackmagic Mini Converter H/Duty SDI to HDMI 4K: US $345, AU $415
Blackmagic Mini Converter H/Duty HDMI to SDI 4K: US $345, AU $415
Blackmagic Mini Converter H/Duty SDI to Analog 4K: US $345, AU $415
Available: now
VIDEOHUB SOFTWARE 6.0
Finally, the company has announced a software update for all Videohub routers that separates out the setup utility from the router control panel software into separate applications. A new user interface allows you to customise and control the Videohub routing from your desktop.
"For setting up and labeling routers, there is a new software utility called Blackmagic Videohub Setup and you can use this to setup all Videohub routers on your network or connected via USB," explains Petty. The update is user-friendly, supports Retina displays, and lets you save and load router configurations for backup.
Blackmagic Videohub Software 6.0 is available as a free download at the Blackmagic website.
Source: media releases
Blackmagic: www.blackmagicdesign.com
New Magic Australia 03 9722 9700 or www.newmagic.com.au
More for you