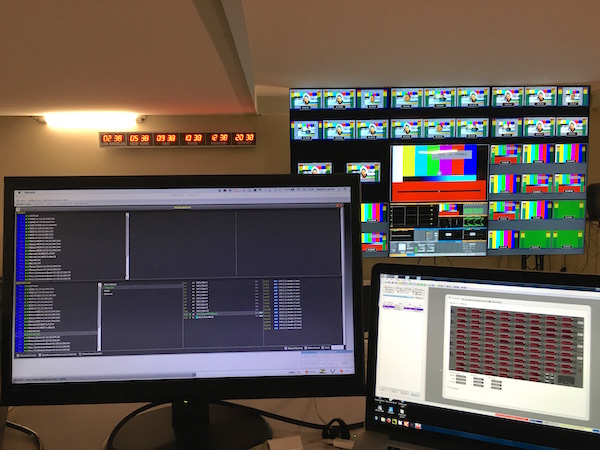 /
/
RIEDEL AV INFRASTRUCTURE FOR COP 21 UN CONFERENCE
RIEDEL AV INFRASTRUCTURE FOR COP 21 UN CONFERENCE
When world leaders gathered for the 2015 United Nations Climate Change Conference (COP 21) held last December outside Paris, Riedel Communications equipment enabled real-time distribution of video, audio, and intercom signals between sites spread across several thousand square km. With the help of Riedel's MediorNet, RockNet, and Artist digital matrix intercom system, AV France provided the backbone supporting communications and signal distribution over an extensive audiovisual infrastructure spanning multiple locations.
"The MediorNet solution's native signal processing capabilities, which include audio embedding/de-embedding, frame store, frame sync, timecode inserts, and signal generators, greatly simplified our operations during COP 21," said AV France's technical director, Dominique Cerveau. "The combination of transportation, routing, and signal processing enabled by the Riedel gear, as well as the ability to have video, audio, and intercom in a single real-time network, were extremely valuable in carrying out this major project."
Throughout the COP 21 conference, deployment of the fibre-based MediorNet network in a combination of ring and star topologies connected the event nerve centre located in Le Bourget, Paris, with other critical sites.
Connecting the two plenary rooms, the main press conference rooms, and their respective OB vans, the MediorNet network provided points of presence on multiple remote sites including DSNG vehicles, multiple meeting rooms, television studios, webcast facilities, closed-circuit TV distribution, and others. A CWDM optical multiplexing scheme was implemented to limit the number of optical fibres in the field. Riedel RockNet audio interfaces were fed into the MediorNet network at key sites requiring extra audio channels, and the direct connection of the Artist intercom system to the MediorNet interfaces. In turn, the optical network ensured clear, reliable communications via intercom key panels at each point of remote presence.
"The combination of our fibre-based MediorNet network with the RockNet network and Artist intercom system offers users unparalleled flexibility in establishing a robust and reliable communications and signal transport infrastructure tailored to their requirements," said Franck Berger, international sales manager for France at Riedel Communications. "Working with our systems, AV France was able to address the unique audiovisual requirements of a landmark U.N. conference."
More Info:
Riedel: www.riedel.net
More for you